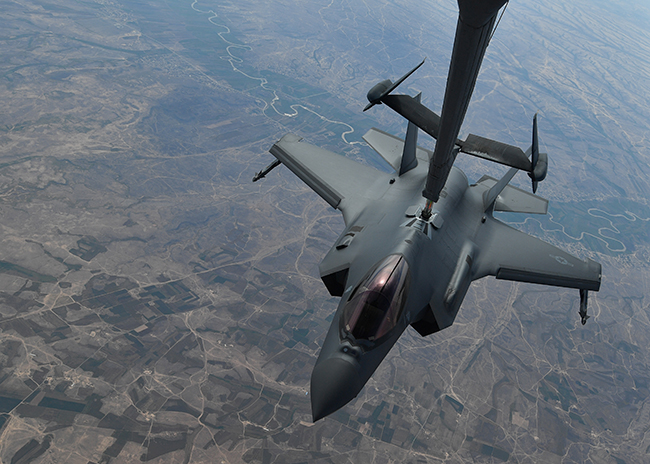 A USAF KC-10 Extender refuels an F-35A Lightning II above an undisclosed location, April 30, 2019. The KC-10 and its crew were tasked to support aerial refueling operations for the F-35A's first air interdiction during its inaugural deployment to the Air Forces Central Command's area of responsibility. Air Force photo by SSgt. Chris Drzazgowski.
The Air Force's F-35A made its combat debut in Iraq Tuesday, releasing a Joint Direct Attack Munition against an ISIS tunnel network and weapons depot in Wadi Ashai, Iraq, US Air Forces Central Command said.
The target was located in the Hamrin Mountains, and was in a position to "threaten friendly forces," according to AFCENT.
AFCENT was ambiguous about mission details, but the operation apparently involved two F-35As, though only one released a weapon. The strike fighters deployed from the 4th Fighter Squadron at Hill AFB, Utah, to the US Central Command area of responsibility just two weeks ago. It is the first Middle East deployment for the Air Force's F-35A, though the type deployed to Europe last year and Japan the year before. The unit has also taken the F-35A to the Red Flag exercise, and prepared specifically for this deployment. The F-35A was declared operational at Hill in the summer of 2016.
A Marine Corps F-35B that was deployed to Afghanistan last September also released ordnance on a target, in a first for that service's F-35 variant. Israel also has said that an F-35A from its air force has released live ordnance against an enemy target.
Lt. Col. Yosef Morris, 4th Fighter Squadron commander, said the F-35 is making a significant contribution to USAF missions in the AOR.
"We have the ability to gather, fuse, and pass so much information, that we make every friendly aircraft more survivable and lethal," he said in a press release. "That, combined with low-observable technology, allows us to really complement any combined force package and be ready to support AOR contingencies."
AFCENT released images of an F-35 being refueled on the day of the mission, above an "undisclosed location." The aircraft carried two AIM-9X air-to-air missiles on outboard stations, so if the jet in the image carried out the attack, it was not in "stealth mode," which would have contained all ordnance internally. No unit markings were visible in the images.
The Air Force said the F-35 is designed to "enhance other battlefield assets." Morris, in the release, said the F-35 has "sensors everywhere, it has advanced radar, and it is gathering and fusing all this information from the battlespace in real time." He said the jet can share that information with "other F-35s or even … fourth generation aircraft in the same package that can also see the integrated picture."
The planned duration of the F-35A deployment to the Middle East has not been disclosed.