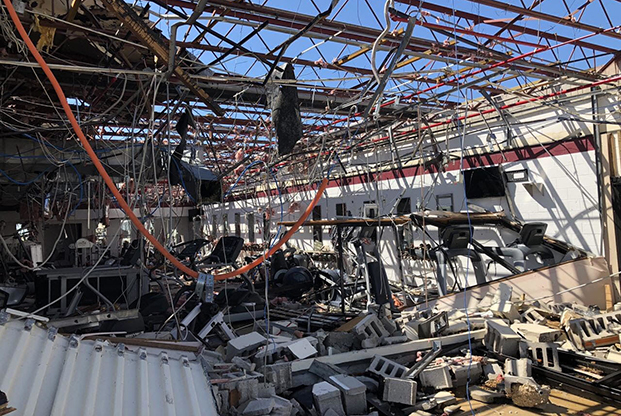 It'll take an infusion of almost $1 billion to begin recovering Tyndall AFB, Fla., SECAF Heather Wilson said Wednesday. Air Force photo by TSgt. Kelly Goonan.
The Air Force needs a nearly $1 billion infusion of funds in fiscal 2019 to start recovering Tyndall AFB, Fla., a down payment before it starts major construction in the coming years, service Secretary Heather Wilson told reporters on Capitol Hill Wednesday.
If Congress doesn't grant supplemental funding by April, Wilson said, it will force the service to start deferring facilities modernization projects at other bases.
"Tyndall happened right at the beginning of the fiscal year, and that allowed us to kind of cash flow from other accounts to be able to recover," she said. "I think we've now used about $410 million for Tyndall in operations and maintenance funds and we expect by the end of this year it's going to be about $750 million for Tyndall recovery, just in operations and maintenance … nothing for military construction."
On top of that, the Air Force requires about $150 million to plan its next steps. Overall, Air Force Vice Chief of Staff Gen. Stephen Wilson told Air Force Magazine he expects the cost of restoring Tyndall will total $4.5 billion to $5 billion.
A recently proposed supplemental funding bill would offer the Air Force more than it thinks it needs overall for fiscal 2019, but it funnels most of the money under military construction while providing less than half of what the service wants for O&M.
Last month, a bipartisan group of senators introduced a $13.6 billion disaster-relief package that offers the Air Force $400 million in fiscal 2019 operations and maintenance money as well as $700 million in military construction funding that would be available through Sept. 30, 2023. Military officials also would owe lawmakers an explanation for how the money would be used.
In its fiscal 2020 budget request released this week, the Defense Department asked for $9.2 billion in later emergency funds. Part of that pot would help cover disaster-relief efforts following Hurricanes Florence and Michael and "may be used to help rebuild Tyndall once the planning and design work is completed," Maj. Gen. John Pletcher, the Air Force's deputy assistant budget secretary, said Tuesday.
He also noted $466 million in the Air Force's operations and maintenance account would go toward facility sustainment restoration and modernization at the base.
The service is still crafting its master plan that will dictate which buildings get torn down, which can be restored, and how a reborn Tyndall will ultimately look.
The 2020 budget request also includes $50 million to replace a hangar and communications facilities at the Luis Munoz International Airport, home of the Puerto Rico Air National Guard. The facilities were destroyed by Hurricane Maria in 2017.
In a recent interview with Air Force Magazine, Maj. Gen. Marc Sasseville, deputy director of the Air National Guard, said he hopes Puerto Rico can benefit from the work that's being done to rebuild Tyndall.
"We certainly hope we'll be able to take advantage of the opportunities and bring Puerto Rico along and make them part of what a future base might look like as we move forward here," Sasseville said.