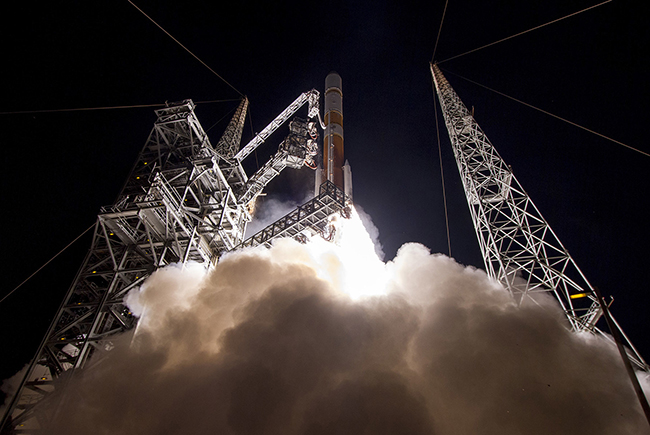 The Air Force successfully launched the ninth Boeing-built Wideband Global SATCOM satellite aboard a United Launch Alliance Delta IV Evolved Expendable Launch Vehicle from Space Launch Complex 37B, Cape Canaveral AFS, Fla., on March 18, 2017. United Launch Alliance courtesy photo.
The Air Force's National Security Space mission won't offer enough work through 2026 to warrant bringing three launch-services providers on board, although those companies could find other opportunities in the private sector, a service official told lawmakers Wednesday.
Lt. Gen. John Thompson, commander of the Space and Missile Systems Center, said at a Senate Armed Services strategic forces subcommittee hearing that awarding 60 percent of launches to one contractor and 40 percent to another is the best path forward, and a three-way split wouldn't be sustainable.
"It gives us flexibility on the manifest to be able to move some of our nation's most important satellites from provider to provider," he said of the 60/40 approach. "It's almost like a block buy concept where we're able to take advantage of competition and savings while still rewarding the best offeror. … Our launch manifest that we need to purchase between 2020 and 2024 simply does not support three offerors in that trade space at the same time."
The service recently requested $1.2 billion to buy four NSSL program launches in fiscal 2020 and 10 launches for $4.6 billion between 2021 and 2024 as part of an overall 66-launch, $19.6 billion effort.
The Air Force is preparing to issue a final request for proposals for the next round of launch services under the National Security Space Launch program. NSSL—formerly named the Evolved Expendable Launch Vehicle program—aims to broaden the number of players in the space launch arena, open up options for reusable launch vehicles, and wean the US off of the Russian-made RD-180 engine used in the United Launch Alliance's Atlas V rocket.
Thompson speculated that after Phase Two proposals are in and contracts are awarded next spring, the service will talk to companies that didn't make the cut about how they could compete in Phase Three.
United Launch Alliance, SpaceX, Blue Origin, and Northrop Grumman are expected to bid on the eventual RFP, although the Air Force may not certify some rockets until after contract award. The Pentagon's inspector general also said Feb. 11 it is looking into whether the Air Force complied with federal rules when approving SpaceX's Falcon 9 and Falcon Heavy rockets for the NSSL program.
Space News reported March 3 the final RFP would be out by the end of the month.
While Thompson suggested the commercial industrial base could support three launch providers, a Government Accountability Office official noted those assumptions could have ripple effects for military space programs.
"One concern we have with the approach going forward is, there may not be enough commercial launches for three providers. There might not be enough to sustain two," Cristina Chaplain, GAO's acquisition and sourcing management director, said at the hearing. "So that's a question, given the demand on the DOD side and what assumptions we have about the commercial sector and how hard it is just to predict what's going to happen."
After subcommittee Ranking Member Sen. Martin Heinrich (D-N.M.) questioned what the Air Force has learned from previous missteps during block buys, Chaplain said the service could still run into similar issues if it awards a fixed-price contract to one company with limited knowledge of what it has to offer.
"When they were about to do their last set of block buys, we reported on a lot of issues in terms of the knowledge not being there that they needed: pricing, cost, manifest," she said. "Those emanated from the nature of EELV and how it started as a commercial-like acquisition that you couldn't obtain certain pieces of knowledge under the contracts that they had."
Thompson told lawmakers all possible offerors are sufficiently mature and the Air Force expects a "full, and open, and robust competition."
"Offerors will be able to update their proposals throughout the evaluation period if they have technological maturities or design review completions," he added. "We have anticipated what the costs would be and we're confident that we can support two with a 60/40 split through the National Security Space Launch program."