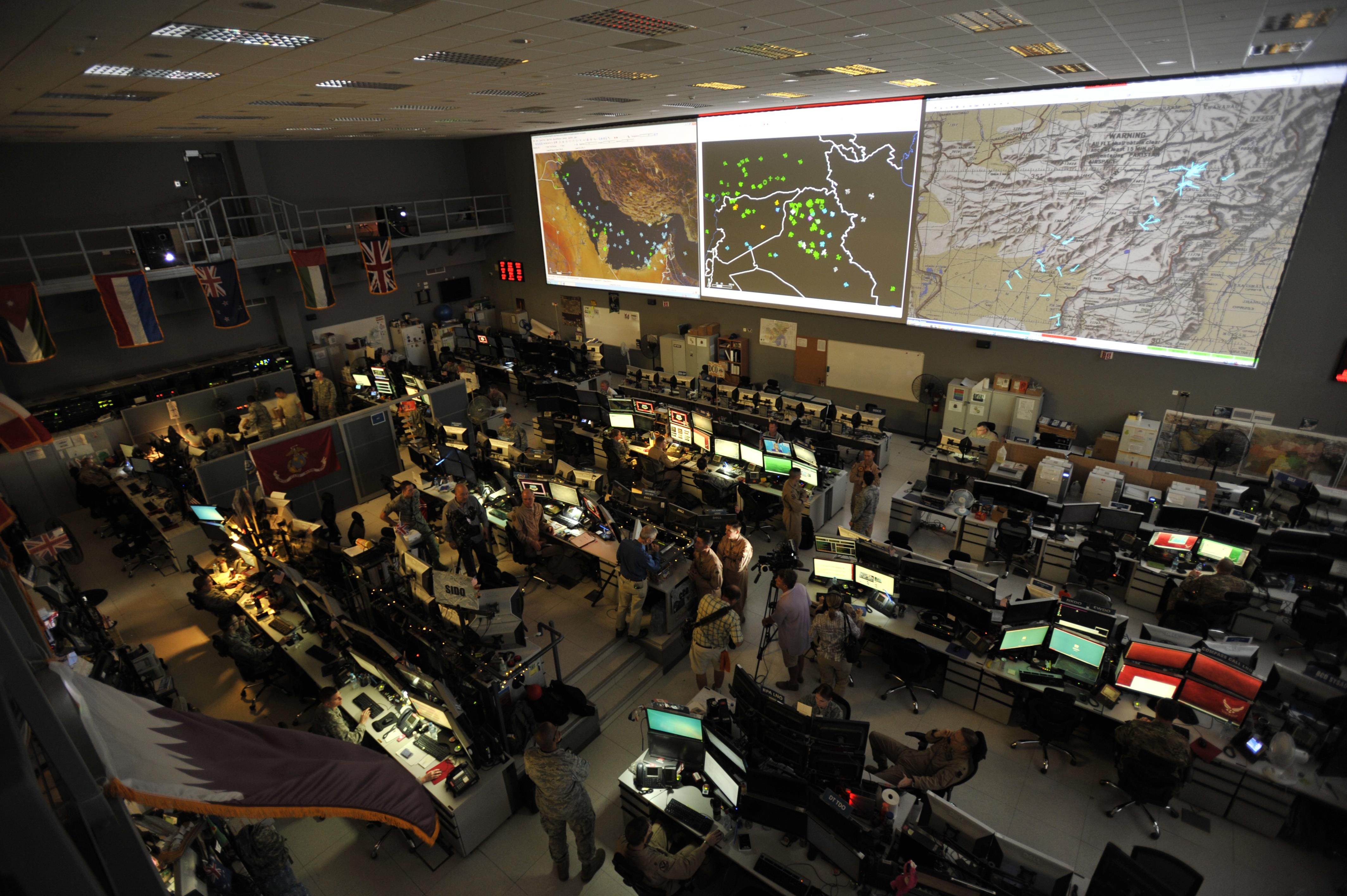 The Air Force on July 13, 2017, cancelled a program to update the software used in its air operations centers because of significant cost overruns. Here, the Combined Air Operations Center at Al Udeid AB, Qatar, provides command and control of air power throughout Iraq, Syria, Afghanistan, and 17 other nations. Air Force photo by Tech. Sgt. Joshua Strang.
The Air Force "terminated" a four-year-old contract with Northrop Grumman Thursday aimed at upgrading the software used in the service's air operations centers that for more than two decades has received, hosted, and parsed incoming data used in fusion warfare.
Years in the works, hundreds of millions of dollars over its initial budget, and in May paused for lack of Fiscal 2017 funding, the effort was already looking dim when USAF's senior uniformed acquisition official told Air Force Magazine in May that Northrop may not hold onto the contract.
According to a July 13 release, the service will open the upgrade project, now called AOC Pathfinder, to airmen, allowing them to use specific "software development processes" to contribute. Pathfinder is "expected to provide" modernized capabilities to the warfighter within one year of "initiation," but what those capabilities are isn't exactly clear at the moment.
To pay for this new project, the service is "working through funding option with Congress." The project itself will "commence immediately" in tandem with the Defense Digital Services—which was also the agency called in to review the Northrop project when it was in high waters—and the Defense Innovation Unit Experimental.
Holistically, the Northrop project was an upgrade to the current AOC Weapon System 10.1. The upgrade was appropriately tagged AOC-WS 10.2. It was focused on cybersecurity and open architecture. To amend the weapon system with these elements as pathfinders is a large undertaking, one that USAF chose Northrop Grumman to work on in 2013. Northrop's pricetag for the development phase of the project was $374 million in 2013, but has since risen to $745 million, according to Office of the Assistant Secretary of the Air Force for Acquisition. The program's entire lifespan, including procurement and support, is now projected to cost taxpayers over $3.5 billion.
It's not clear at the moment how much the modified project will cost. Northrop Grumman did not immediately respond to a request for comment late Thursday.