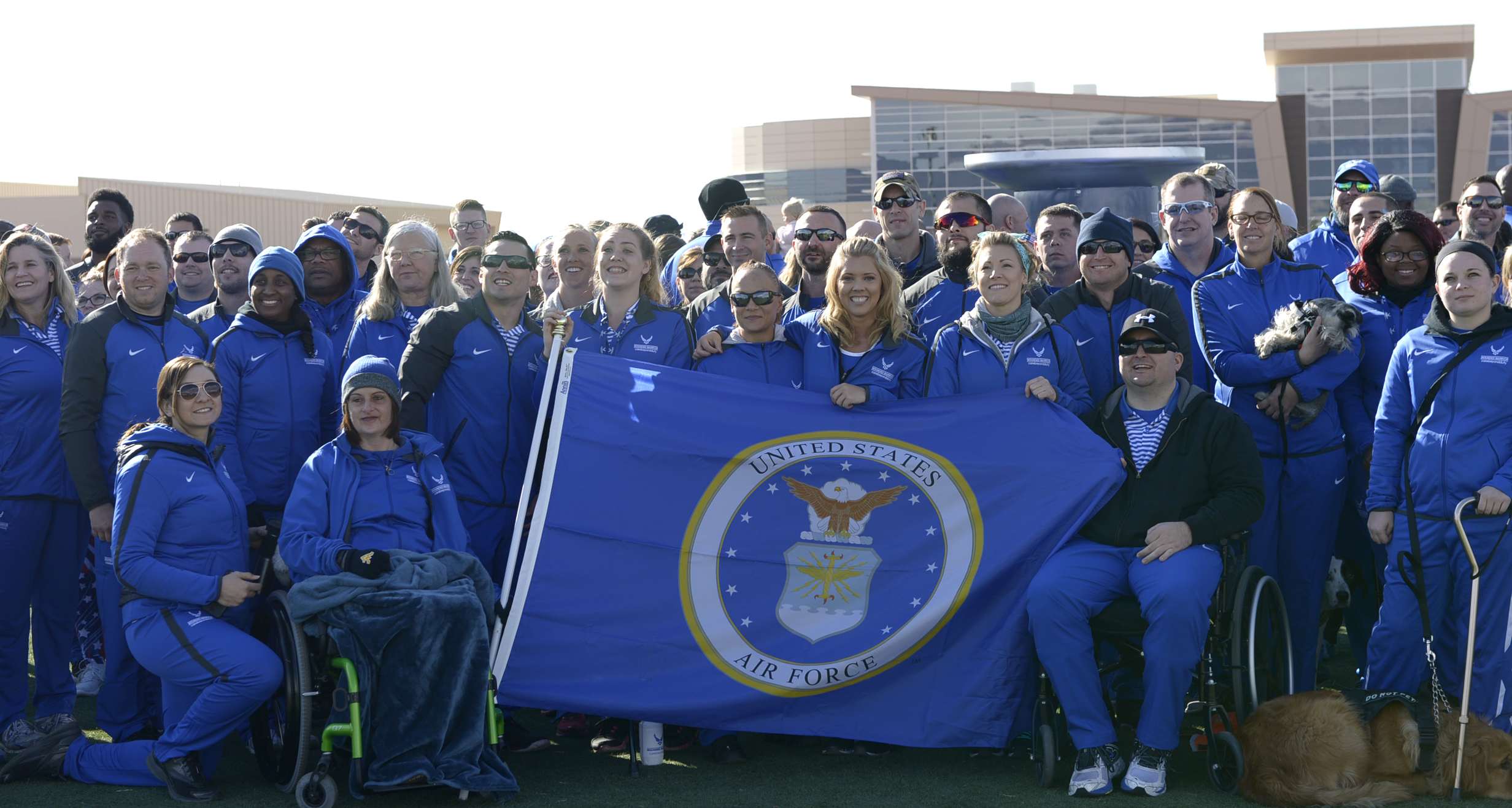 Athletes pose for a group photo during the 5th Annual Air Force Wounded Warrior Trials opening ceremony at the Warrior Fitness Center on Nellis AFB, Nev., Feb. 23, 2018. USAF photo by Corey Parrish.
The Air Force has selected the 40-person primary team as well as 10 alternatives to compete at the 2018 Warrior Games, which will be hosted by USAF at the Air Force Academy in Colorado Springs, Colo., June 2-9.
The team, which will be led by team captains MSgt. William Lickman and retired TSgt. Joshua Smith, is made up of Total Force airmen and veterans who will compete in 11 Paralympic-style events including archery, cycling, track and field, shooting, sitting volleyball, swimming, track, and wheelchair basketball. This year's games also will include indoor rowing, powerlifting, and time-trial cycling "for the first time in Warrior Games? history," according to a? release.
More than 60 percent of the team members selected a?t the Air Force Trials at Nellis AFB, Nev., in late February have never competed in the Warrior Games before, said Marsha Gonzales, Air Force Wounded Warriors support branch chief, in the release.
"While the Warrior Games is a competitive event, it is more about resiliency and recovery," said Col. Michael Flatten, AFW2 program director. "These competitors are going out to show everyone how adaptive sports have helped them and will walk away with their personal bests in whatever sport they compete in. I am really hoping they see themselves as part of a team that will help them achieve their very best."
The Air Force Association funded 25 veteran wounded airmen to compete for their spot on the 2018 Air Force Warrior Games team at the trials and hosted the closing ceremonies where the Air Force team was announced. With the team selected, AFA will fund eight veteran wounded airmen and two caregivers to attend a training camp at Hurlburt Field and Eglin AFB, Fla., in April, as well as the games themselves this summer.
Air Force Magazine profiled several of the athletes who participated in the 2017 games, which were hosted by the US Navy in Chicago, in its October 2017 issue.