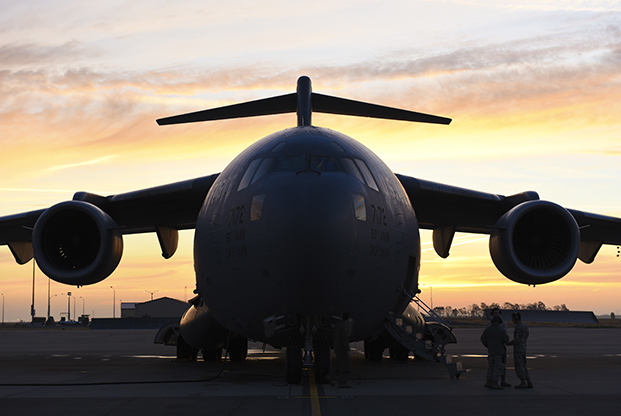 A C-17 Globemaster III sits on the flightline at Travis AFB, Calif., on Oct. 24. Air Force photo by SSgt. Amber Carter.
Air Mobility Command is still trying to figure out exactly how it will increase the number of its C-17 squadrons, while simultaneously looking to reduce the size of its C-130 fleet.
The Air Force at AFA's Air, Space & Cyber conference last month outlined its plan to grow the number of total squadrons to 386, which included a large increase for Air Mobility Command airlift and aerial refueling squadrons.
The "Force We Need" calls for more airlift, but only with C-17s. Specifically, the Air Force wants an increase of three C-17 squadrons, with a corresponding drop of two C-130J squadrons.
USAF studies have shown the strategic airlifter is in higher demand for potential future conflicts than the tactical C-130, AMC boss Gen. Maryanne Miller told reporters on Friday.
The plan is largely based on classified information, so the Air Force's reasoning for why it would need the larger C-17 isn't public. However, Air Mobility Command is finalizing a mobility capabilities study for its future needs, which is in coordination with the Pentagon and Congress and will be released in the near future.
The Air Force cannot, right now, say how any potential jump in the C-17 fleet would be possible because the Boeing production line for C-17s has closed. Those details "we have not looked at," and would be the focus of future discussions with Congress. The "Force We Need" plan is an "initial stage" to get the concept out there, and more in-depth discussions are forthcoming, Miller said.