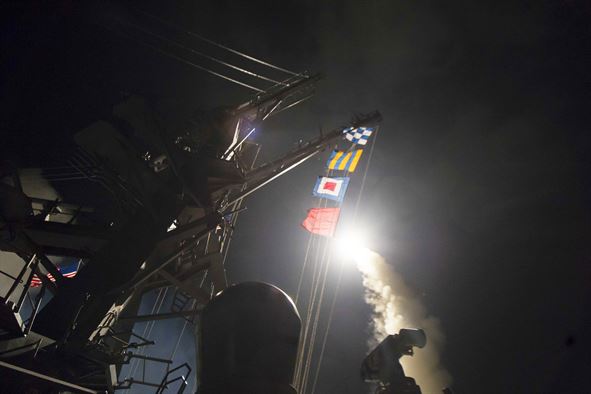 The White House has warned Syrian President Bashar al Assad's regime not to conduct another chemical weapons attack. Here, the Arleigh Burke-class guided-missile destroyer USS Ross fires a tomahawk land attack missile at Sharyat Airfield in Syria from the Mediterranean Sea, April 7, 2017, following the first such attack. Navy photo by Petty Officer 3rd Class Robert S. Price.
Syria is preparing to launch another chemical attack from the same base that was struck by Tomahawk missiles in April, the White House said in a statement that was quickly denied by Syrian and Russian officials on Tuesday.
The White House said late Monday that Syrian President Bashar al Assad's regime was undergoing "potential preparations" for a chemical attack and that it "would likely result in the mass murder of civilians, including innocent children."
On Tuesday, the White House further clarified that "all relevant agencies" including the Pentagon, were involved in the assessment. The clarification came after media reports stated that the Defense Department was surprised by the statement.
Syrian Minister for National Reconciliation Ali Haidar, speaking in Damascus, told the Associated Press on Tuesday the claim was part of a "diplomatic battle" against Syria, and that the country does not have chemical weapons.
The Syrian government made similar claims in April after a chemical weapons attack prompted the US to strike the Sharyat Airfield. American officials said this base was used by Syria to launch chemical weapons attacks. Shortly after the US strike, Syrian aircraft returned to the base and began flying again.
The White House statement said the preparation activities "are similar to preparations the regime made before its April 4, 2017 chemical weapons attack."
The White House emphasized the US is in Syria to combat ISIS, but also warned Assad that he would "pay a heavy price" if a chemical attack takes place.