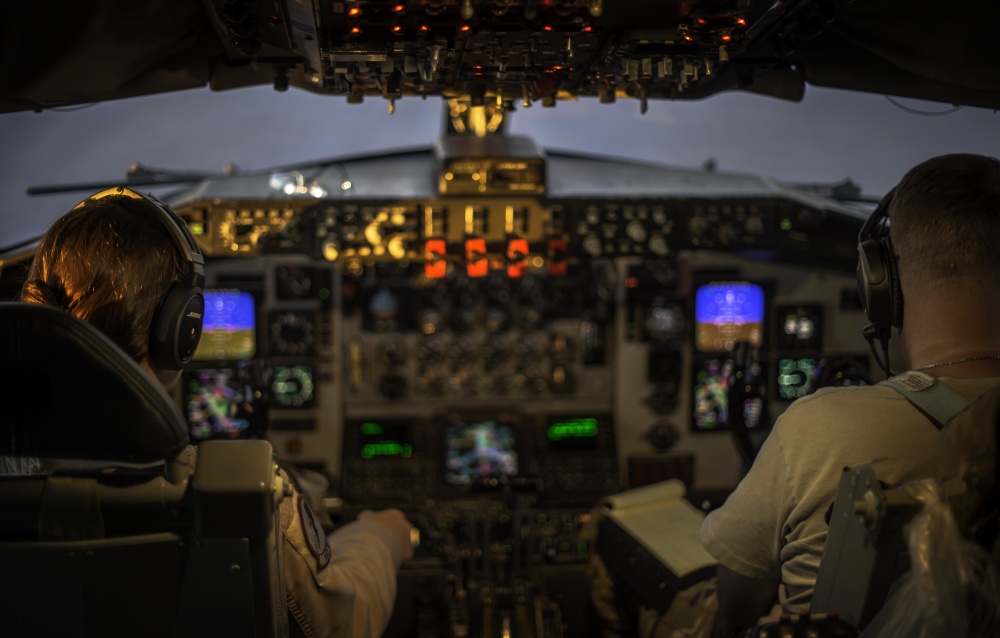 US leaders continue to encourage Iraqi Security Forces and Kurdish Peshmerga forces to avoid further conflicts and turn their attention back to the fight against ISIS after Iraqi forces claimed Kurdish-held territory around Kirkuk, Iraq, on Monday. Here, USAF KC-135 Stratotanker pilots, assigned to the 340th Expeditionary Air Refueling Squadron, fly a mission over Iraq in support of Operation Inherent Resolve, Oct. 2, 2017. Air Force photo by Staff Sgt. Trevor T. McBride.
Iraqi forces claimed Kurdish-held territory in and around the city of Kirkuk on Monday as US officials encouraged both Iraqi leaders and the Kurdish Peshmerga to avoid any conflict and return their attention to defeating ISIS.
Iraqi Security Forces over the weekend moved on Kurdish-held Kirkuk following last month's Kurdish vote for independence from Iraq, The Associated Press reported. Iraqi forces focused on major oil fields around the city, an airport, and a military base as Kurdish forces fled the area. Iraqi forces in 2014 fled the area as ISIS moved in, and Kurdish Peshmerga forces later retook the area from the group.
Iraqi Prime Minister Haider al-Abadi said the movements were an act "to fulfill our constitutional duty and extend the federal authority and impose security and protect the national wealth in this city," according to the AP.
There was a brief exchange of fire early Monday, an event the Pentagon said was "isolated." US officials have not seen the level of hostilities that had been reported in the media, Defense Department spokesman Army Col. Robert Manning said during a Monday briefing. Kurdish forces told the AP there had been "lots of casualties" as Iraqi forces moved on oil and gas sites.
The emerging conflict is distracting from the ongoing fight against ISIS, Manning said.
The Pentagon is urging both sides to "avoid escalatory action," he added. The US military characterized the Iraqi actions as "coordinated movements," and could not say Monday if there was Iraqi air support for the forces.
There is authority for about 5,200 US personnel inside Iraq, with some "in the vicinity" of Kirkuk. They are not in danger, and are not advising or supporting either the Kurdish forces or the Iraqi Security Forces in this situation, Manning said on Monday.