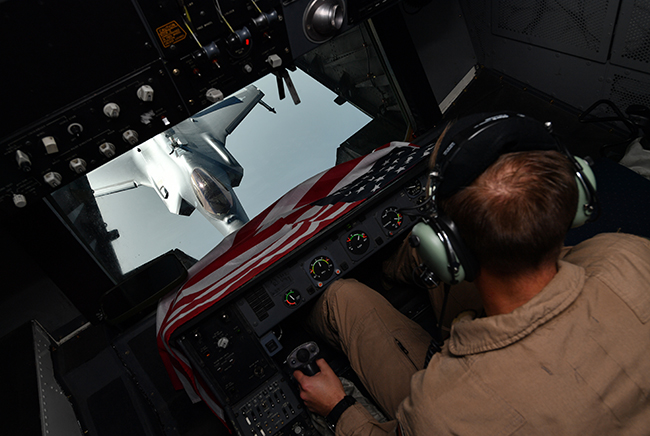 A USAF KC-10 Extender boom operator refuels an F-35A Lightning II above an undisclosed location, on April 30, 2019. Air Force photo by SSgt. Chris Drzazgowski.
US and coalition airstrikes against ISIS in April reached their lowest monthly total since the war began in 2014, with just 90 strikes taking place, according to statistics released June 30 by Air Forces Central Command.
The number of strikes in April was just one-tenth that of the previous month, though combat operations continued despite US-backed forces declaring victory over the group's physical caliphate in March.
AFCENT releases monthly tallies of US and coalition operations in both Operation Inherent Resolve and Operation Freedom's Sentinel approximately two months after the fact. The most recent release shows there have been 3,602 total strikes in Iraq and Syria as of the end of April, compared to 8,713 in all of 2018.
While mainly focusing on ISIS, US Central Command said it conducted a strike on June 30 targeting al Qaeda leadership at a training facility near Aleppo, Syria. While ISIS has been depleted in the area, Northwest Syria "remains a safe haven" where al Qaeda operatives plan attacks.
"With our allies and partners, we will continue to target Daesh [another term for ISIS] and al Qaeda to prevent both groups from using Syria as a safe haven," CENTCOM said in a statement.
Meanwhile, US operations in Afghanistan have remained steady, according to the AFCENT statistics. In April, US aircraft conducted 548 strikes, down from 673 the previous month. As of the end of that month, aircraft had conducted 2,011 strikes in 2019, up slightly from the 1,748 strikes conducted during the same time period last year.