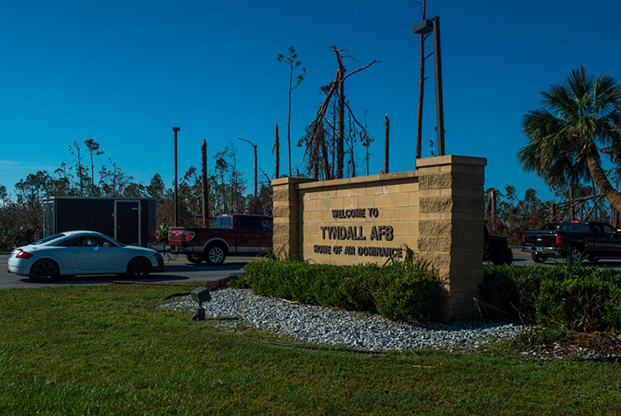 The window for Tyndall residents to return to the base to collect belongings and document damage closed Sunday. Air Force photo by SrA. Sean Carnes.
Tyndall AFB, Fla., closed its gates to evacuated residents on Sunday as the base moves to another phase of recovery following Hurricane Michael's destruction.
The base had opened its gates to residents to retrieve valuables and take pictures of damaged residences, but that access ended on Sunday. Col. Brian Laidlaw, commander of the 325th Fighter Wing at Tyndall, said in a Saturday statement that "we still do not have the capacity to sustain any more than a minimal population on our base. We're committing the resources we have to secure the base, restore basic utilities, re-establish communications, and bed down follow-on forces."
There are about 600 airmen on the base as of last weekend, and they are "working hard to recover our base so it can be accessed safely," Laidlaw said.
About 11,000 service members evacuated the base in advance of the Oct. 10 storm, and many of them are now back to work at other locations across the country. This includes many airmen now working remotely at the Civil Air Patrol National Headquarters at Maxwell AFB, Ala., according to a CAP release.
The 45th Space Wing at Patrick AFB, Fla., has a modified Emergency Family Assistance Center running for airmen in the Space Coast area who are displaced from Tyndall, according to a wing release.
Florida Gov. Rick Scott, who toured the base on Friday, said in an interview with the Pensacola News Journal that he is urging President Trump to commit to rebuilding the base to fulfill its military mission and "become fully operational" as soon as possible. Scott, in a letter to Trump and the Senate and House Armed Services Committees, outlined the base's economic impact and importance to national security. USAF officials have said it would take years for the base to look like it did before the storm.