TYNDALL AIR FORCE BASE, Fla.—As the Air Force rebuilds Tyndall from the destruction of Hurricane Michael as its so-called "Installation of the Future," officials aren't just thinking about maintenance hangars and flightline operations. They're looking to new technology to help solve other problems, like mold growth in Air Force dorm rooms and other facilities.
The base is using a new platform called the Installation Resilience Operations Center (IROC), which is meant to give base leadership, first responders, and facility managers a common operating picture of what is happening across the installation in real-time.
IROC could pull in data from building sensors to alert facility managers if air conditioners are not working properly, if a leak is detected, or if humidity is reaching unusual levels, which can contribute to mold growth, said Lance Marrano, science and technology advisor for reconstruction at Tyndall.
"We've all seen highlights and stories about mold in [Department of Defense] facilities, and we're trying to make sure that we're more vigilant about that," he said.
IROC could also be a game-changer in an emergency, when conventional processes require time for information to be relayed. For example, if a fire starts on the flightline, a fire marshal establishes a safety cordon and radios security forces, who map out the incident on a whiteboard with a marker, then relay that information to the unit command center, Marrano explained.
But each stage of voice-to-voice communication adds time and increases the risk that information will be relayed incorrectly, explained Mark Shackley, innovation team lead and security force program manager for the Natural Disaster Recovery Division at Tyndall.
"Grid coordinates or other numbers get switched around all the time," he said. "Your entry control point might end up somewhere else. Being able to take that data, make it digital, and show the same across everyone's devices means nobody's getting lost."
IROC could be especially helpful as systems and sensors are networked into a base's "internet of things."
"If you went to the fire station or the base defense operations center, you'll see an Airman watching five or six monitors with three or four keyboards in front of them," said Marrano. "You can't respond effectively with that much information overload."
In the future, an IROC at a base could feed data to an enterprise-level operations center. If a vulnerability or inefficiency is detected at one base, analysts could resolve similar issues at other bases.
To keep IROC cybersecure, each facility at Tyndall will have its own network switch and gateway, so that a vulnerability can be contained and not allowed to spread to the rest of the base, Marrano explained.
The IROC already links more than 60 buildings at Tyndall, and USAF leaders are looking at which installation might be next. 
"Within a [fiscal] quarter or so, we're going to have more examples of how that data gets connected together, more information fused and layered together to provide more insights," Marrano said.
Digital Twin
IROC is not the only tool base planners will use for long-term management. Tyndall is also testing a concept already familiar to Air Force weapons programs—a Digital Twin. Like a weapon's digital twin, Tyndall is creating a model of the base in which each building is represented by a 3D virtual replica. Planners believe the model can save time and money by helping them to predict wear and tear on facilities and to manage a base-wide, comprehensive plan for maintenance.
"Instead of waiting for the occupants to say 'hey, I've got water on my floor,' now the engineer can look across the base, get a better sense of which roofs are approaching end of life, and then you start developing those engineering projects rather than waiting for a work ticket and more damage," Marrano said.
Marrano comes to Tyndall from the U.S. Army Corps of Engineers, which hopes to learn from Tyndall's example and possibly apply the same technology to Army bases. He explained that the digital twin enables a kind of "X-ray vision" for engineers or facility managers—they can point an iPad toward a ceiling and use the virtual model to detect exactly which ceiling tile they need to move to access a water pipe.
The models are helpful even before the buildings are completed. The director of Tyndall's soon-to-be-completed child development center did a virtual walkthrough of her building and identified areas where toddlers might hide, Marrano said. 
"Anybody from the base can come in and interact with their facility," he said. "Being able to help users look at their facilities before they receive them and give feedback is really important."
The digital twin also helps managers anticipate how storm surges could affect the base and model traffic congestion due to construction or a major exercise. Security Forces Airmen can use it to practice responding to an active shooter scenario, knowing that important details, such as which way a door swings open, are faithfully rendered.
The digital twin project is in a pilot stage as the base awaits cyber accreditation, Marrano said, but the program should be ready for wider use in about six to nine months. At that point, the concept could be applied to other bases—provided facility data is available. Over the next year, Marrano's team will explore how to align data standards so that installation managers across the military can quickly create digital twins of their own bases.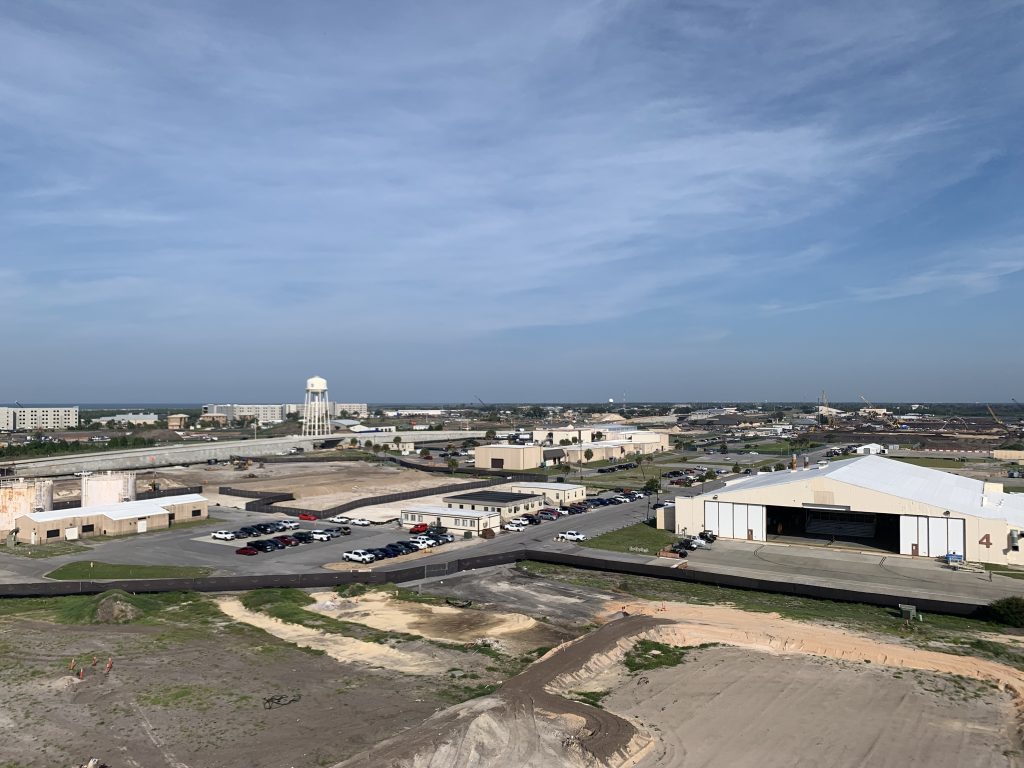 Installation of the Future
These new technologies form just one pillar of the ongoing $5 billion reconstruction project at Tyndall, which was destroyed by Hurricane Michael in 2018. New facilities and a new F-35A Lightning II fighter wing will also shape Tyndall's effort to become an 'Installation of the Future,' a model for how the Air Force writ large might become safer, stronger, and more efficient in the years ahead.
"If we're going to build the Installation of the Future, we need to figure out what's new out there that we can use to make us more effective at operating," said Col. Robert Bartlow Jr., chief of the Air Force Civil Engineer Center Natural Disaster Recovery Division.
There are still more emerging technologies could further enhance security at Tyndall:
ZeroEyes: An artificial intelligence program that scans more than 60 live security camera feeds and alerts Security Forces if a firearm is detected. Rapid detection should help defenders prepare and respond faster in case of an active shooter situation, Shackley said. Tyndall is the first Department of Defense installation to get ZeroEyes.
Digital Force Technologies' Force Protection Kit: A system of infrared cameras, ground-based radar, and laser-range finders that artificial intelligence can scan for threats such as unmanned aerial systems. The automated system is supposed to reduce the cognitive load for security forces Airmen, according to the Air Force.
Robot Dogs: Designed by Ghost Robotics, the semi-autonomous quadrupeds sport nine sensors and act as extra eyes and ears both day-to-day and in extreme temperatures, according to the Air Force.