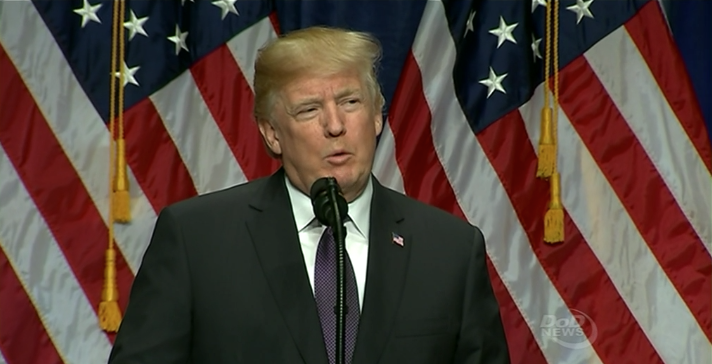 President Trump unveils his administration's National Security Strategy during a speech Monday at the Ronald Reagan Building in Washington, D.C. Screenshot photo.
President Trump on Monday unveiled his first national security strategy, an "America first" approach that focuses on modernizing and maintaining the US military, promoting US interests, and countering China's and Russia's attempts to revise the world order.
Trump, during a speech Monday at the Ronald Reagan Building in Washington, D.C., called for a "great reawakening of America."
"With every decision and every action, we are now putting America first," Trump said in a speech largely focused on issues with the previous administration's foreign policy. "We are rebuilding our nation, our confidence, and our standing in the world. We have moved swiftly to confront our challenges. And we have confronted them head on."
The National Security Strategy focuses on four pillars: protect the homeland, promote American prosperity, preserve peace through strength, and advance American influence. These interests are needed to address the "revisionist powers" of China and Russia "that use technology, propaganda, and coercion to shape a world antithetical to our interests and values," according to a White House summary of the strategy. In addition, "regional dictators that spread terror" and "jihadist terrorists" are other "key challenges" that affect US standing in the world, according to the summary.
Peace through strength will come from a new focus on spending on military modernization, new approaches to acquisition, building military capacity, improving readiness, and retaining a force that is capable of "defeating the full range of threats to the United States," according to the strategy.
The US needs a healthy industrial base to help the military surge in response to an emergency. To help the industrial base, the government needs to understand what the problems are, encourage investment on "key national security industries," and grow critical skills that are needed in the workforce, states the summary.
The strategy states that "significant investment" is needed to sustain US nuclear weapons, modernize US nuclear forces and infrastructure, and maintain a stable deterrence.
"We will not allow adversaries to use threats of nuclear behaviors to coerce the United States, our allies, and our partners," according to the strategy. "Fear of escalation will not prevent the United States from defending our vital interests and those of our allies and partners."
In addition to these areas, the strategy calls for more resources and focus on both space and cyberspace to address current challenges and the growing importance these areas will play in national security.
The National Security Strategy is mandated by the Goldwater-Nichols Defense Department Reorganization Act of 1986, which originally required the updates every year. The document is intended to update Congress on the priorities of the White House. President Obama submitted his first strategy two years into his first term, with a second in 2015. (Read the full strategy)