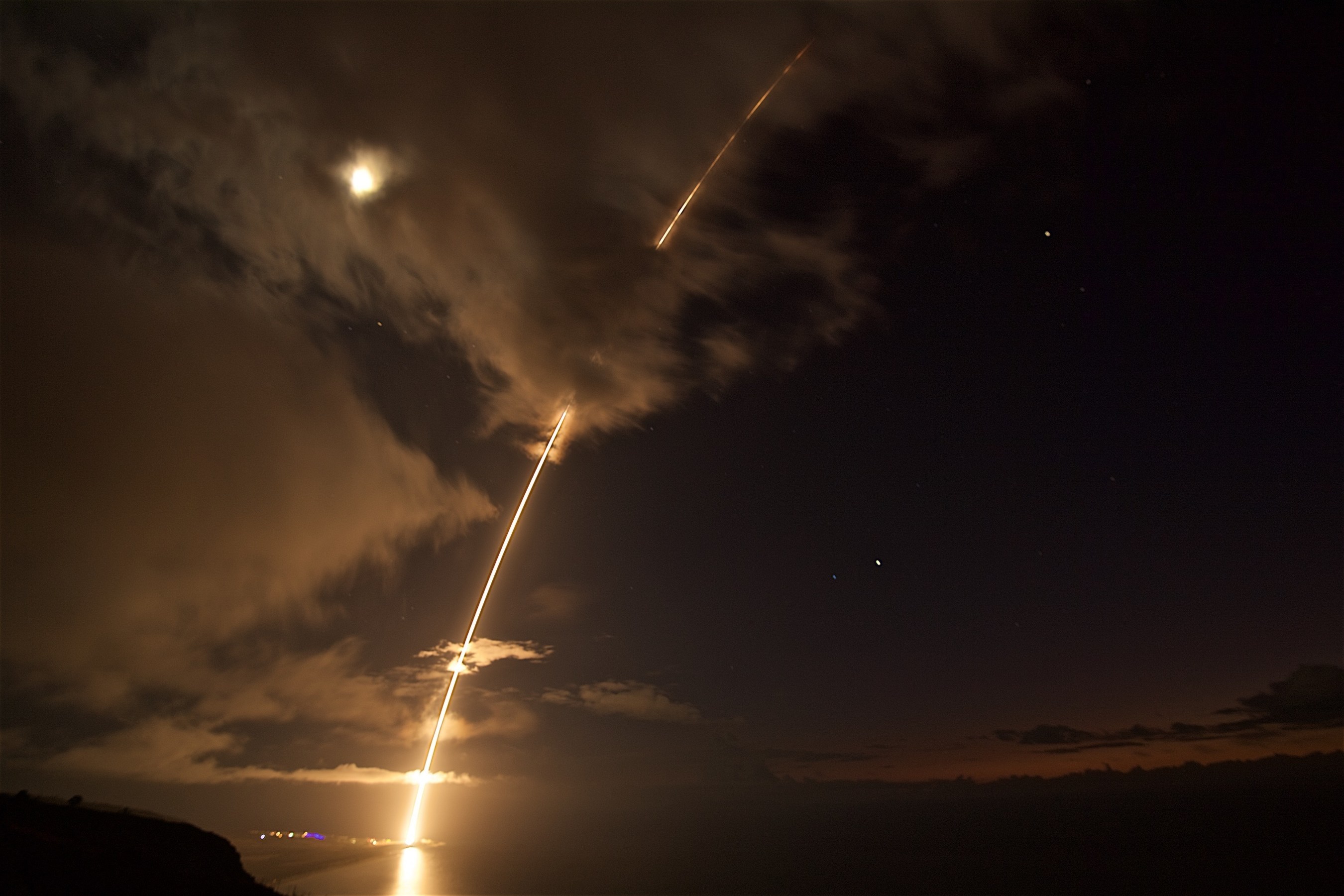 A medium-range ballistic missile target is launched from the Pacific Missile Range Facility on Kauai, Hawaii, during Flight Test Standard Missile-27 Event 2 on Aug. 29. The target was successfully intercepted by SM-6 missiles fired from the Aegis Combat System onboard the USS John Paul Jones. Missile Defense Agency photo by Latonja Martin
President Donald Trump said dialogue with North Korea is "not the answer" to that country's nuclear provocations in a Wednesday morning Twitter message posted two days after Pyongyang's latest ballistic missile test flew over Japanese territory.
Meanwhile, Secretary of State Rex Tillerson and Secretary of Defense Jim Mattis signaled continued US commitment to diplomatic efforts to pressure North Korea to give up its nuclear ambitions.
"The US has been talking to North Korea and paying them extortion money for 25 years," Trump tweeted without further explanation. "Talking is not the answer!"
The president's statement came the day after Tillerson spoke on the phone with the foreign ministers of Japan and the Republic of Korea and "agreed with the two ministers to continue close coordination on efforts to increase pressure on North Korea," according to State Department spokesperson Heather Nauert.
"We're never out of diplomatic solutions," Mattis told reporters when asked about Trump's tweet after a meeting with ROK defense minister Song Young-moo on Wednesday, according to a pool report. "We continue to work together … and look for all the areas we can collaborate—there is already very strong collaboration, we always look for more, we are never complacent."
The United Nations on Tuesday called North Korea's latest launch "outrageous" and demanded that Pyongyang "immediately cease all such actions," in a statement issued after an emergency meeting of the Security Council was convened at the request of the US delegation. "The United States will not allow [North Korea's] lawlessness to continue, and the rest of the world is with us," US ambassador to the UN Nikki Haley said. The UN did not announce new actions against Pyongyang after the meeting.
Also, on Tuesday, the Missile Defense Agency successfully intercepted a medium-range ballistic missile off the coast of Hawaii in a test of its Aegis ballistic missile defense system. The test missile was tracked, and the SM-6 interceptor launched, from the USS John Paul Jones in the second successful Aegis test, according to an MDA press release.