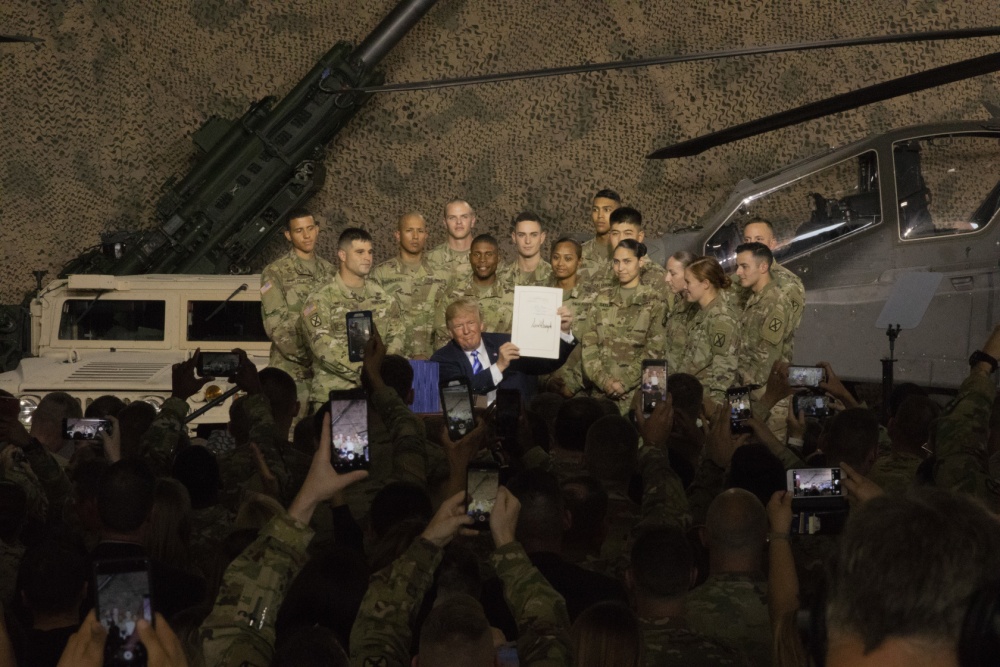 President Trump signs Fiscal 2019 defense authorization legislation Monday at Fort Drum, N.Y. DOD photo.
President Trump Monday issued a statement pointing to "constitutional concerns" about some of the provisions in the Fiscal 2019 defense authorization bill he signed that day.
Trump's statement referred to the legislation as "H.R. 5515, 'an Act to authorize appropriations for fiscal year 2019 for military activities of the Department of Defense, for military construction, and for defense activities of the Department of Energy, to prescribe military personnel strengths for such fiscal year, and for other purposes.'" That is the law's long title, but its official short title is the 'John S. McCain National Defense Authorization Act for Fiscal Year 2019,'' named for ailing Senate Armed Services Committee Chairman John McCain (R-Ariz.), who has clashed with Trump in the past.
In his statement, Trump cited language relating to limits on funds to retire JSTARS aircraft; limiting the reduction of ICBMs; and a section on the acceleration of the Missile Defense Agency's hypersonic missile defense program, among other provisions, saying they "purport to restrict the President's authority to control the personnel and materiel the President believes to be necessary or advisable for the successful conduct of military missions."
"While I share the objectives of the Congress with respect to maintaining the strength and security of the United States, my administration will implement these provisions consistent with the President's authority as Commander in Chief," he said.
He also pointed to other language, including a section relating to an inventoryrequirement for tankers and limiting the retirement of KC-10As; the J-STARS provision; limiting funds for implementation of the OpenSkies Treaty; limiting the use of funds to reduce the number of USservice members deployed to South Korea; and calling for certifications regarding actions by Saudi Arabia and the United Arab Emirates in Yemen and linking those certifications to the use of federal funds for refueling of Saudi or Saudi-led coalition non-US aircraft in Yemen.
Trump said he was repeating "the longstanding understanding of the executive branch" that these sorts of provisions "encompass only actions for which such advance certification or notification is feasible and consistent with the President's exclusive constitutional authorities as Commander in Chief and as the sole representative of the nation in foreign affairs."