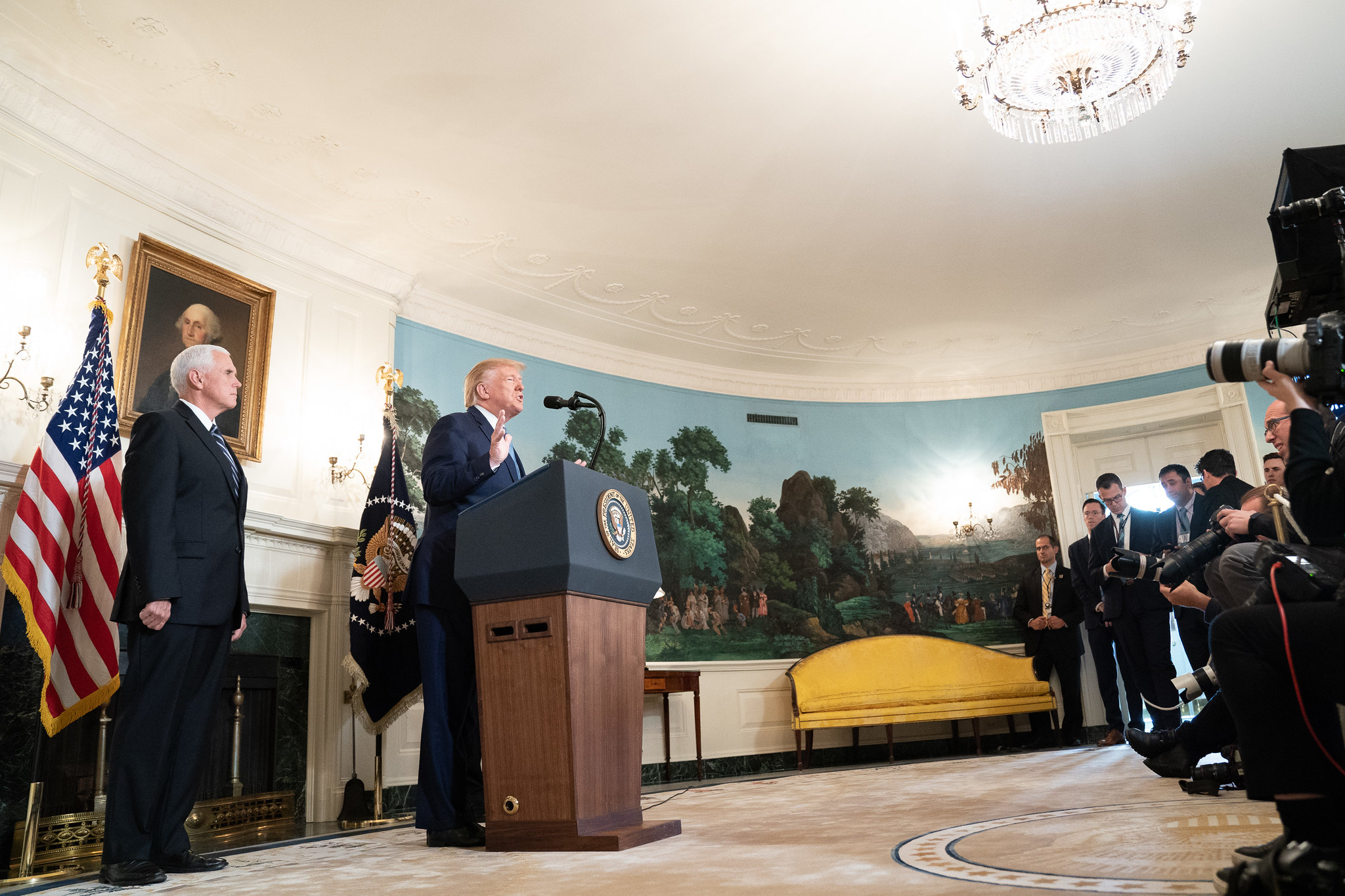 President Donald Trump, joined by Vice President Mike Pence, speaks Oct. 23, 2019, at the White House. White House Photo by Shealah Craighead
The White House is lifting sanctions it imposed on Turkey about one week ago, after Turkey agreed to a "permanent" ceasefire in Syria but can now reach deeper into areas previously held by Syrian Kurdish fighters, President Donald Trump announced Oct. 23.
The limited sanctions, which Trump enacted in an Oct. 14 executive order, targeted Turkish steel and assets held by some of the country's leaders. Trump said Turkish President Recep Tayyip Erdogan informed him that Turkey was stopping its military incursion into northeast Syria, the day after Erdogan and Russian President Vladimir Putin reached a decision to jointly patrol the area along the Turkish-Syrian border—which, until recently, the US and Turkey did together.
"The sanctions will be lifted unless something happens that we're not happy with," Trump said. "This was an outcome created by us, the United States, and nobody else. No other nation; very simple. And we're willing to take blame, and we're also willing to take credit. This is something they've been trying to do for many, many decades."
US forces have largely left Syria, with a small number staying behind to secure oil fields and prevent them from being taken over by Islamic State group fighters. "We're going to be protecting it and we'll be deciding what we're going to do with it in the future," Trump said of the oil.
Most US forces in Syria are moving to Iraq, where Iraqi leaders have said they are not authorized to stay. Defense Secretary Mark Esper met with Iraqi Prime Minister Adel Abd-al-Mahdi in Baghdad on Oct. 23, where he thanked Iraq for supporting the security of US personnel.
In an Oct. 22 interview with CNN, Esper said the forces that left Syria are being repositioned "temporarily" in Iraq as part of a "continuing phase" that will lead them home. Esper said the forces that will stay in Syria will be in the southern part of the country, likely the fortified Al-Tanf facility, "but that needs to be worked out in time."
Esper said earlier this week that US airpower would stay active in the area if American forces are on the ground.
Turkey's invasion of Syria, targeting formerly US-backed Kurdish fighters, began after Trump on Oct. 6 announced he was ordering American forces to leave the area along the Syrian-Kurdish border. The Oct. 23 announcement came at the end of a temporary ceasefire that local reports said fighters largely disobeyed.
Trump said he spoke with Syrian Democratic Forces leader Mazloum Abdi, who "could not be more thankful" and said IS detainees are "under very, very strict lock and key."
That statement contradicts others inside the administration. Esper, speaking with CNN, said there are reports of a "bit more than 100" IS fighters who have escaped captivity. James Jeffrey, the special representative for Syria engagement and the special envoy to the global coalition to defeat ISIS, told the Senate Foreign Relations Committee on Oct. 22 that some IS detainees have escaped, and that about 10,000 detainees are in "jeopardy if things go south in northeast Syria."