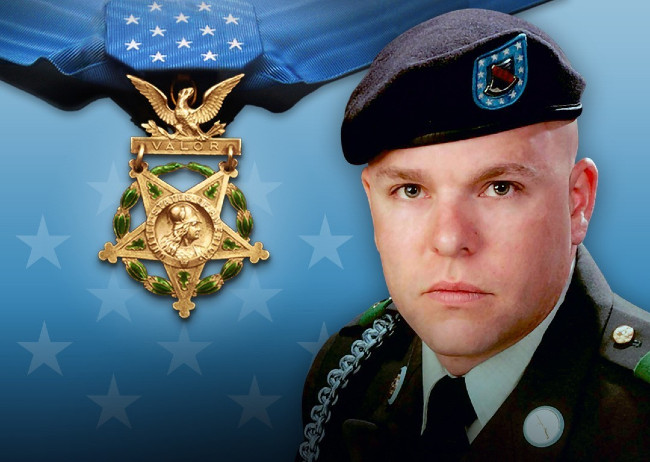 President Donald Trump awarded the Medal of Honor to Army SSgt. Travis Atkins on March 27, 2019. Army graphic.
President Trump on Wednesday awarded the Medal of Honor—the nation's highest honor for valor in combat—to Army SSgt. Travis Atkins, who was killed in Iraq in 2007 when he bear-hugged a suicide bomber, saving three fellow soldiers.
Atkins, who was assigned to the 10th Mountain Division, was on his second deployment to Iraq on June 1, 2007, when his unit was doing route clearance south of Baghdad. He noticed two suspicious men trying to cross the road. There had been reports of insurgents in the area, so the soldiers told the men to stop.
Atkins tried to search one of the men, when he resisted and started to fight. During the scuffle, Atkins saw he had a suicide vest under his clothes. The man pulled the trigger. Atkins didn't hesitate, he put his arms around the bomber, pinning him to the ground as the bomb went off.
He was killed instantly, but the other soldiers with him survived. One of them shot and killed the other insurgant before he could detonate a second suicide vest.
"In his final moments on Earth, Travis did not run. He didn't know what it was to run," Trump said during the White House ceremony. "He did not hesitate. He rose to the highest calling. He laid down his life to save the lives of his fellow warriors."
Atkins was initially awarded the Distinguished Service Cross. The Pentagon in recent years has been reviewing the valor awards and identified Atkins for an upgrade, similar to the process that awarded the Medal of Honor to USAF MSgt. John Chapman.
His son Trevor Atkins accepted the Medal on his behalf at the ceremony.