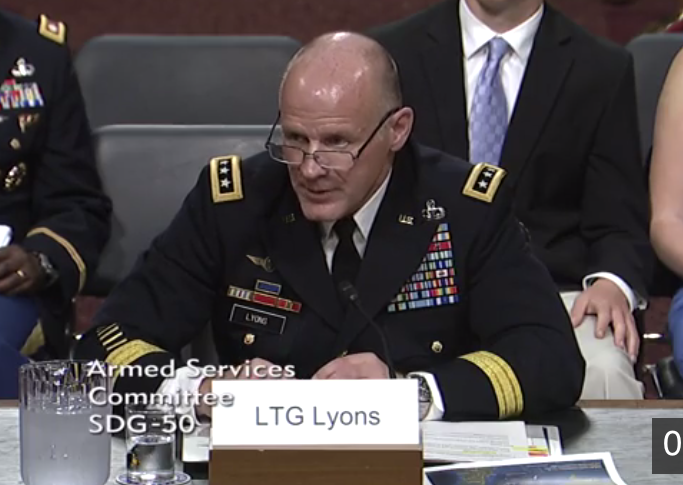 Army Lt. Gen. Stephen Lyons testifies before the Senate Armed Services Committee on Tuesday during his confirmation hearing to be the next commander of US Transportation Command. Screenshot photo.
The nominee to replace USAF Gen. Darren McDew as head of US Transportation Command said there is no "silver bullet" when it comes to tackling US cyber vulnerabilities, but he vowed that if confirmed it would be one of his top priorities.
"The cyber vulnerabilities we see today are a significant threat to our strategic logistics, and frankly, our national security," said Army Lt. Gen. Stephen Lyons during his confirmation hearing before the Senate Armed Services Committee Tuesday.
Lyons said the US must treat cyber like any other operational domain, saying it's critical the United States understands the capabilities and intentions of its adversaries, and that it has an offensive capability that will deter rogue nations.
"It's a layered answer that begins with good cyber hygiene, good infrastructure, good cyber defense measures, and ultimately the right offensive cyber capability with the right authorities behind it," said Lyons.
Sen. Jack Reed (R-R.I.) said US Transportation Command must take steps to protect itself from private contractors, which can be more vulnerable to cyber attack than the Defense Department, including writing more rigorous contract requirements that require companies to have "some kind of a Red Team operation" that studies its network, works to close loopholes, and shares its findings with DOD.
"I can assure you that if confirmed that will be a top priority," said Lyons, noting he would continue the contract effort initiated by McDew and then work to improve it.
"Our adversaries are clever. They go in the back door. It may not be the airline company with all the bells and whistles, but it may be the maintenance company that's a small, local operation, and they get in there and suddenly they have the whole system paralyzed," cautioned Reed. "So, again, I think the more you do, the bette?r off we'll be."