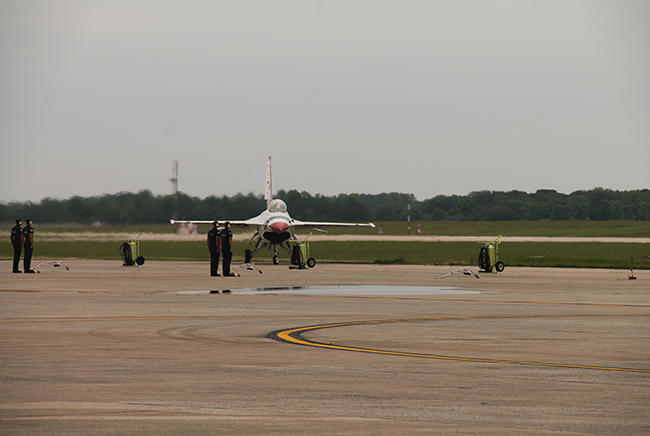 One of the Air Force Thunderbirds' F-16s taxis on the flight line at JB Andrews, Md., on May 11, 2019, during the Joint Base Andrews Air & Space Expo. Staff photo by Jennifer-Leigh Oprihory.
Air Combat Command on June 4 announced the new Thunderbirds team for the 2020 season.
Thunderbird No. 2 will be Maj. Trevor Aldridge, currently with the 493rd Fighter Squadron at RAF Lakenheath, England; No. 4 will be Capt. Zane Taylor, from the 8th Fighter Squadron at Holloman AFB, N.M.; Capt. Kyle Oliver, from the 27th Fighter Squadron at JB Langley-Eustis, Va., will be No. 6; Maj. Kevin DiFalco, from the 31st Operational Support Squadron at Aviano AB, Italy, will be No. 7; Capt. Katherine Moorkamp, from Headquarters Air Combat Command at Langley, will be the team's executive officer (No. 10); Capt. Remoshay Nelson, from the 8th Fighter Wing at Kunsan AB, South Korea, will be No. 12, the team's public affairs officer.
The Thunderbirds are on two-year tours of duty, with openings staggered.
The team is in the middle of its 2019 season, with the 2020 season scheduled to start in March at Laughlin AFB, Texas.