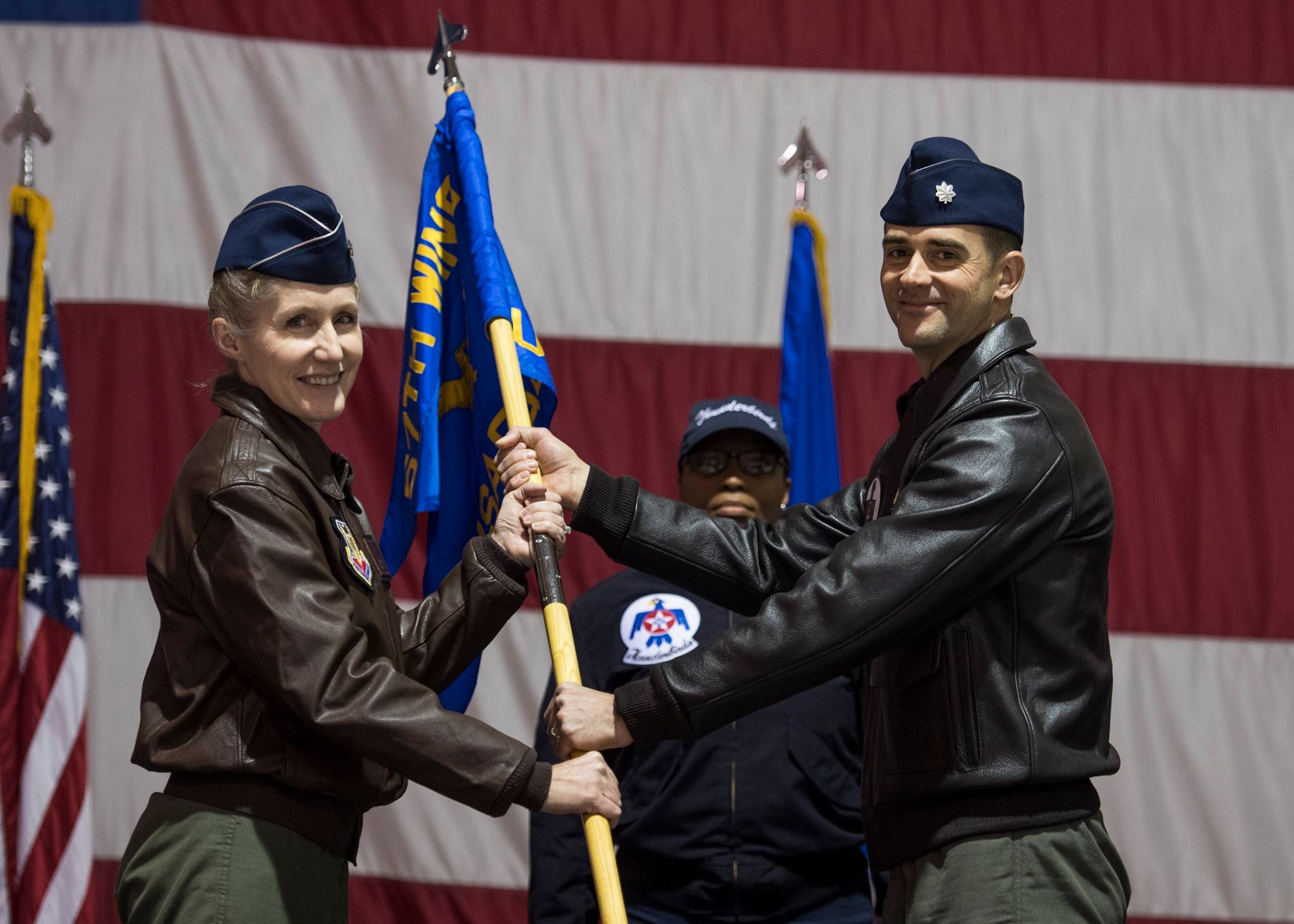 Lt. Col. Jason Heard, shown here accepting the Thunderbirds' guidon from Brig. Gen. Jeannie Leavitt, was relieved of command due to loss of confidence in his "leadership and risk management style," the Air Force announced on Tuesday. USAF photo.
The commander of the Air Force Thunderbirds has been relieved of command following a loss of confidence in his "leadership and risk management style," Air Combat Command announced Wednesday.
Lt. Col. Jason Heard was serving his first season as commander of the US Air Force Air Demonstration Squadron and Thunderbird #1, according to a biography now removed from the Thunderbirds' website. Heard was previously an F-15E expeditionary squadron commander with more than 3,000 flight hours.
Brig. Gen. Jeannie Leavitt, commander of the 57th Wing at Nellis AFB, Nev., relieved Heard effective Nov. 20.
"This was an incredibly difficult decision to make, but one that is ultimately in the best interests of the Thunderbird team," Leavitt said in a release. "I am personally grateful for Jason's dedication to the 2017 season."
Leavitt determined a change was needed "to ensure the highest levels of pride, precision, and professionalism within the team," according to ACC.
Lt. Col. Kevin Walsh,? the Thunderbird's 2016-17 operations officer, has temporarily assumed responsibility of the team until a new commander is selected.
The move comes weeks after the Air Force released the results into the crash of a Thunderbirds F-16 upon landing in Dayton, Ohio, in June. According to the investigation, the aircraft landed too quickly in heavy rain, causing the F-16D to overrun the runway. The pilot sustained several injuries, and the F-16 was destroyed at a loss of $29.2 million.
ACC said in a statement the decision was not related to the Dayton mishap but that "concerns arose that his approach to leading the team was resulting in increased risk" and that "eroded the team dynamic."