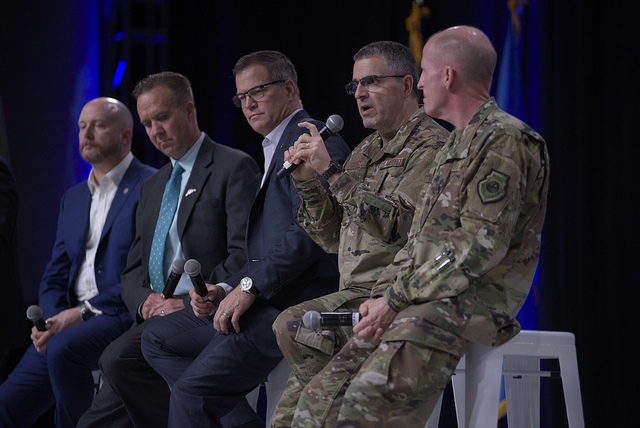 Steve Parker, Kevin Mickey Jeff Babione, Maj. Gen. William T. Cooley, and Gen. Stephen Wilson on the panel discussion "How Industry and Government Can Deliver the Future Force Faster" at AFA's 2019 Air Warfare Symposium on Feb. 28, 2019, in Orlando, Fla. Staff photo by Mike Tsukamoto.
Industry leaders at AFA's Air Warfare Symposium believe the Air Force is saying the right things about spurring faster development of new technologies and capabilities, and they are happy to oblige, provided the service accepts that speed involves risk.
"If we take risk, we can move faster," Boeing Vice President and T-X program manager Steve Parker said during the panel, "Meeting the Needs of the New National Defense Strategy." However, he cautioned that this involves "calculated risk management" and the Air Force's acceptance that not everything will be perfect.
Maj. Gen. William Cooley, head of the Air Force Research Laboratory, said the service has come through a period where Congress and the Pentagon leadership demanded a no-fail approach to system development, which in turn put it "under scrutiny to have things done in a time-certain" fashion.
"That set the risk rheostat very low," Cooley said, and in turn put technology development on a slow track. "That … is not going to get us where we need to go" in an era of fast-moving competition with America's adversaries.
Jeff Babione, Lockheed Martin's Skunk Works president, said companies would be thrilled to move faster, eliminating unnecessary oversight and non-value-added steps, as long as the Air Force shows it will be tolerant of test failures or other setbacks.
"We need to see that being recognized and rewarded," Babione said of the go-fast, risk-acceptance mode. "Our experience was that failure was not an option; 'if you fail, you're going to get the program cancelled.'" The watchword, Babione said, is to "accelerate our learning."
Kevin Mickey, Northrop Grumman vice president and general manager of military aircraft systems, said one way to build trust with industry is to "be careful with … reprimands if people are trying to do the right thing." He said, "To me it's about trust and partnership at every level—throughout the acquisition phase, at the leadership level—that we're all sending the same message to the workforce that are asking to modify their behavior; that if they do, we have their back."
Parker agreed, saying if industry and government are "transparent, listen to each other, … and have a conversation about where the risks are—where the risks really are—work together and pragmatism." He said the Air Force was very transparent in setting requirements for the T-X trainer, allowing Boeing to tailor its response and introduce new manufacturing methods, which permitted a bid some $10 billion below what the Air Force expected to spend.
If that communication and trust builds, "We can do some incredible things," he said.
Babione cited the "14 rules" of Skunk Works' founder Kelly Johnson, who, he said, "had it right 75 years ago. … It's about small, empowered teams; trying to keep access to the program as small as possible. And I think that's why big programs get challenged; the more people that are involved, the more bureaucracy." He quoted Air Force Secretary Heather Wilson, agreeing that USAF is too often "'spending money on stupid things' like bureaucracy." Babione said, "The smaller we can keep the teams," the more effective they'll be.
"When I look through my Skunk Works portfolio right now, the ones that are doing really well are the ones that have the smallest program teams." Engineers on those projects are "given the resources they need and are empowered" to make decisions. Larger programs "struggle," he said, because of time wasted making decisions by committee.
Cooley cautioned that sometimes these small work teams "don't know what each other are doing, and they should. And they could benefit from one another, and that becomes a challenge." Cooley added that "all-of-government" programs sound good, but it takes a lot of effort as he works with his Army and Navy counterparts to "leverage" everything they can from each other. There needs to be "some mechanism so we know who's doing what."
Vice Chief of Staff Gen. Stephen Wilson said the prescription for dealing with industry echoes the message the senior leadership is trying to send to its wing commanders. Paraphrasing Chief of Staff Gen. David Goldfein, Wilson said the message is, "I trust you, I have your back. … Don't wait for me and the Secretary. You're all at the point of impact. You're the ones that are seeing the issues: move out. I trust you.' It's powerful. That message is resonating."