Members of the New York Air National Guard's 106th Rescue Wing assist in the evacuation of stranded American citizens from Princess Juliana International Airport in St. Martin. Air National Guard photo by Col. Richard Goldenberg.
As two historic storms made landfall in the south, the Air Force had two missions: get its aircraft out of harm's way as the hurricanes made landfall, and get its airmen on the ground to help out as soon as possible.
Hurricanes Harvey and Irma hit the coasts of Texas and Florida, respectively, in late August and early September, bringing record flooding and damaging winds. The Air Force's response first began with moving hundreds of aircraft away from possible damage. After the storms moved in, airmen were on the front line to rescue those in need and to bring in necessary aid.
"When the world presents a challenge, our airmen adjust to meet the need and do what it takes to accomplish the mission," said Gen. Carlton Everhart, commander of Air Mobility Command, in a release.
"It takes a tremendous amount of agility and coordination to relocate aircraft while simultaneously supporting global requirements. Realizing what's at stake, our Total Force team rises up to the challenge every time," he added.
Flying into the Storm
The Air Force's famed "Hurricane Hunters" of the 53rd Weather Reconnaissance Squadron at Keesler AFB, Miss., is always the first to respond as hurricanes approach the US. The squadron's specially equipped WC-130Js flew nonstop through the two storms, beginning on Aug. 17.
Over eight days, the aircraft flew 34 separate storm missions, according to the squadron. For the first time in seven years, the aircraft flew into three different hurricanes simultaneously—Harvey, Irma, and Hurricane Katia.
"We've been able to fly all these storms with really no break," Maj. Jeremy DeHart with the 53rd WRS told Air Force Magazine.
Relief After Harvey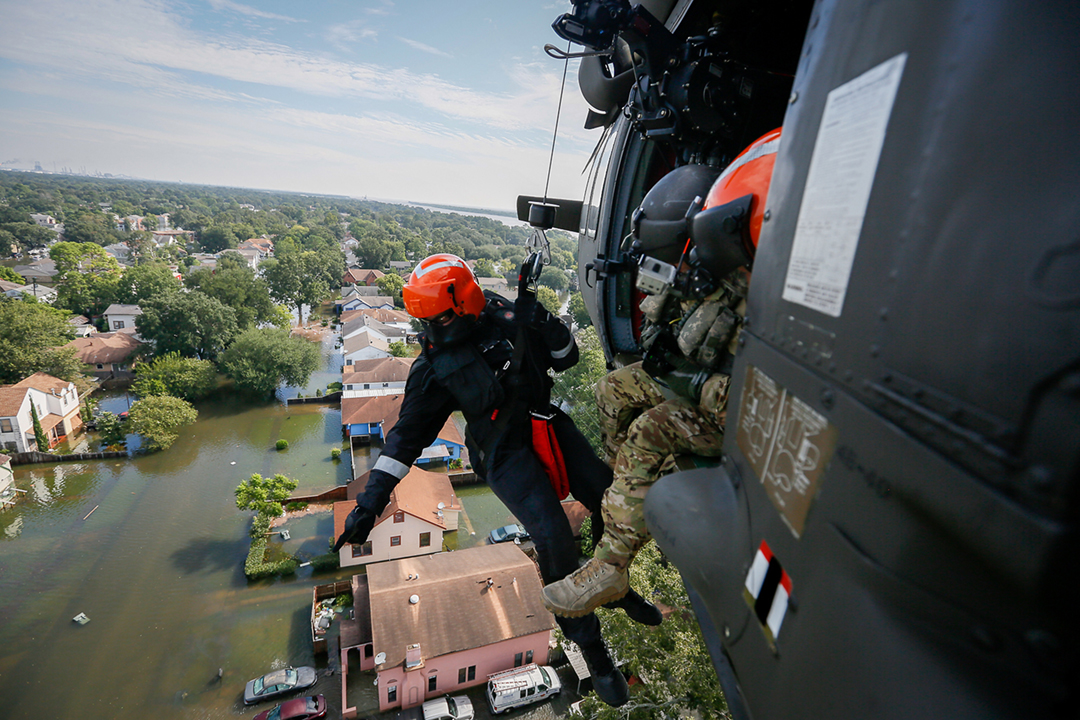 Hurricane Harvey, a Category 4 storm, hit the Houston region with devastating force on Aug. 24, and immediately caused rapid flooding.
Before the storm, aircraft from across Texas and Louisiana flew away from the coast, staying at bases such as Tinker AFB, Okla., and Little Rock AFB, Ark.
The mobilization response began immediately, with Texas Gov. Greg Abbott mobilizing the state's entire National Guard, and Active Duty, Reserve, and Guard forces from across the world immediately called to respond. A total of 1,917 total force airmen directly supported relief operations. More than 80 percent of that response force came from the Air Force Reserve or the Air National Guard.
"I'm just waiting to see the relief on their faces when they are saved," said SSgt. April Cooper, a technician with the 375th Aeromedical Evacuation Squadron at Scott AFB, Ill., who deployed on Aug. 30 for Harvey relief. "It hits home when it happens in your back door. That feeling of, 'Hey, we've got to get in there and get it done.' Nothing says America like that.'"
Air Forces Northern at Tyndall AFB, Fla., coordinated aerial operations of federal military assets in the relief operations, including the Air Force's contingent of HH-60Gs and MC-130s from rescue units including Moody AFB, Ga.; Patrick AFB, Fla.; the Kentucky Air National Guard; the Alaska Air National Guard; the Oregon Air National Guard; and the California Air National Guard.
The Tyndall center coordinated 2,078 search and rescue operations, with more than 16,800 total individuals rescued by the Department of Defense, Department of Homeland Security, the US Coast Guard, Customs and Border Protection, and FEMA.
The Air Force's response included critical care transport teams, combat communications squadrons, and dozens of C-17 and C-130 flights of relief supplies from units across the country. Air Force E-3 Sentries, E-8C JSTARS, and RC-26 Metroliners flew reconnaissance flights, along with Navy E-2 Hawkeyes serving as a communications relay.
Responding to Irma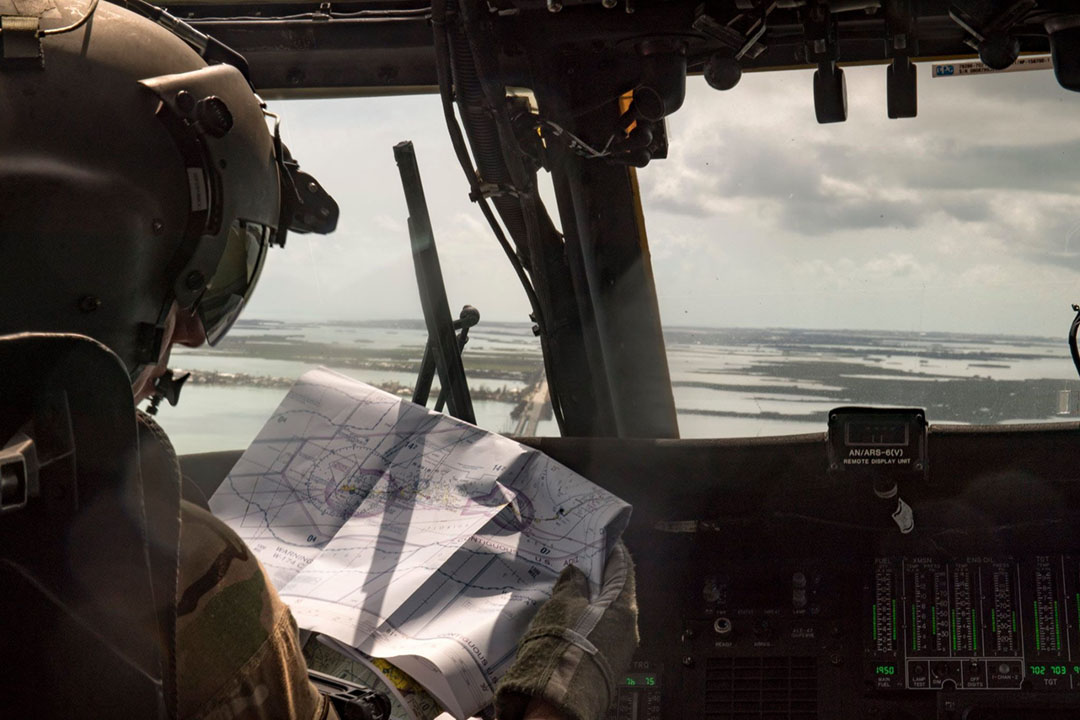 As the Air Force was responding to the Harvey relief effort, bases across Florida and the region began preparing for Hurricane Irma, which was brewing as a Category 5 storm in the Caribbean. F-15s, F-16s, A-10s, KC-135s, C-130s, C-17s, C-146s, and HH-60s from bases in Florida, Georgia, South Carolina, North Carolina, and Puerto Rico were forced to flee. This included F-16s from Homestead Air Reserve Base near Miami, which almost exactly 25 years earlier was severely damaged by Hurricane Andrew.
As the aircraft fled the storm, bases such as Moody, Maxwell AFB, Ala., and JB Charleston, S.C., became staging areas for the massive response to Irma.
More than 950 airmen were involved in the large relief effort on the ground in the region, including search and rescue operations. Mobility aircraft from across the country responded with airlift to ferry passengers out of harm's way.
"I had no idea I would ever be doing anything like this, or be a part of a national effort to help out in hurricane relief," said SSgt. Rob Lummus, loadmaster with the 15th Airlift Squadron out of JB Charleston, S.C., who helped ferry the healthcare professionals to Florida. "It's been pretty amazing to watch all of the different pieces of the puzzle with all the groups working together."
This included C-130 evacuation flights carrying thousands from Puerto Rico, St. Martin, and the US Virgin Islands. A C-17 ferried more than 300 healthcare professionals to Orlando in support of the US Department of Health and Human Services to assist. Three C-17s from the Strategic Airlift Capability at Papa AB, Hungary, also responded at the request of the Netherlands, bringing humanitarian relief cargo to St. Martin.
'We Volunteered'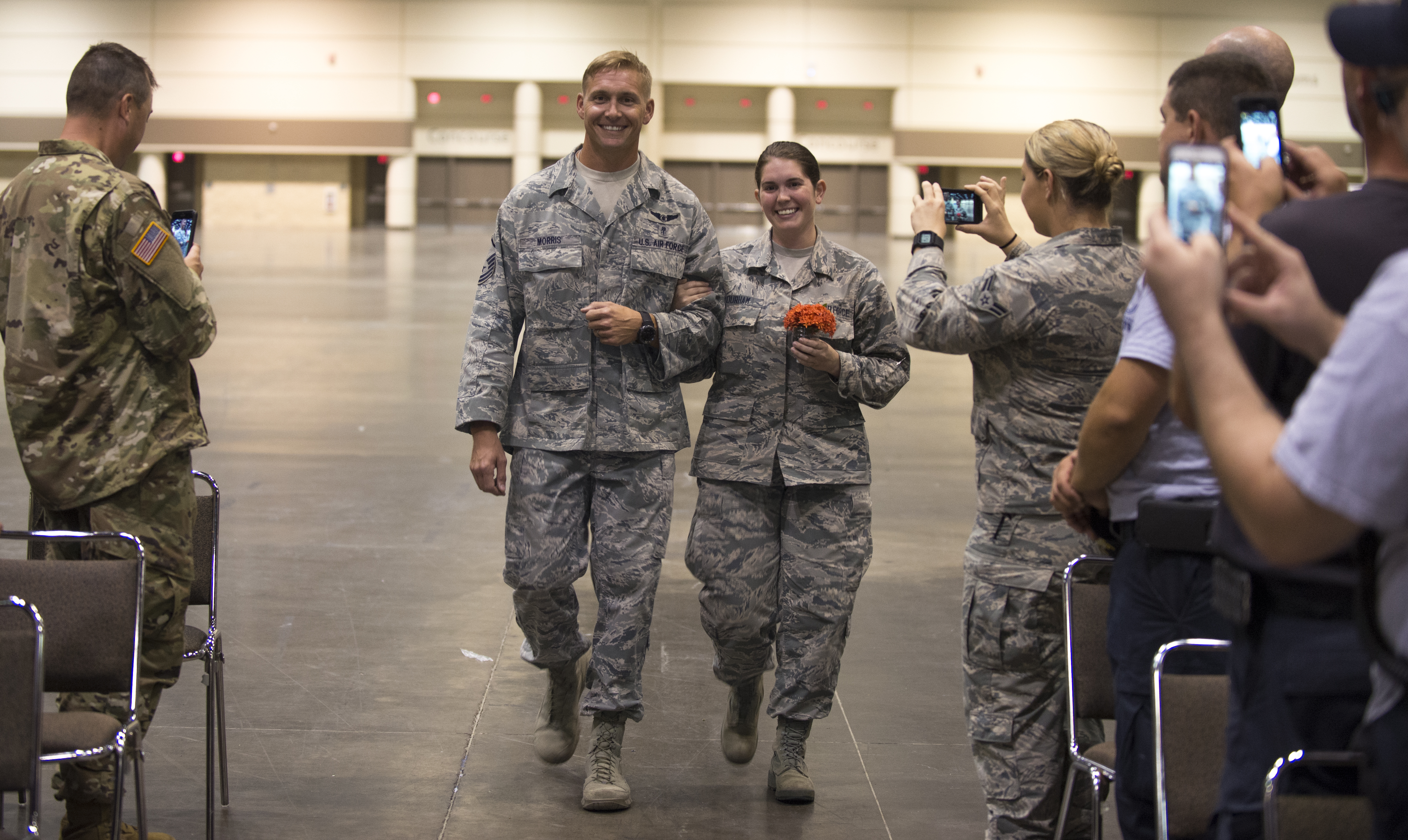 The urgent call to deploy meant some airmen had to put plans on hold, while others decided to go forward. SrA Lauren Durham and SrA Michael Davis, members of the Florida National Guard's Chemical Biological Radiological Nuclear Emergency Response Force-Package with the 125th Fighter Wing Medical Det. 1, had planned to be married as Irma approached.
The airmen deployed to a staging area at the Orange County Convention Center in Orlando and decided to go ahead with the service. On Sept. 10, the airmen, surrounded by other members of the Florida National Guard, said 'I Do' before helping in relief efforts.
"We volunteered to come out here and support Florida," Durham said in a release. "We wanted to help out with the hurricane and give some relief to the citizens."
For more photos of the Air Force's hurricane relief efforts, check out our Flickr album.