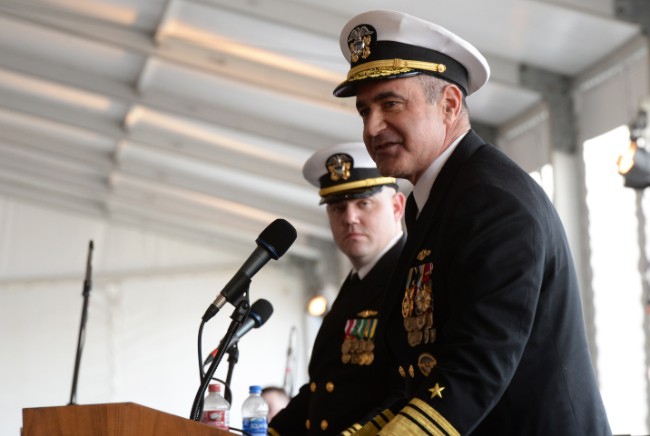 Navy Vice Adm. Chas Richard, commander of submarine forces, delivers remarks during the commissioning ceremony for USS South Dakota (SSN 790) at Naval Submarine Base New London in Groton, Conn., Feb. 2, 2019. Navy photo by Spc. 1st Class Steven Hoskins.
Vice Adm. Chas Richard, the Navy's commander of submarine forces, is next in line to lead US Strategic Command after previously serving as its No. 2 uniformed official.
The White House nominated Richard on Oct. 15 to succeed Air Force Gen. John Hyten, the incoming vice chairman of the Joint Chiefs of Staff. The Senate Armed Services Committee will vet Richard at an Oct. 24 hearing. He is also up for a promotion to admiral.
Richard also serves as head of Submarine Force Atlantic and Allied Submarine Command.
"As a former deputy commander of STRATCOM, Admiral Richard understands the responsibilities of the command and its mission well," Sen. Deb Fischer (R-Neb.) said Oct. 17. "With threats from Russia and China continuing to grow, nuclear deterrence is becoming more important than ever and STRATCOM requires experienced and capable leadership."
Fischer chairs SASC's strategic forces subcommittee and is the senior senator from Nebraska, where STRATCOM is headquartered at Offutt AFB outside Omaha.
If confirmed, Richard will play a key role in overhauling the Pentagon's nuclear weapons and related aircraft in the coming decades, shifting responsibility for space assets from STRATCOM to the new US Space Command, updating nuclear command-and-control systems for the 21st century, and more.