More than 100 Guardians across the globe have started wearing the Space Force's prototype service dress uniform three times per week as part of "wear testing"—the final stage before the uniform is produced and rolled out to Guardians everywhere in 2025.
More than 106 service members are included in the wear test, stationed at a wide variety of installations to determine the uniform's durability, functionality, and comfort in a range of climates and conditions. Locations include:
The Pentagon, Va.
Camp Smith, N.Y.
Cavalier Space Force Station, N.D.
Goodfellow Air Force Base, Texas
Kirtland Air Force Base, N.M.
Lackland Air Force Base, Texas
Landstuhl Air Base, Germany
Vandenberg Space Force Base, Calif.
Yokota Air Base, Japan
Wear testing marks the biggest phase of the new uniform program to date. After the uniform was first unveiled at AFA's Air, Space & Cyber Conference in 2021, leaders took it on a roadshow to Space Force installations, with a few Guardians serving as "models" in order to get service member feedback.
That was followed by fit testing, with 100 Guardians getting the chance to try on the uniform at the Pentagon and Peterson Space Force Base, Colo. Wear testing will go even further in asking Guardians to wear the uniform regularly and provide feedback on how it feels day in and day out.
As part of the test, Guardians will receive service dress coats, pants, skirts, and shirts as well as lightweight jackets, according to a Space Force release. They'll also get a handbook on proper wear of the uniform, a wear-test log, uniform history, and a feedback survey link. 
Service leaders like Chief of Space Operations Gen. B. Chance Saltzman and Chief Master Sergeant of the Space Force John F. Bentivegna already wear the prototype dress uniform, as did their predecessors. This spring, then-Director of Staff Lt. Gen. Nina M. Armagno also showcased the uniform's skirt option.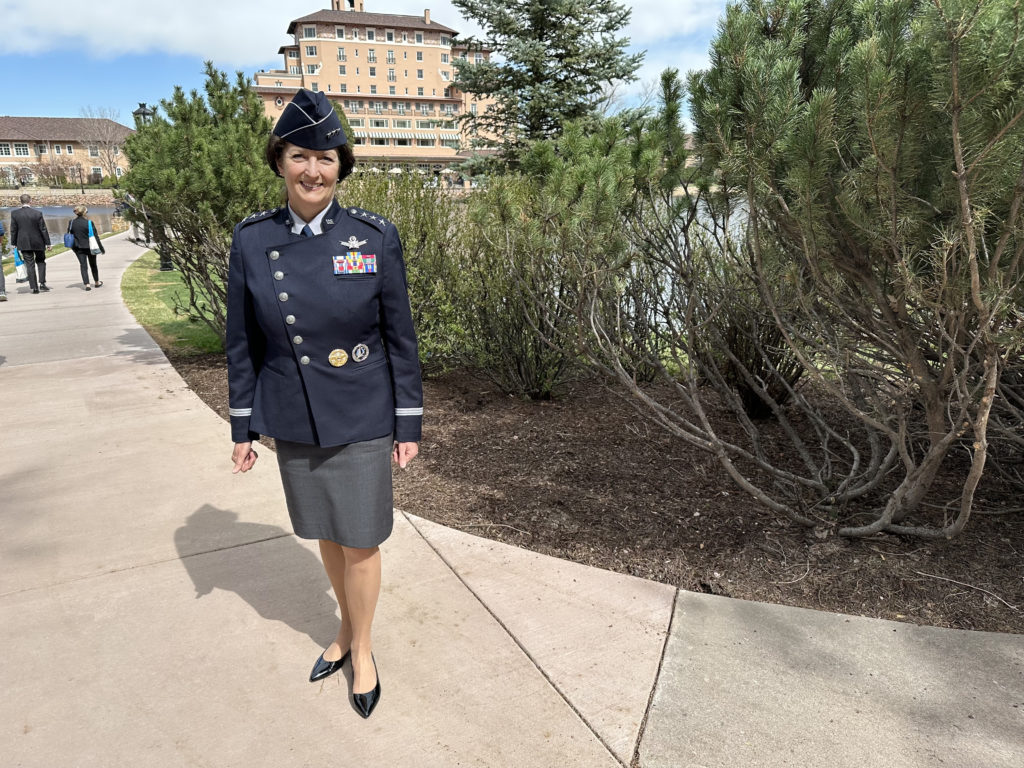 Armagno's successor, Maj. Gen. Steven P. Whitney, will be part of the wear test, as will deputy chief of space operations for operations, nuclear, and cyber Lt. Gen. DeAnna M. Burt, according to the service release.
The prototype dress uniform features a dark blue jacket, with distinctive offset buttons and a band collar, dark gray pants and skirts, and a lighter gray shirt.
The Space Force uses the Operational Camouflage Pattern uniform as its duty uniform like the Army and Air Force, with "Space Blue" name tape, Space Force badge, and grade insignia.
The service has also unveiled its own PT gear: black shorts with a version of the service's delta logo in white, and a gray T-shirt bearing the stylized words "Space Force" in white on the back. The gear is expected to be available to all Guardians by early 2024.
The Air Force Uniform Office is also designing a Space Force mess dress uniform for official formal evening functions and state occasions. When that design will be revealed is unclear.