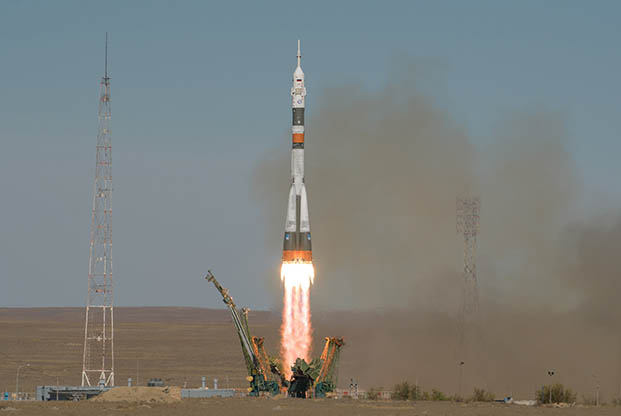 NASA astronaut and USAF Col. Nick Hague was one of two passengers on the Soyuz spacecraft that had to abort a Thursday launch. NASA photo.
The Soyuz MS-10 launch intended to deliver a NASA astronaut and a Russian cosmonaut to the International Space Station was aborted Thursday morning due to a booster anomaly, NASA said in a statement.
The spacecraft carrying USAF Col. Nick Hague—a decorated flight-test engineer who graduated from and taught at the Air Force Academy—and Russia's Alexey Ovchinin "launched from the Baikonur Czosmodrome in Kazakhstan to the International Space Station at 4:40 a.m. EDT Thursday, Oct. 11 [2:40 p.m. in Baikonur]," NASA said. But after the post-launch booster issue occurred, "the launch was aborted, resulting in a ballistic landing of the spacecraft," which involves a sharper-than-normal angle of descent.
Hague and Ovchinin "are in good condition following" the incident, NASA Administrator Jim Bridenstine said on Twitter, promising "a thorough investigation" into what caused it.
Roscosmos Director General Dmitry Rogozin decided to form a Russian state commission to look into the accident, he tweeted Thursday. According to Rogozin, the commission's work has already begun, starting with a look into telemetry.
In a Thursday-afternoon press conference streamed on YouTube, Kenny Todd, NASA's International Space Station operations integration manager, said Russia has agreed to share its findings with the agency, and NASA expects an update from the commission within a few days.
However, he said, NASA will likely to put together its own "investigation team, just like we've done for every other major anomaly on the Russian side."
"That team will be tasked with learning as much as we can about the situation, forming our own opinions, asking our own questions, formulating those, formally delivering them to our Russian colleagues, … and getting that data back to put into our own process and our own thing," he said.
He called these US findings "paramount" to NASA holding its own flight readiness review process.
Hague and Ovchinin underwent a medical "survey" in Zhezkazgan, Kazakhstan—located west of the landing site—before boarding a flight to Baikonur, Kazakhstan, according to a tweet from the Roscosmos State Corporation for Space Activities.
There, they got the chance to reunite with their families in Baikonur, according to a photo posted to NASA's Flickr account.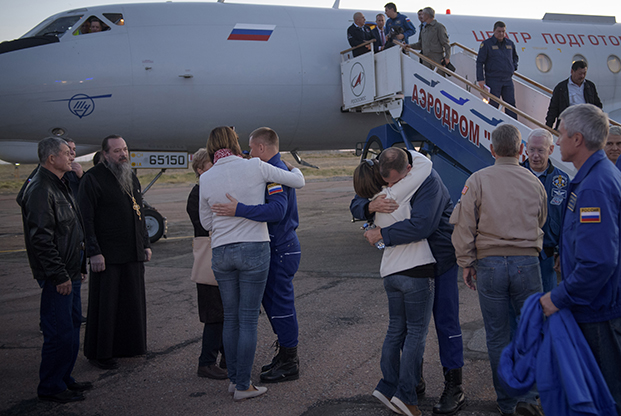 The families of Ovchinin (left) and Hague (right) are reunited on Oct. 11, 2018, at Krayniy Airport in Baikonur, Kazakhstan. NASA photo.
Bridenstein was also there to welcome Hague.