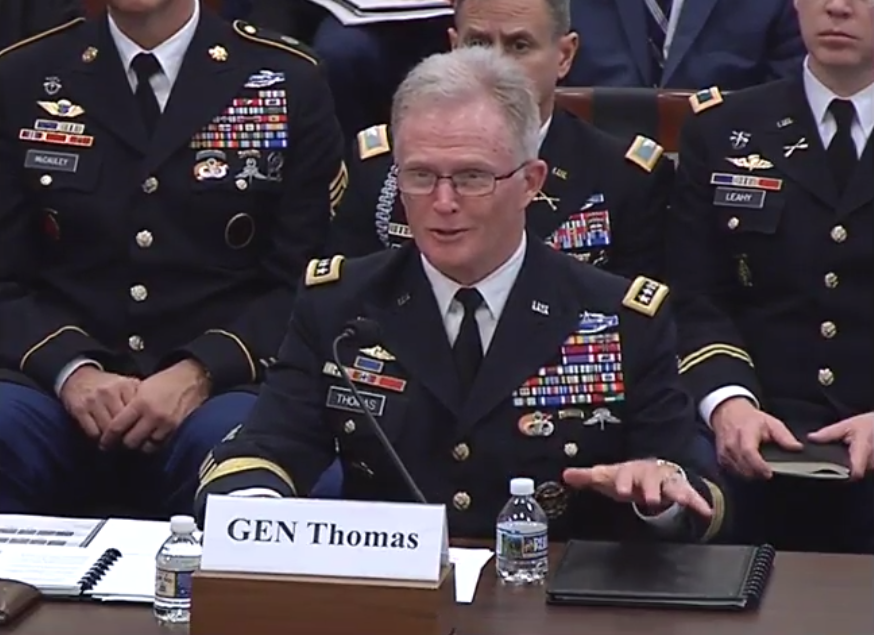 US Army Gen. Raymond Thomas, commander of US Special Operations Command, testifies during a House Armed Services Emerging Threats and Capabilities subcommittee hearing on Thursday. Screenshot photo.
Special operations forces are stretched so thin, leadership has had to tell combatant commanders they cannot send their service members for some mission, in turn pushing more reliance on partner nations and conventional forces, the head of US Special Operations Command said Thursday.
SOCOM Commander US Army Gen. Raymond Thomas said that in recent years his forces have been "applied liberally with a dearth of strategy, with a dearth of a vision toward the end state." The US military needs to focus on what "sustainable security" looks like and not rely as much on sending special operations teams for short-term missions globally, he said at a House Armed Services Subcommittee on Emerging Threats and Capabilities.
Special operations forces have been critical in reducing the land held by ISIS in Iraq and Syria, combatting al Qaeda in Afghanistan, and targeting those groups in countries across the globe. The Defense Department has requested $13.6 billion in its Fiscal 2019 budget request—the highest in recent years—to help alleviate the burden on the command. Two years ago, the command had a budget of $11.8 billion, Thomas said.
SOCOM also is having problems with filling its ranks, said Owen West, the assistant secretary of defense for special operations and low-intensity conflict. Only 30 percent of high school students nationwide qualify for traditional military jobs, a population that is "fully tapped" by traditional service recruiting. Special operations forces "cannot be quickly grown," so the command needs to find other candidates. This includes people without military histories, and more women in the ranks, West said.