Sharene Brown and Air Force Chief of Staff Gen. Charles Q. Brown, Jr. know a good slogan—and the importance of backing it up. The general is known for his signature "Accelerate Change or Lose" mantra, while Mrs. Brown has been tackling issues affecting Airmen and their families through her signature "Five and Thrive" initiative.
Launched in December 2021, Five and Thrive focuses on childcare, education, healthcare, housing, and spouse employment.
And now that Gen. Brown has been announced as President Joe Biden's pick for the next Chairman of the Joint Chiefs of Staff—as which he'll advise the commander-in-chief in the West Wing—Sharene Brown will have a partner in the East Wing with First Lady Jill Biden, according to President Biden.
"Sharene, you and C.Q. are true partners in our dedication to the health and well-being of the women and men in uniform and their families," Biden said May 25 in a speech from the Rose Garden announcing Brown's nomination. Biden also recognized the Browns' sons, Sean and Ross.
Jill Biden, the mother of a former service member, her late son Beau Biden, launched her own program, Joining Forces, as Second Lady along with then-First Lady Michelle Obama in 2011.
President Biden said Jill Biden and Sharene Brown would work together in their efforts should Gen. Brown ascend to the job of the nation's highest-ranking military officer
"Jill and I look forward to working even more closely with you on these issues," Biden told Sharene Brown in his speech.
Joining Forces focuses on many of the same efforts as Five and Thrive, such as spouse employment, childcare, education, and the health of military families—and Jill Biden and Sharene Brown have even used similar language to describe their goals.
"We have an all-volunteer force—and it continues only because generations of Americans see the honor, dignity, and patriotism of military service," Jill Biden said in April 2021. "How can we hope to keep our military strong if we don't give our families, survivors, and caregivers what they need to thrive?"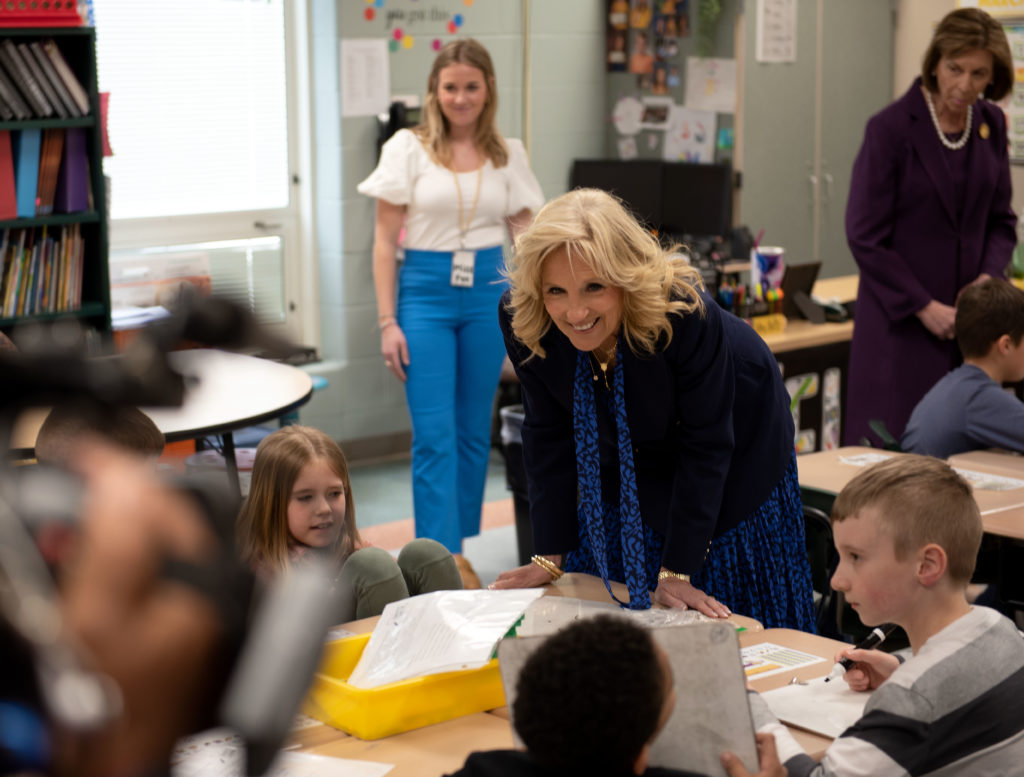 President Biden said Five and Thrive is doing "important work to address the greatest issues affecting military families," which work makes for a natural partnership between the First Lady and the wife of the next Chairman.
Five and Thrive and Joining Forces extend beyond catchphrases. The guidebook for Five and Thrive—which offers additional digital connections to resources—runs 62 pages. Five and Thrive publishes a monthly Spouse Situation Report, designed as a so-called SITREP, similar to any other important military operation. Joining Forces also offers resources and running updates on its efforts, with the most recent tangible step spurring an April 18 executive order by President Biden to support caregivers, including those support service members and veterans.
"That's what it takes sometimes, the village," Sharene Brown said at AFA's Air, Space, and Cyber Conference in September 2022. "And if we could all go someplace or feel like that somebody could step in and help us out, I think we'll all feel a little bit more comfortable."
With the White House in the picture, Sharene Brown's efforts are set to extend beyond the Air Force to all military families.
"Throughout Gen. Brown's stellar career in the Air Force, C.Q. and Sharene have always put family first, and they both know from their own experience growing up in military families that it's not just the person who wears the uniform who serves, the whole family—the whole family serves—and the whole family sacrifices on behalf of the nation," Biden said.