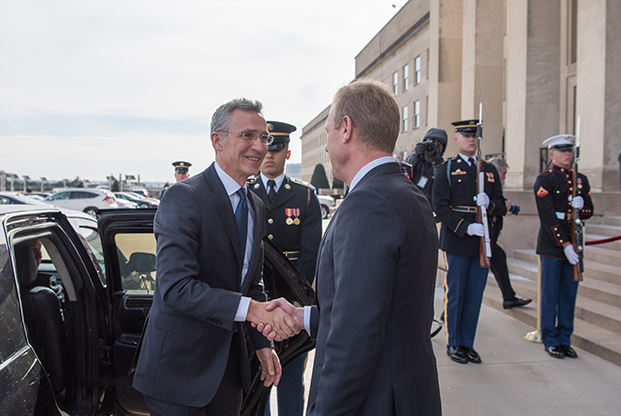 Acting Secretary of Defense Patrick Shanahan meets with the NATO Secretary General Jens Stoltenberg at Pentagon on Jan. 28, 2019. DoD photo by Army Sgt. Amber Smith.
NATO has sharply increased its overall defense spending, a move that has helped the organization strengthen parts of its collective defense, but that increase should just be the beginning, Acting Defense Secretary Patrick Shanahan said Monday.
Speaking alongside NATO Secretary General Jens Stoltenberg at the Pentagon, Shanahan said that since 2016, NATO allies have increased spending by a total of $41 billion with a projected total increase of $100 billion by 2020.
"We know our work here is only the beginning," Shanahan said. "We recognize a need to move from theory to practice, and from practice to results."
Recent increases in funding have contributed to a build-up of NATO assets in Eastern Europe, infrastructure improvements, and more frequent exercises, Shanahan said.
"This has allowed us to increase our force presence on the territory of our most vulnerable allies," he said "A few years ago, achieving these improvements and funds might have seemed impossible. A few years from now, we will write the same success story on readiness."
In addition to funding, NATO's contribution to the war in Afghanistan also has increased 12 percent, Shanahan said.
"NATO is really making a lot of progress in many different areas, high readiness of our forces, stepping up the fight against terrorism, and also investing more in defense burden sharing," Stoltenberg said.