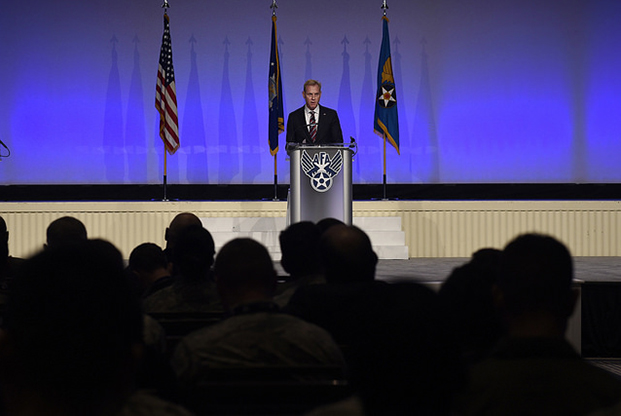 In a Sept. 19 keynote at AFA's Air, Space & Cyber Conference, Defense Secretary Patrick Shanahan said the US military needs "a new generation of weapons to counter" threats from Russia and China. Staff photo by Mike Tsukamoto.
The Pentagon is "retooling" for a new era of great power competition, and the US military needs "a new generation of weapons to counter Chinese and Russian threats," Deputy Defense Secretary Patrick Shanahan said at AFA's Air, Space & Cyber Conference.
"The next step is to build the FY 2020 strategy-driven budget," he explained. This will be more than a budget, though, he asserted. "It captures programming, it integrates plans to transition from technology demonstrations to development to fielding," and "with that comes the timelines necessary to dominate a new era." He said the budget will show the Pentagon's "choices about what we will and won't do," and those choices will shape the US military "for the next 50 years. And we've got 10 weeks to complete it."
The Pentagon is working with industry on new demonstrations that will be "quickly" turned into programs and new capabilities, he said, citing hypersonics as one.
"In June, the Air Force signed an agreement with the Army [and] Navy research and engineering, outlining a cross-service approach to hypersonics." They have formed "a national team" to collaborate on "design, development, testing, and production, including both near-term prototyping and long-term acquisition of operational systems."
Air Force Secretary Heather Wilson said such collaboration has saved some 10 years of effort.
In a press conference, Wilson said the Army, Navy, and Air Force have signed a memorandum of understanding to share their hypersonics knowledge, agreeing to use "the best technology, no matter where it comes from; go fast, share results, and build harmony." The Army had the most successful warhead, she said, but because the diameter of the Army weapon was too wide for the Navy to use from its vertical launch systems, the Navy then asked USAF to test the weapon off a B-52. Doing this and other things shaved five years each off the Army and Navy programs, she asserted.
A similar level of effort is needed and planned across a range of modernization projects, said Shanahan. "Industrial expertise" also is needed in the Department of Defense, and he encouraged "seasoned" experts from the defense industry "to seriously consider joining our team," saying such people can make a big difference in the success of the overall program.