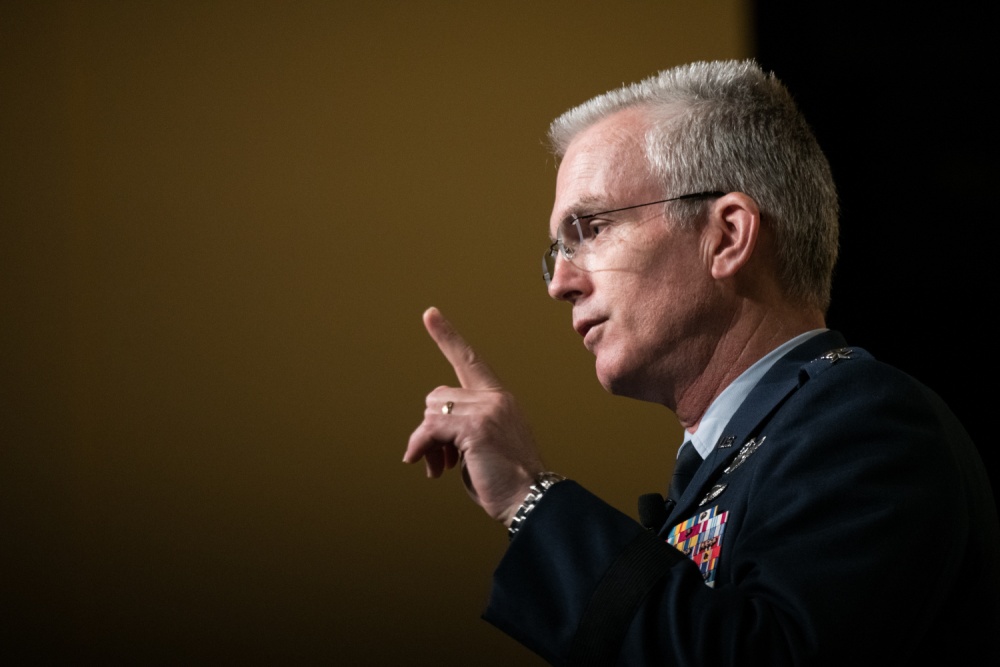 Gen. Paul Selva, vice chairman of the Joint Chiefs of Staff, speaks during a conference June 28 in National Harbor, Md. Selva said Friday that the way ahead for creating a new Space Force would be complex and require a lot of work with Congress. Defense Department photo by Army Sgt. James K. McCann
A top Pentagon official Friday acknowledged the intricacies of establishing a Space Force as a new military service as proposed by the Trump Administration, a move that will require congressional approval.
USAF Gen. Paul Selva, vice chairman of the Joint Chiefs of Staff, made the comments at a Mitchell Institute breakfast in Washington, the day after Vice President Mike Pence outlined the administration plan to set the new service up by 2020. In his speech, Pence recognized that creating a new military branch is not simple and that congressional action would be necessary to establish a new Space Force Department to organize, train, and equip the new Space Force.
Selva echoed those themes in his remarks, noting that the Pentagon would have to do substantial work with Congress on the proposal, that implementation would be complicated and would require resources.
"If you just think about it for a minute, if you're going to have a separate service, there's' going to be a chief of staff of that service," Selva said. "If there's going to be a secretary of a department, what does the department look like? We don't have a Space Department today, and most of the people that are doing space, which is one of the criticisms of the way we're organized for space, with the exception of one section of the air staff and one section of the Air Force Secretariat, all of the people that provide the support for space and space systems are actually shared assets."
If the government is going to have a new secretary responsible for the Space Force, he said, "I think we ought to be wide-eyed about the kind of resources you're going to have to give that person and that staff."
Pence, in his speech had said the administration would call on Congress to provide the resources for the Space Force in the next budget and would work with Congress before the end of 2019 to enact the statutory authority for the Space Force in the 2020 National Defense Authorization Act.
Selva said the Pentagon would put the building blocks in place for the effort, including a legislative proposal, and would advocate for it when congressional debate begins.
"But I don't want to underplay the complexity of what they've asked us to do," he said.