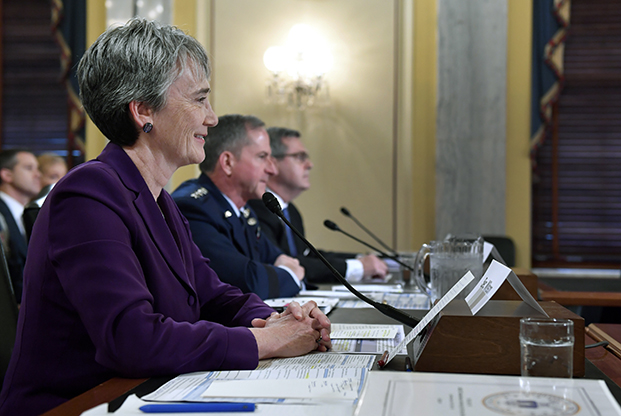 Air Force Secretary Heather Wilson testifies before the Senate Armed Service Committee alongside USAF Chief of Staff Gen. David Goldfein and John Pendleton of the Government Accountability Office. Air Force photo by Wayne Clark.
The Air Force is making progress hiking mission capable rates for frontline fighters to a goal of 80 percent – largely on the backs of maintainers.
Defense Secretary Jim Mattis ordered the Air Force in ordered the Air Force and Navy in September to increase mission capable rates to 80 percent by the end of Fiscal 2019. The mission capable rate for F-22s at the time were under 50 percent, and not much higher for F-35s.
"We're recovering readiness," Air Force Secretary Heather Wilson said Nov. 15 at the Defense One Summit in Washington, D.C. She said the service has added new maintainers, is adding maintenance shifts in many locations, hiring contract maintainers and improving parts availability to ensure a ready supply chain.
Adding night shifts means an F-16 in need of repair after a flight broken sits broken until maintainers can come in the next day to work on it. But by assigning second shifts, maintainers can work on that aircraft through the night so it is ready sooner.
The maintainer shortage that has plagued the service is now in hand. After being 4,000 maintainer short in 2016, the Air Force now expects to completely fill its maintenance ranks by year end. USAF officials acknowledge, however, that an experience gap remains and will take years to overcome.
Wilson also said the Air Force is focusing on improving its spare parts system and supply networks. She did not specify what is being done or what the fixes might cost.
The readiness push is driven by the operating plans for possible conflicts with Russia or China, and the need to have long-range bombers, tankers, and fighter aircraft ready to operate in contested and denied environments. Today, these squadrons are 15 percent more ready than they were 15 months ago, Wilson said, saying that figure goes beyond mission capable rates to include other aspects of readiness, including manpower.
Yet the Air Force is ultimately too small to respond to all the missions it's required to prepare for, Wilson said, and growth is essential. She repeated her call to grow the force from 312 to 386 operational squadrons in order to meet the Pentagon's National Defense Strategy. The biggest shortfall is in bomber and tanker squadrons, she said, which would be needed for combat against a nation like China.