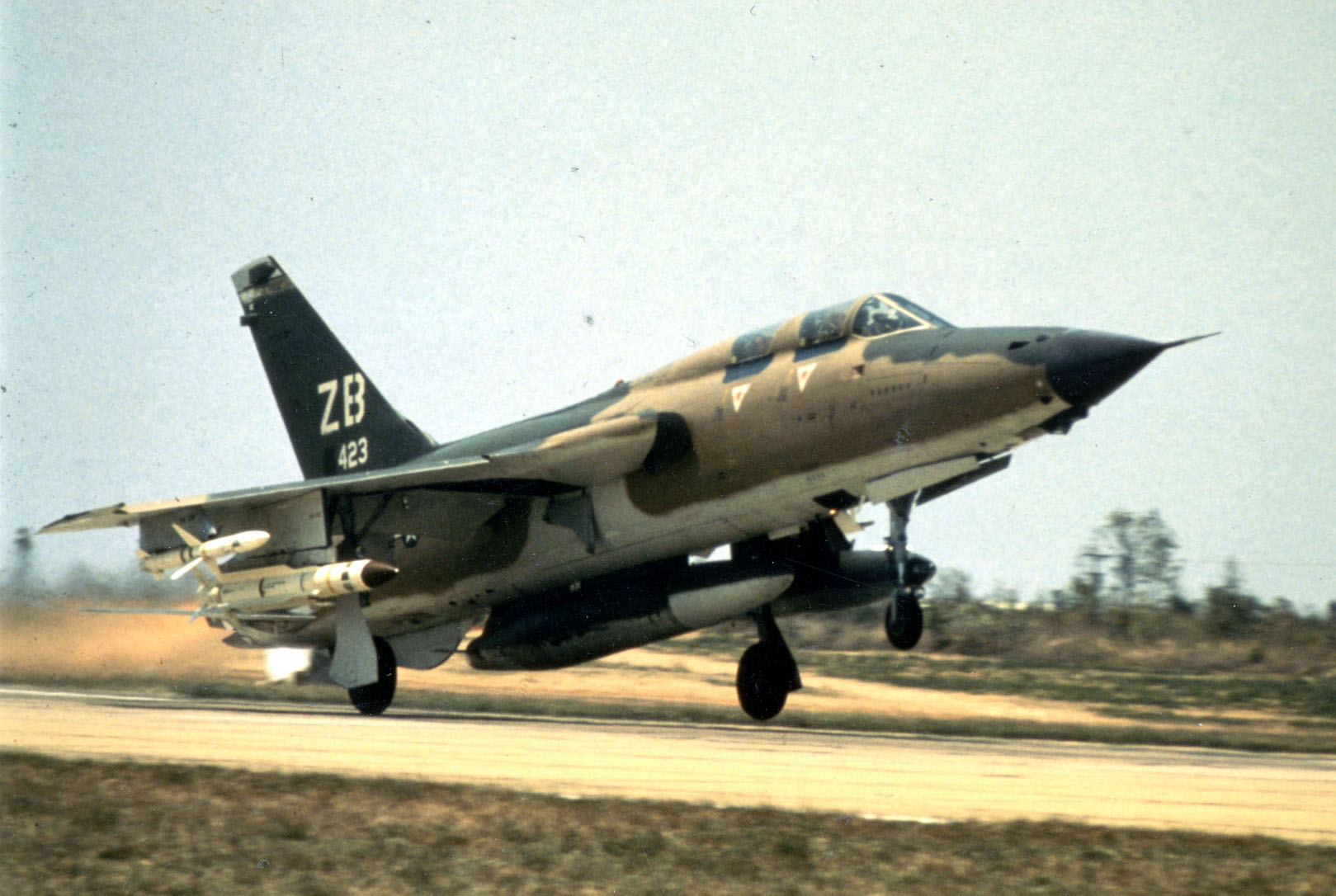 An F-105G takes off on a mission from Korat in 1971. Air Force photo.
LE BOURGET, France—The Air Force's acquisition head wants to go back to a golden era of fighter jet production by taking advantage of future engineering technology and the brains of both major manufacturers and small startups.
During the Vietnam War era, companies churned out what is known as the Century Series of aircraft—F-100 to F-111—to meet the growing need for combat aircraft and to bring on developing technology. However, the demand signal changed during the Cold War and "technology didn't change very fast," Will Roper, the assistant secretary for acquisition, said.
As a result, with recent aircraft programs such as the F-15, F-16, or F-22, the service had to wait on technology to become available, so it moved forward with massive buys of aircraft with the intention of keeping those aircraft in the fleet for decades.
But, "technology is everywhere now," Roper said. "I don't know what's going to be the big game changer on the sixth-generation fighter, but I'm excited about it because look how much technology is being produced."
He said this is evident in new programs such as Boeing's T-X trainer, which is using digital engineering to allow for faster design. "The idea is, well, rather than build a program for future airplanes around a warfighting technology like phasers and cloaking devices, maybe we should build a program around this production technology and try to always stay in design and production, which is not the way we do major programs today."
Instead, the service's current programs are designed and then moved into massive production, followed by decades of sustainment. This means the aircraft that are produced cannot be easily, or quickly, updated.
"The idea of a Century Series is to use digital engineering to make design a continual phase, where you're always going into small-scale production," Roper said. "Repeat, repeat, repeat. The awards are not ever big and the durations are not ever long. There's a termination date because we're not going to design for 30 years."
The idea is still in its early stages, and Roper said he's now trying to make the math work to have companies show interest. If the service makes an award for only a couple aircraft, "that's not going to close their business case in terms of profit. But if we're awarding 500 or 1,000, that's not going to meet our intent in the Century Series. So we've got to find the sweet spot where there's enough airplanes to incentivize, but not so many that it becomes this rolling behemoth that can't stop."
Roper said he's begun teasing the idea to industry, which has responded by showing their evolution in digital engineering. For the major companies, such Boeing, Lockheed Martin, and Northrop Grumman, Roper said he's trying to appeal to their "romantic" side.
For example, when you visit a company's headquarters, the photographs and information lining the walls show the evolution of what they built. In the beginning, there's airplane posters for every year. Then about every couple years, then five or so. "And then it stops. Because that's when we hit the technology doldrums, where technology was changing so slowly, because it was only being driven by the US government."
Pressing for faster progression and production "has a romantic appeal, it goes back to why companies like that were founded," he said.
The progress in digital engineering and new manufacturing capabilities also means the service doesn't have to solely rely on these major companies. "A small company with great digital tools and great engineers can build a fighter, so I have a romantic notion of getting back to where we have more than just a couple of companies that can do it."