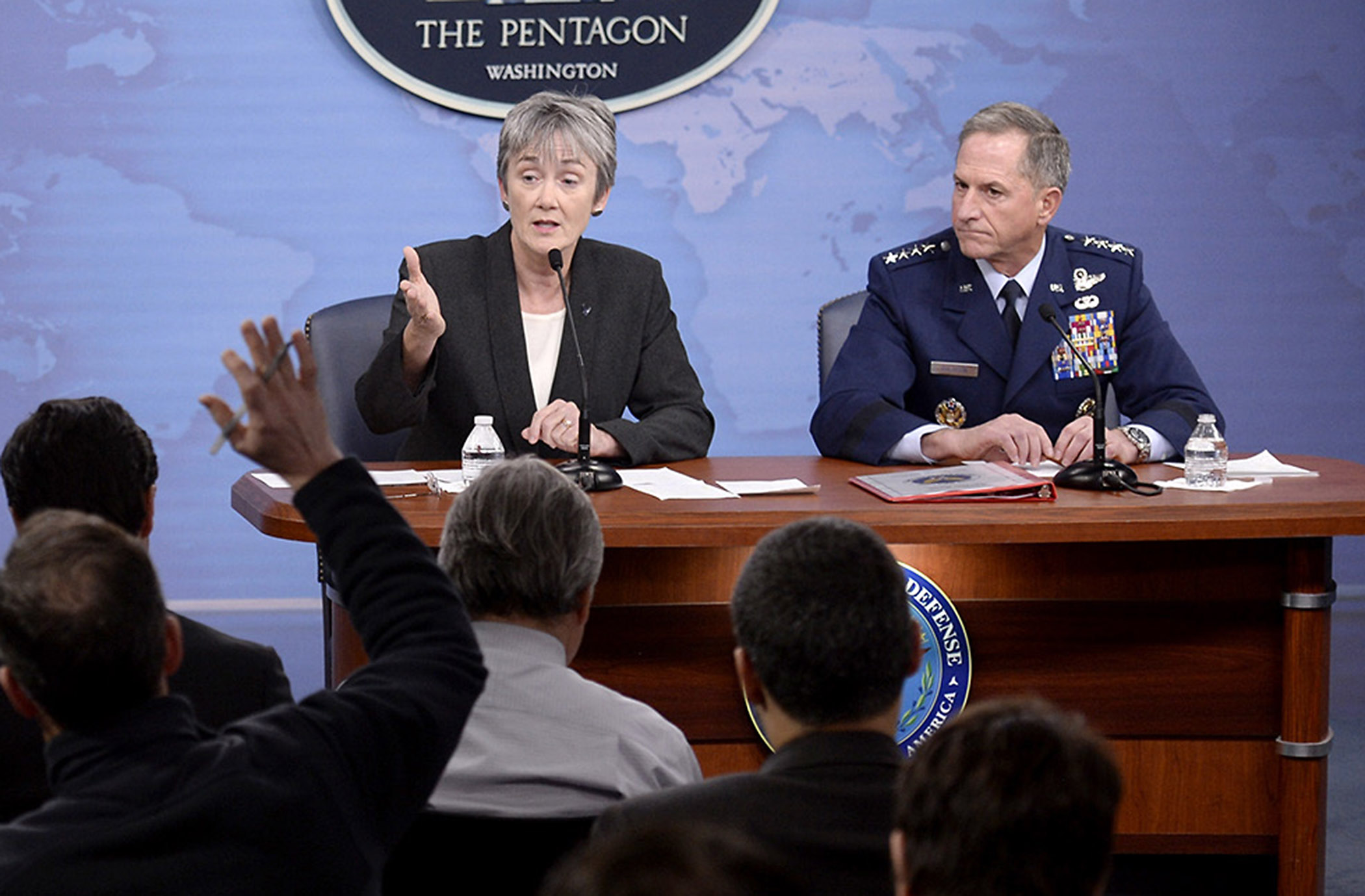 Air Force Se?cretary Heather Wilson and Chief of Staff Gen. David Goldfein brief the press at the Pentagon on Nov. 9, 2017, following former airman Devin Kelley's shooting rampage in Texas, which killed 26 people. USAF photo by SSgt. Rusty Frank.
The Air Force's failure to report the domestic violence conviction of former airmen Devin Kelley, the man behind a Texas shooting rampage earlier this month that resulted in the death of 26 people, was not an "isolated incident" and several dozen other cases have been identified, the service announced Tuesday.
Air Force Secretary Heather Wilson and Chief of Staff Gen. David Goldfein directed a wide-ranging investigation into how the service failed to enter Kelley's conviction in the National Criminal Information Center database following a general court martial and bad conduct discharge at Holloman AFB, N.M. The failure allowed Kelley to legally purchase guns, which were used in the Nov. 5 shooting in Sutherland Springs, Texas.
According to the preliminary findings, the Air Force Office of Special Investigations and security forces personnel "did not report required information to civilian law enforcement in the Kelley case," the service said in a Tuesday statement. "The review also found the error in the Kelley case was not an isolated incident and similar reporting lapses occurred at other locations. Although policies and procedures requiring reporting were in place, training and compliance measures were lacking."
The Air Force Office of Special Investigations and security forces have implemented "corrective measures" to ensure compliance, including a leadership requirement that field, regional, and headquarters levels verify that information from applicable cases is registered with the FBI's National Crime Information Center's Interstate Identification Index, according to the release. In addition, software, checklist, and training changes have been made.
The investigation is continuing, with OSI and security forces airmen investigating all service records of reportable offenses back to 2002. Two task forces, made up of 30 members from each organization, are "aggressively working to ensure 100 percent compliance."
The full review is expected to be completed over the next several months.