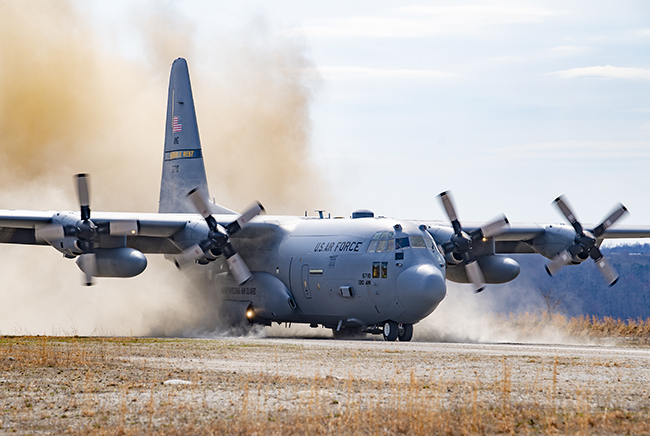 A 130th Airlift Wing C-130H lands during training on Mar. 28, 2019, at Camp Branch, W.V., a dirt-strip landing and drop zone capable of hosting joint training for many different types of aircraft and personnel. Air National Guard photo by SrA. Caleb Vance.
LE BOURGET, France—As Raytheon begins work under the first production contract for its Joint Precision Approach and Landing System, it is planning more displays to convince the Air Force the system would help USAF aircraft touch down in austere locations.
The $235 million May contract award covers 23 systems for Navy carriers and amphibious ships. Currently, the system is developed for F-35Bs and Cs, but Matt Gilligan, Raytheon's vice president for Intelligence, Information, and Services, said the company is pitching the system for aircraft such as C-130s that operate in locations without established runways.
The GPS-based system uses multiple antennas and data links to guide an aircraft to a precision touch down point on an airstrip. The company claims it "really revolutionizes precision landing in real austere conditions," Gilligan said in an interview at the Paris Air Show.
Developed to help the fighters land in rough sea conditions, Raytheon has prototypes in transit cases that can be carried on C-130s or under helicopters and set up at an austere field within 90 minutes, Gilligan said.
The sea-based version lets aircraft securely acquire a signal from 200 miles away, and when the aircraft gets within 60 miles those at the landing location will be notified the aircraft is on approach.
Raytheon demonstrated the technology to the Air Force, along with the other services and four international services, earlier this year at NAS Patuxent River, Md. The company plans another demonstration late this year at Edwards AFB, Calif. So far, the company is developing the mobile prototype at its own cost.