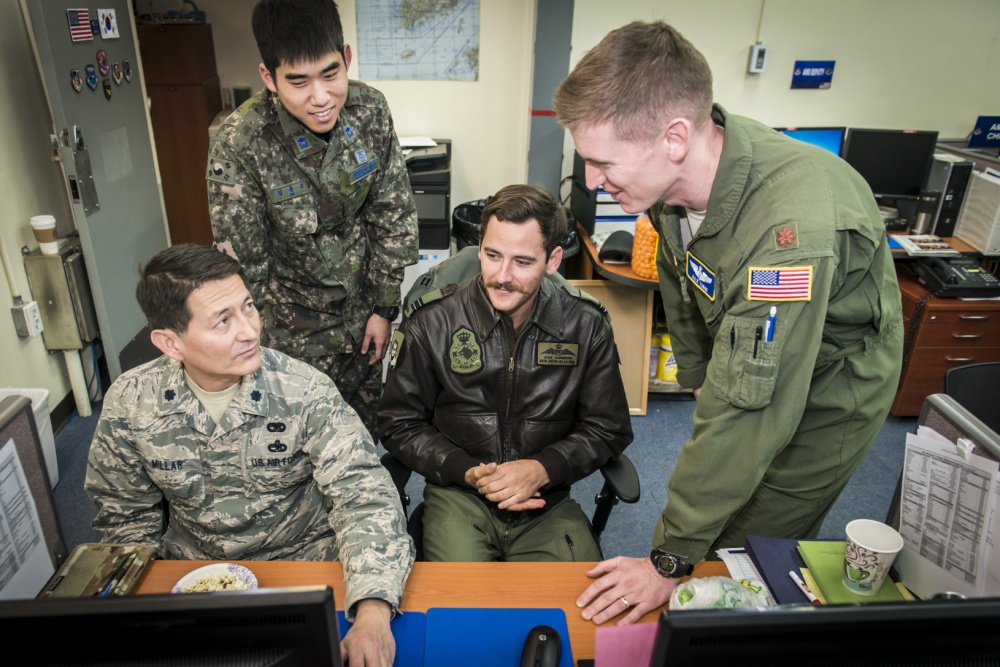 USAF Lt. Col. Fredrick Millar, left, talks airlift strategy with Royal Australian Air Force Flt. Lt. Kyle Hornberg, right center, and USAF Maj. Kyle Tobin, right, as Republic of Korea Air Force 2nd Lt. Dongjo Kim, left center, takes notes for sharing with ROKAF airlift counterparts in the Korean Air Operations Center's Air Mobility Division during Key Resolve 2017 at Osan AB, South Korea, March 22, 2017. US Air Force photo by SSgt. Benjamin W. Stratton.
Acting Defense Secretary Patrick Shanahan and South Korean Defense Minister Jeong Kyeong-doo have "reviewed and approved" a decision to "conclude" the Key Resolve and Foal Eagle exercise series, the Pentagon announced March 2.
"The Minister and Secretary reaffirmed their commitment to ensuring the continued combined defense posture of US-ROK combined forces to meet any security challenge, and agreed to maintain firm military readiness through newly designed Command Post exercises and revised field training programs," according to a DOD readout of the phone call.
A Pentagon spokesman did not immediately answer whether concluding the exercises means cancellation altogether or whether scaled-down versions are still in the works.
Pacific Air Forces boss Gen. Charles Brown recently downplayed the impact of shrinking joint training exercises with South Korea, saying Seventh Air Force airmen stay sharp because they still fly each day. But planners sometimes need to take special precautions to "make sure we don't upset the diplomatic aspects of what's going on," he added.
"It's doing things a little bit differently than they have been in the past, while still looking at ways to maintain readiness," Brown said during a March 1 media roundtable at AFA's Air Warfare Symposium. "Sometimes the scope and scale may not be as big as it had been in the past, but we're still getting some of the training that we would do anyway."
Last week, Stars and Stripes reported that Foal Eagle and Key Resolve, which typically involve tens of thousands of American and South Korean troops, will be smaller this March than in years past. The Associated Press noted last year the two events convened 200,000 troops at their peak in the 1980s. More than 31,000 US troops participated in Foal Eagle 2017, and 12,800 forces participated in Key Resolve that year, prior to a toned-down version in 2018.
The news came as President Trump held his second meeting with North Korean Supreme Leader Kim Jong-un in Vietnam, which failed to produce a denuclearization agreement, even though the US had decided to cancel certain allied exercises—satisfying a key North Korean demand—in mid-2018 following the initial meeting.
A PACAF spokeswoman did not immediately respond to questions over the weekend about which Air Force assets plan to participate in the scaled-back training or what they would do.
Brown told Air Force Magazine he doesn't discuss exercises with the White House and wasn't sure whether US Indo-Pacific Command chief Adm. Philip Davidson or Army Gen. Robert Abrams, who leads US Forces Korea, had consulted with the Commander-in-Chief.
Brown deferred to Abrams when asked how long the US could sustain its reduced joint training before the countries' ability to fight together is more deeply affected.
Sen. Jack Reed (D-R.I.), the ranking member on the Senate Armed Services Committee, told Air Force Magazine in a brief chat at the Orlando International Airport that the threat to readiness may be overblown. Keeping a lower profile lets the military continue somewhat as planned, he said, and leaders are adjusting as the Korean Peninsula's political realities evolve.
But, he acknowledged, eventually losing the "muscle memory" of coalition warfare will become a concern, and full-scale exercises will need to resume.
Brown and Reed referenced comments made by INDOPACOM leaders at a SASC hearing in February on the region's near-term military outlook, during which Abrams noted he was considering how to tweak the "size, scope, volume, and timing" of exercises without sacrificing readiness "to unacceptable levels."
As of the Feb. 12 hearing, Abrams had been given the go-ahead from the Pentagon to continue planning a large-scale exercise in the spring.
He also told Sen. Tom Cotton (R-Ark.) anyone at a rank lower than Army battalion commander would not sense their regular training had changed. A battalion commander "has not noticed the difference yet, but he might in the upcoming months," as would his superiors, Abrams said.
But "combat readiness is perishable … especially true of forces in Korea" because of high turnover, Abrams added in written testimony. Davidson similarly cautioned that "combat readiness and combined lethality" are still the best deterrent against North Korean threats.
Since October 2018, US service members in the Pacific theater have conducted "dozens" of small-scale exercises to refine operational concepts and remain proficient at essential tasks with their South Korean counterparts, Abrams said.
"We must continuously strike a balance between the clear need to train and exercise military capability and the requirement to create space for and support strategic diplomacy," he said. "Such fine tuning [of exercise design and scope] allows for the mitigation of impacts inherent to rapidly switching from our traditional large-scale exercise program to one of more targeted events."
Brown suggested that airmen are coming up with innovative ways to train in the absence of regular order, and that geopolitical complications are nothing new.
"There's always some level of constraint that we have to work through," he said.