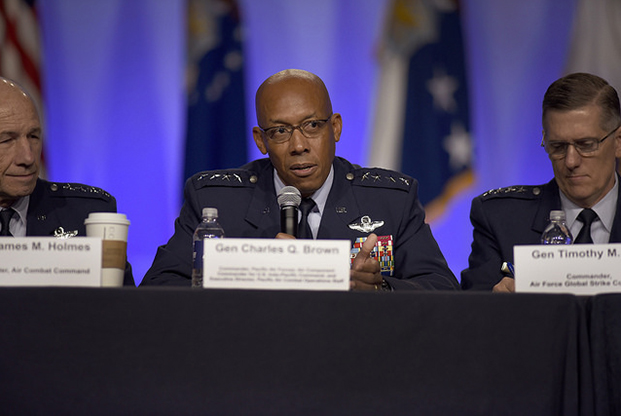 Pacific Air Forces Commander Gen. Charles Brown advocated for tankers during AFA's 2018 Air, Space & Cyber Conference in National Harbor, Md. Staff photo by Mike Tsukamoto.
Pacific Air Forces needs more aerial refueling capability in theater, and the proposed increase of tanker squadrons under the service's recently unveiled "Force We Need" plan could be just what the theater needs, PACAF boss Gen. Charles Brown said.
"Tankers are important, not just for the day-to-day piece, but also from an operational perspective," Brown said.
The service's "Force We Need" plan, unveiled Monday by Air Force Secretary Heather Wilson, calls for 386 total operational squadrons, up from the current 312. A major portion of that increase, 14, is for refueling. "Aerial refueling will be the biggest shortfall in our Mobility Air Forces," Wilson said.
Brown, asked during a press conference about capabilities he needs in his command, echoed the Secretary's announcement, saying tankers "gives us the flexibility" to operate more effectively in the AOR.
The PACAF area of operations covers more than 100 million square miles, from the Arctic to the Antarctic, and the command needs to be able to send aircraft on demand as well as exercise with allies in the region.
"Our exercises are not real close to each other," Brown said. The command needs to be able to bring F-22s to Guam, for example, or send fighters form Japan to Alaska, and all that requires tanker gas.
PACAF has National Guard refueling squadrons based at Eielson AFB, Alaska, and JB Pearl Harbor-Hickam, Hawaii, along with an Active Duty squadron at Kadena AB, Japan. Andersen AFB, Guam, also has a small number of mostly Air National Guard tankers deployed to the base for support of the bomber rotations and for any other aircraft transiting through the region. This includes "coronet" missions, where the tankers support a fighter jet flight across a vast distance.
During a recent visit by Air Force Magazine, this contingent included the oldest jet in the Air Force's entire fleet. Because of the stress on the current fleet, coupled with the age of the aircraft, there is a "potential" impact on USAF operations if the upcoming KC-46 is delayed even more, Brown said.