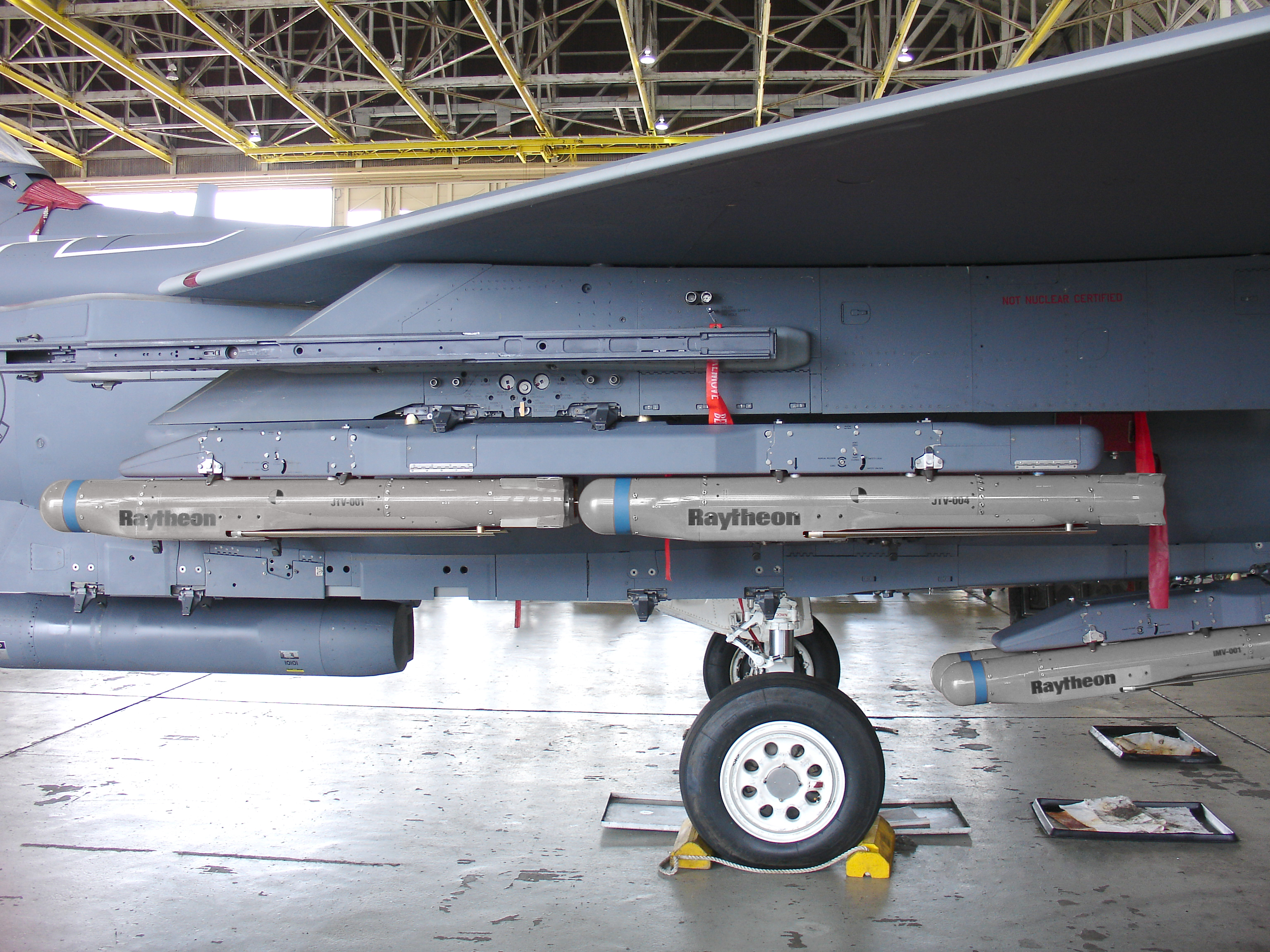 Raytheon Stormbreaker bombs, formerly known as a Small Diameter Bomb II, is seen under the wing of an F-15E. Raytheon photo
Raytheon could begin integrating the StormBreaker bomb, formerly known as the Small Diameter Bomb II, onto the F-15E Strike Eagle within the next year, company officials said.
The first operational tests were conducted in early June, said Cristy Stagg, Raytheon program director for StormBreaker. Cragg said the weapon "performed as expected in the first eight shots," but the company is still waiting for an official report from the government.
"Operational test is planned for 12 months. However, there is an effort to accelerate the program," she told Air Force Magazine via email. "Some F-35 early integration work has begun."
StormBreaker can fly more than 45 miles to strike mobile targets despite poor weather conditions, and can be carried by F-16s, F-15s, and F/A-18s. Company leaders said in the future it also will be carried by F-35 strike fighters, as may one day be carried by any new USAF light attack platform, Typhoons, and Gripens.
"Raytheon expects follow-on contracts to support F-35B integration as part of the C2D2 program later this year," said Stagg. "We are on contract, and in the early stages of F/A-18E/F integration for the USN."
Raytheon recently touted the weapon at the Farnborough International Air Show in England, saying its goal was to emphasize the weapon's "game-changing capability." She said international companies, especially those buying the F-35, continue to express interest in the weapon. StormBreaker was designed to fit in the internal bay of the F-35, she noted.
As for the name change, Stagg said it "better characterizes the weapons ability to identify and destroy targets in adverse weather or atmospheric conditions using a tri-mode seeker. 'Storm' can also mean an onslaught of incoming threats," and the weapon is capable of defending against such threats by breaking "through storms with agile precision to destroy its target."