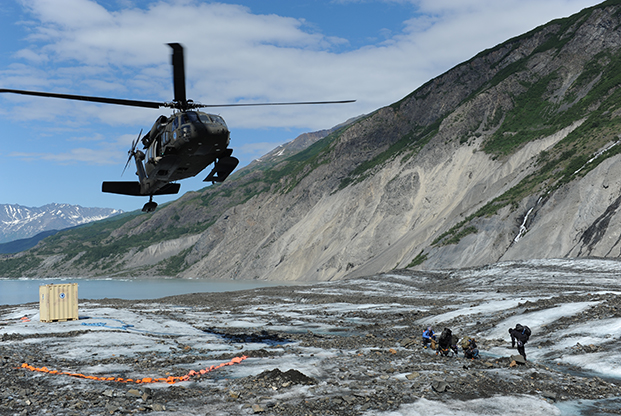 Investigators from the Joint POW/MIA Accounting Command wait for an Army National Guard UH-60 Black Hawk slated to bring them back to JB Elmendorf-Richardson, Alaska, to land at the Colony Glacier crash site in June 2013. Navy photo by MC3 Clifford Bailey.
The Armed Forces Medical Examiner System staff has positively identified the remains of Air Force SSgt. Eugene Costley, a New York native who went missing after a C-124 Globemaster crashed in 1952, the Air Force announced on Monday.
Costley was a decorated Berlin-Airlift veteran who was working as a flight engineer with the 34th Air Transport Squadron at the time of the mishap, according to an obituary written by the Air Force. His brother, a fellow airman who was stationed at Elmendorf AFB, Alaska, at the time of the crash, "participated with the 10th Air Rescue Squadron in the recovery attempts," but such efforts were initially limited by "treacherous conditions," including avalanches, glaciers, and snow drifts reaching several hundred feet, according to the obituary.
It would take nearly seven decades before a joint Air Force and Army team would locate his remains in June 2018 as part of the ongoing Operation Colony Glacier, and another three months after that until they would be identified.
Costley will now be buried "with full military honors," the service said, but his recovery is only a single chapter in a much larger tale of USAF's dedication to leaving no man behind.
The Globemaster, which was carrying 11 crew members and 41 passengers when it crashed on Nov. 22, 1952, was flying to Elmendorf from McChord AFB, Wash., when it went down. The victims came from all branches of the military.
The map above lays out the key locations involved in the Nov. 1952 crash. Map by Jennifer-Leigh Oprihory/Staff
Costley is the 39th crash victim to be positively identified, Oral Allen Cronin, chief of the Past Conflicts and Post Mortuary branches of the Air Force Mortuary Affairs Operations Center in Dover, Del., told Air Force Magazine in a phone interview.
"That doesn't necessarily mean that the recovery is over, because we don't know when that's going to be," Cronin said. "We have to wait and let the debris field tell us that."
The video above, produced by Joint Base Elmendorf-Richardson Public Affairs, documents the backstory behind the 1952 accident and birth of Operation Colony Glacier. Air Force video by Staff Sgt. Carly Kavish.
HOW THE OPERATION STARTED
Would-be rescuers who arrived on Colony Glacier days after the crash were unable to find any survivors, and an Army team found no evidence of a crash even after climbing to the top of to the crash site, according to a USAF historical video. A year later, another recovery expedition to the crash site discovered "remnants of mail" before a summer snowstorm forced the team to evacuate from the glacier, according to the video.
But it would be nearly 60 more years before an Alaska National Guard helicopter crew spotted the crash "wreckage and debris" while on a training mission over Alaska's Colony Glacier. While investigating, Alaska Army National Guardsmen found a dog tag among the wreckage. That artifact, which belonged to a service member involved in the crash, was the discovery that set the operation in motion, Cronin said.
In response to the findings, Cronin said, the ANG contacted the Hickam, Hawaii-based Joint POW/MIA Accounting Command, which at the time was in charge of travelling to Vietnam and Korea to look for remains of US service members who went missing "from the warzones."
"Within about six days, they had a team up there, and [it] was recovering not only portions of the aircraft to make sure that we properly identified which aircraft and which class it was, but they also recovered remains at the same time," Cronin said.
From there, the statement said, JPAC recommended the site "be monitored for possible future recovery operations."
Thus began the annual treks to the glacier, Cronin said.
The Air Force Report video above provides background on JPAC's Jan. 2015 deactivation. Air Force video.
CHANGE OF COMMAND
In 2015, JPAC had to cease involvement in the recovery efforts, since a legal review determined that the domestic accident was outside of its warzone-specific recovery purview. Responsibility for the recovery was transferred to the Secretary of the Air Force, and JPAC was inactivated in January 2015, with its duties being taken over by the Defense POW/MIA Accounting Agency.
From there, the project "eventually trickled down" to Cronin's office, due to his involvement with the recovery efforts since the initial discovery in 2012, he said. Cronin told Air Force Magazine his goal at that point was to ensure that "future recoveries" met or exceeded JPAC's prior efforts in terms of the team's skillset and the volume of its findings.
Even though Cronin's team had access to personnel with skills similar to those of JPAC's "scientists" and "archaeologists, he said, they weren't used to doing that kind of work on glaciers, or with assembling the kind of hybrid recovery teams the mission demanded. These teams had to consist of "medics, and EOD personnel, and mountaineers who are qualified to do that type of work," he explained.
Undeterred, Cronin turned to education and recruitment, enrolling medics and other team members in mountaineering school, and strategically searching for mountaineer-qualified individuals from Elmendorf and USAF's Air Force Mortuary Affairs Operations. He also looked to USAF's Arctic Survival School at Eielson AFB, Alaska, for mountaineers who were also EOD-qualified.
The Air National Guard completed the recovery-team puzzle in two ways, Cronin said. First, it provides the helicopter that transports the recovery team to and from the glacier on a daily basis. Other Elmendorf-based units also help process what the team finds.
"All the debris that we're bringing back has to go somewhere," Cronin explained, "so they take care of that."
A video produced by Joint Base Elmendorf-Richardson Public Affairs documents part of the 2016 leg of the recovery. Air Force video by Airman Richard Haynes.
HOW THE RECOVERY WORKS
Each year's recovery efforts depend on how many frozen secrets the glacier is willing to share with Cronin's team. He said the team currently needs to revisit the glacier annually to see "how far up the glacier the debris field is."
The civilian-military team approaches the recovery trips like scientists, he said.
"We started a grid, just like an archaeologist would map out an area, we would do the same thing to make sure that we cover every single spot that the debris field exists on," Cronin explained of their 2018 expedition.
When you're working on a recovery operation in which a single tooth found on a massive glacier has led to the positive identification of a crash victim, he explained, this kind of thorough approach is justified.
And every potential clue matters—whether it's a tooth, a dog tag, or, in Costley's case, a finger.
"Mr. Costley was actually identified from a fingerprint" nearly 66 years after the crash, Cronin said, a feat that he called "pretty amazing."
Once the debris field reaches "a point on the glacier where … it's too dangerous to go into,", Cronin said, another year is added to the operation.
"There's no reason to have two deaths in that situation," he continued.
If the glacier ever stops revealing clues from the crash, Cronin said, that'll be the team's signal to halt the operation for good.
"Basically, if no more debris is coming out of the glacier, then we now know we're just about done here," Cronin said.