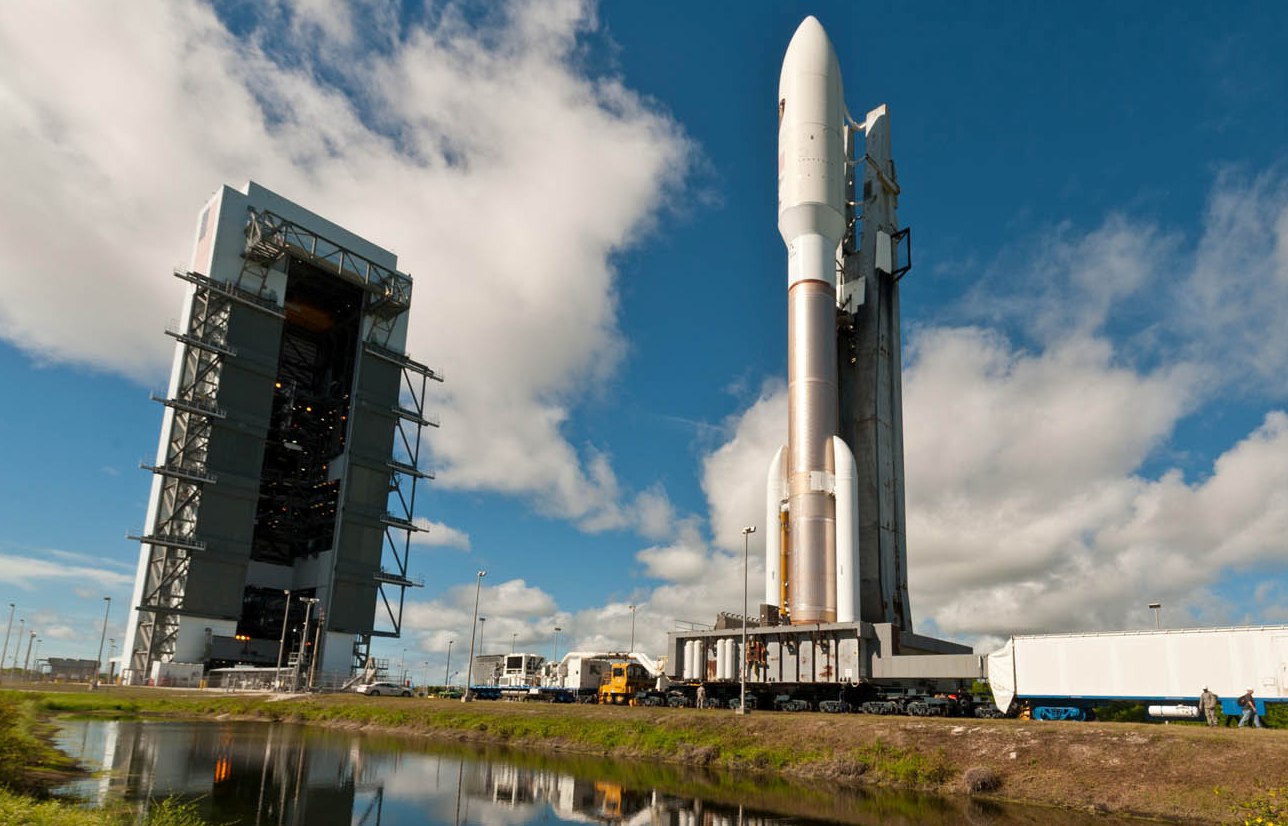 A United Launch Alliance Atlas V rolls out to Space Launch Complex-41 in September 2013 at Cape Canaveral AFS, Fla., with the Air Force's third Advanced Extremely High Frequency payload. ULA photo by Pat Corkery.
The Air Force on Tuesday asked industry to bid on a National Security Space mission to be launched in 2016, marking "the first Evolved Expendable Launch Vehicle competitive action in over a decade," said USAF spokeswoman Capt. Erika Yepsen on July 16.
The move is "consistent with Under Secretary of Defense Frank Kendall's direction to 'reintroduce a competitive procurement environment,'" said Yepsen in an emailed statement to media. "Competition among certified launch providers will encourage innovation and continued cost savings, while ensuring the Air Force will continue its focus on mission success."
The Air Force and NASA are working aggressively to increase competition for launching military, civil space, and commercial satellites, officials told Congress the same day.
Testifying before a joint hearing of the Senate Science and Space, and the Strategic Forces subcommittees the officials said they are working to add Orbital Science and SpaceX rockets to those provided by the United Launch Alliance, which has been the main provider of space launch services.
Alan Estevez, principal deputy under secretary of defense for acquisition, said the Air Force has certified SpaceX for some "lower risk" launches to gain experience and learn the Mission Assured Access requirements. He expected to certify SpaceX to conduct National Security Space launches by late 2014 and is working toward certification of Orbital Science.
Robert Lightfoot, NASA associate administrator, said both firms currently are launching cargo carrier to the International Space Station. He said NASA is working with its commercial partners on their efforts to produce space launch systems that could carry US astronauts to the ISS by the end of 2017, which would end the dependence on the Russian Soyuz for manned space flight since termination of the Space Shuttle.
California-based SpaceX, which is aggressively pursuing certification of its Falcon 9 rocket so it can compete for such launches, announced in April it was suing the Air Force over its latest EELV contract. The company argued the long-term contract with the United Launch Alliance blocks other companies from bidding.
Air Force spokesman Maj. Eric Badger told Air Force Magazine that SpaceX "has been qualified to compete for launching the US government's national security satellites," but it "must still submit a substantial amount of data to prove the Falcon 9 can successfully launch NSS missions with high reliability."
Badger said the Air Force is "working hard with SpaceX to get them certified as soon as possible," noting the service has "applied significant resources," including more than "$60 million and 100 personnel, to support that goal."
According to SpaceX CEO Elon Musk's twitter account, there were some complications during the July 14 landing of a Falcon 9 rocket—namely, the rocket went "kaboom."
The rocket departed from Cape Canaveral AFS, Fla., launching six ORBCOMM satellites. Musk initially tweeted that, "Flight 10 of Falcon 9 was good. All six ORBCOMM satellites deployed on target." But he later tweeted, "Rocket booster reentry, landing burn & leg deploy were good, but [the rocket] lost hull integrity right after splashdown (aka kaboom)."
He followed up saying there needed to be a "detailed review of rocket telemetry" to determine whether the explosion was caused by the "initial splashdown or subsequent tip and body slam."