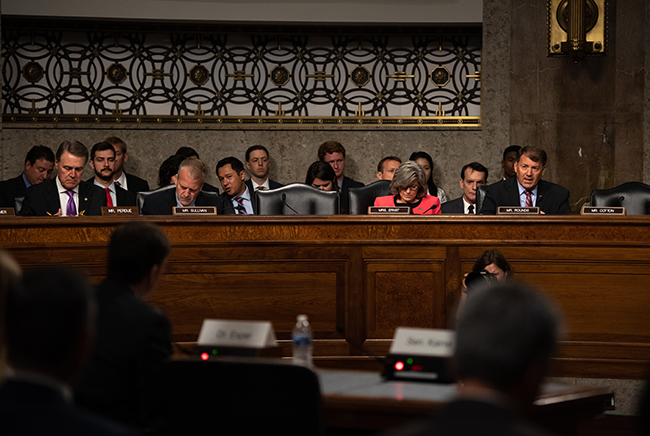 A select group of Senate and House lawmakers will meet in the coming months to address differences between each chamber's version of the fiscal 2020 National Defense Authorization Act. Some experts disagree on how easy this process will be. Defense Department photo by Army Sgt. Amber I. Smith.
A select group of Senate and House lawmakers in the coming months will convene to hammer out a policy bill that dictates how the Pentagon conducts business in fiscal 2020, but defense experts differ on just how difficult they believe the road ahead may be.
There's plenty for Republicans and Democrats to like in each chamber's draft of the National Defense Authorization Act: a pay raise for troops, funding for some key readiness and modernization initiatives, measures to address water contamination in military communities, and more. But coming out of a House process that passed the lower chamber's bill in a contentious, party-line vote, Congress faces weeks of possibly heated discussions about how much money to spend on defense and what exactly that funding should pay for.
Some believe the bill conference will prove relatively easy, away from the spotlight of floor speeches and committee debates. Rick Berger, a defense researcher at the American Enterprise Institute, said he's confident in a smooth conference despite partisan disagreements that have dogged the NDAA process this year. Others see significant divides to bridge.
"I don't believe it's going to be an easy conference at all," a government source familiar with the issues told Air Force Magazine. "There are fundamental differences beginning with topline, and moving on from there, major philosophical issues. In every corner, there are opposites."
The Republican-controlled Senate backs spending $750 billion on defense, $17 billion higher than where the Democratic-led House sits at $733 billion. Neither of those numbers will be feasible unless lawmakers and the White House agree on a deal that lifts legally mandated budget caps and allows higher non-defense spending as well.
Todd Harrison, a defense analyst at the Center for Strategic and International Studies, said the topline issue isn't insurmountable and predicts lawmakers will settle between $740 billion to $745 billion. In that case, he said, the House could seek to put the extra money into ready-to-go acquisition programs, while the Senate may acquiesce to the cuts by pulling funds from programs that are falling behind.
Tom Karako, Missile Defense Project director at CSIS, said Democrats could agree to split the difference between the two toplines as a way to save face—$742 billion is still lower than $750 billion—if they don't win on other issues.
Cuts to slow-moving missile-defense programs could make up some of the delta, although Republicans would be hard-pressed to support that, Karako said. Berger believes money for military personnel could be the first to go to reach a lower number.
The government source argues that while the topline funding number will rely on the outcome of a budget deal, lawmakers on the House and Senate Armed Services committees need a clearer picture of what to work toward without an appropriations agreement in place.
"When you're doing conference, you have to actually have a target," the source said. "You think that the Senate is going to go, 'Sure, we'll just come down to $733 [billion] after the president has agreed to $750 [billion]"
The Senate could toss out some of the additional money it offered for certain priorities in order to meet a smaller topline, Berger noted.
The timing of when Congress will agree on and send a bill to President Donald Trump is also murky. Some believe, as Senate Armed Services Committee Chairman Sen. Jim Inhofe (R-Okla.) has said, that a compromise bill can be reached by the end of September. Others think that if the appropriations process is dragged out, policy legislation could slow, too. It's possible the US could see another continuing resolution to keep spending at 2019 levels if lawmakers don't pass spending bills by Oct. 1.
Nuclear weapons, one of the Air Force's top modernization priorities, will also create friction. The Senate fully funds the Long-Range Standoff Weapon and the military's portion of the B61-12 bomb refurbishment program. It also adds $22 million on top of the Ground-Based Strategic Deterrent request and supports the new, low-yield W76-2 warhead expected to go on submarine-launched missiles.
On the other hand, House Democrats opposed the W76-2, drove a nearly $81 million cut to GBSD, and more, prompting Republicans to vote against the House bill.
The government source close to the process doesn't expect senators will want to trade away funding for the nuclear triad, which proponents say will counter Russian and Chinese advancements, and said middle ground on these key issues depends on how firmly Democrats hold their ground on more liberal positions. Others believe the House's bill offers extra leverage to keep its provisions to shrink intercontinental ballistic missile funding, block deployment of low-yield nuclear weapons, and more.
"Unlike the House bill, the Senate bill rubber stamps the Trump administration's redundant and reckless effort to expand US nuclear capabilities," the Arms Control Association said July 12.
The Senate is unlikely to block funding to intermediate-range missiles or to ban low-yield nuclear weapons, Karako said. Nuclear and missile-defense cuts are also likely deal breakers for the White House, he said.
Experts also differ on whether the Senate's Space Force and the House's Space Corps provisions will be easily unified. Funding may be a sticking point, and lawmakers must agree on the right organizational structure, transition timeline, whether and how to include members of other services, and more. Harrison said its inclusion in the final bill could be a bargaining chip for members who want to remove other provisions but must ultimately appease Trump.
Other issues that could trigger a presidential veto include funding for a wall and military involvement at the southern US border or tensions with Iran. Harrison noted veto threats, such as the ones issued in the executive branch's statements of administration policy, should be viewed somewhat skeptically. The president could try to fight for his top priorities in the defense policy bill, Harrison said, or he could be persuaded to push back against spending bills instead.
Berger added the White House may crow about anything that aims to restrict military force. House lawmakers passed an amendment to require congressional approval for a military strike on Iran, which some senators support but is unlikely to gain broad traction.
"I have no idea," Karako said when asked if there's clear skies ahead. "There's a lot to fight about."