The U.S. took a significant step in modernizing its air defense recently when a new system, known as Cloud-Based Command and Control (CBC2), came online at one of the key centers monitoring the skies over North America.
The event marked a "pivotal milestone in the service's modernization of tactical command and control capabilities," according to a news release from a component of North American Aerospace Defense Command (NORAD).
The Eastern Air Defense Sector, one of NORAD's regional commands, recently rolled out its initial operating capability of CBC2, which uses artificial intelligence to help personnel monitor more information in a simpler way than the current system.
"Instead of an air battle manager having to consult different screens or systems for different sensor inputs or data, CBC2 brings together those inputs," a NORAD official explained to Air & Space Forces Magazine. "The effect is a more streamlined connection between sensors, systems, and decision-makers."
The new system is part of the Air Force's push towards greater connectivity as part of the Advanced Battle Management System (ABMS). The Air Force plans to expand CBC2 to the Pacific and other locations, using a model known as agile development, security, and operations (DevSecOps)—software that will continually receive updates.
"We didn't do an overall CBC2 contract and hand it off to somebody that kind of did all the typical integration kinds of things," Brig. Gen. Luke C.G. Cropsey, who is in charge of the Department of the Air Force's ambitious ABMS efforts, said at AFA's Air, Space & Cyber conference in September. "We actually went directly to the experts in their respective layer of the stack, and we said, 'Hey, who's the best at 'fill in the blank' and we went and we got them on contract."
CBC2 will aggregate and integrate military and commercial air defense data sources into one common picture to support homeland defense, the service says.
NORAD and U.S. Northern Command, which is responsible for the defense of North America, are the first to receive the capability, starting with EADS, which covers the eastern United States, including Washington, D.C.
EADS headquarters is located at Griffiss Business and Technology Park in Rome, New York, and is largely staffed by the Air National Guard. Despite its nondescript location, the rollout was attended by senior military officials, including Secretary of the Air Force Frank Kendall, Cropsey, and high-level representatives from the Royal Canadian Air Force, the Office of the Secretary of Defense, and the Joint Staff Director for Force Development (J7) USAF Lt. Gen. Dagvin R.M. Anderson.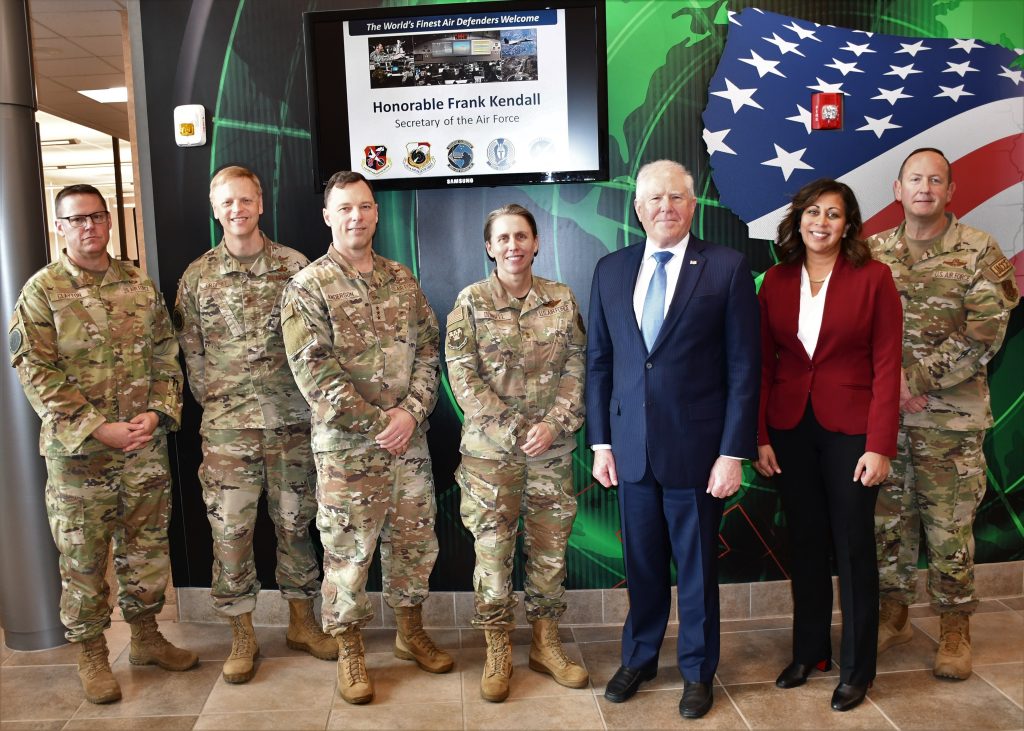 "Advancing our command-and-control capabilities is instrumental in achieving the department's Second Operational imperative—achieving operationally optimized Advanced Battle Management Systems—while maintaining technological superiority in a rapidly evolving threat landscape," Kendall said in remarks at the ceremony.
NORAD is a joint U.S. and Canadian command. CBC2, therefore, is a multinational effort.
"CBC2 incorporates a large number of tactically relevant data feeds as well as artificial intelligence and machine learning to assist decision makers with maintaining detailed situational awareness of the battlespace," EADS said in its news release. "The platform uses this data to develop courses of action from which leaders can make higher quality and faster decisions that improve operational outcomes."
Next to get CBC2 will be the Canadian Air Defense Sector (CADS), which is expected to field the new technology by mid-2024. NORAD expects to roll out CBC2 to the air defense sectors in Alaska, Hawaii, and Washington throughout 2024.
"NORAD will apply CBC2 in our air defense sectors to modernize air battle management software interfaces," the official from the command said.
CBC2 is expected to be upgraded to fit in with hardware updates as they are fielded, such as NORAD's planned new over-the-horizon radar, the NORAD official said.
"We're deploying capability starting now," Cropsey said in September. "It will obviously continue to happen in the future. But this isn't something that's five years away. This is today."