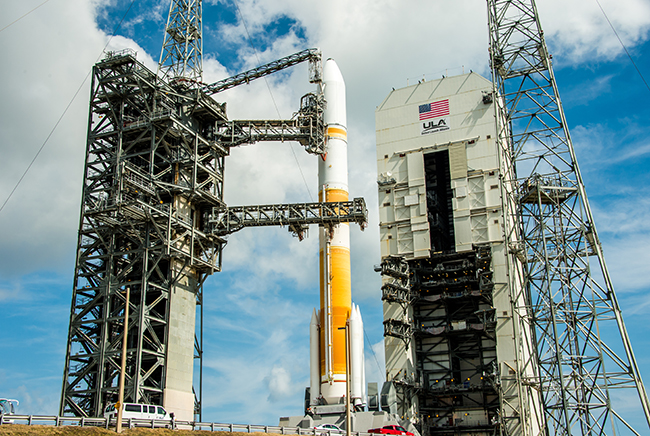 The ? Space and Missile Systems Center's WGS-10 (Wideband Global SATCOM) encapsulated satellite mated with a Delta IV launch vehicle was revealed completely as the tower rolled back in preparation for launch on Mar. 15, 2019, at Cape Canaveral AFS, Fla. Space and Missile Systems Center photo by Van Ha.
COLORADO SPRINGS, Colo.—The Air Force will roll out a new strategy by the end of 2019 detailing its plans to improve satellite communications coverage by working with both traditional and commercial providers, the head of the Air Force Space and Missile Systems Center said April 11.
Speaking to reporters at the Space Foundation's Space Symposium here, Lt. Gen. John Thompson said the service is working with Air Force Space Command, former Defense Information Systems Agency workers, and SATCOM players to find ways for military personnel to easily communicate across any network, similar to how cell phones ping multiple towers for service as people move.
"How can we do that for our warfighters on a day-in and day-out basis across the planet, so military satellite communications, commercial satellite communications, protected or not, tactical or strategic, can hop from tower to tower without having to schedule time here or schedule time there?" he said. "Let's make it seamless for our warfighters around the planet."
The Air Force is fleshing out its "fighting SATCOM strategy," as Thompson dubbed it, after Air Force Space Command took over responsibility for commercial SATCOM procurement from DISA last year.
"Part of that merger, if you will, of traditional military satellite communications functions from tactical to strategic, and the purchasing of commercial bandwidth to be used by our warfighters around the globe, is building an overarching … strategy for us to implement as a team, not just in the separate stovepipes that we executed commercial SATCOM and military SATCOM in previously," Thompson said.
In February, AFSPC officials met with industry at Peterson AFB, Colo., to discuss the future of integrated satellite communications and start to understand what that combined enterprise could look like, including future pathfinder programs. Thompson said the service is considering "a number" of commercial and military pathfinder proposals as part of its larger SATCOM strategy.
American and some foreign companies are "very, very interested" in tackling the problem of too many satellite terminals by developing common or multi-use terminals for warfighters, he said. The Defense Department operates between 130 and 160 unique SATCOM terminals across programs like the Mobile User Objective System, Wideband Global Satellite Communications, Advanced Extremely High-Frequency satellites, and Air Force officials have sought to shrink the number of configurations it buys and maintains for a number of other aircraft and software systems.
Acting Defense Secretary Patrick Shanahan also noted streamlining the number of wideband, narrowband, and protected SATCOM terminals is an area the new Space Development Agency can address.
"As we look to future architectures, we have a once-in-a-generation opportunity to consolidate and provide the department a unified multi-domain command and control system for the first time," Shanahan said in prepared remarks delivered April 9.
Thompson added the defense industry is also excited about taking military SATCOM in the same direction commercial companies are headed. That approach would move away from "large, unprotected beam areas on the ground" to instead pursue "many more smaller, soda straw-sized beams" that make it harder to detect and intercept protected communications "using commercial systems in concert with our warfighter and our other partners across the government," he said.
Part of that future network could include two new Wideband Gapfiller Satellites, after Congress appropriated an extra $600 million in the 2018 defense spending bill to buy the 11th and 12th units. Thompson said the Air Force is talking to Boeing about that potential procurement to follow lawmakers' wishes, but wants to approach WGS in new ways as SMC looks to move programs along faster.
Brig. Gen. Steve Whitney, SMC's production corps program executive officer, said April 11 the Air Force is reviewing Boeing's proposal for its next two WGS satellites, which includes the possibility the company would arrange their launch into orbit as well.
"In the proposal, we asked for a number of different options," Whitney said. "We're going through the proper procedures and processes to evaluate the different things to make sure we're getting the best capability for our warfighters. Part of that includes a discussion with our [major command] on how best to do that."