Lt. Gen. Tony Bauernfeind took charge of Air Force Special Operations Command on Dec. 9, succeeding Lt. Gen. James C. "Jim" Slife and pledging to "stay the course on transforming this great command."
Chief of Staff Gen. Charles Q. Brown Jr. presided over the change of command ceremony at Hurlburt Field, Fla., alongside U.S. Special Operations Command boss Army Gen. Bryan P. Fenton.
Bauernfeind takes over AFSOC after more than three decades in uniform, including command of SOF units at the squadron, group, and wing levels. He also led Special Operations Command Korea and has been both Chief of Staff and Vice Commander at SOCOM.
Now, in his first-ever AFSOC headquarters assignment, he must continue a transformation from the counter-terrorism mission of the past two decades to one more focused on strategic competition. It's a delicate balancing act.
"Our focus will be unwavering—continue to accelerate and transform the command to win today's fight and meet tomorrow's challenges," Bauernfeind said. "This will require us to return to our roots of irregular warfare, as we consider the force development and force design of Air Force special operations on tomorrow's battlefields. We will leverage our decades or hard-earned combat experience to play a vital role in the department's integrated deterrence efforts … Additionally, we will continue to succeed in the counterterrorist fight, while ensuring we're always ready to execute our no-fail crisis response mission on a moment's notice."
Slife, who will become USAF's deputy chief of staff for operations, had begun that transition during his tenure, citing the new Air Force Force Generation model (AFFORGEN) as a critical means for better understanding risk calculations related to the commitment of forces. He also said he was on a personal "jihad" against centralization of resources, noting that efficiencies gained could also mask shortages of resources that could prove devastating in wartime.
Slife handed off command noting the continuity embodied by such moves. "My 1,260th in command of AFSOC and your first day in command of AFSOC will share a date on our calendars," Slife told Bauernfeind during the ceremony. " … I see the journey behind, you see the journey ahead, and that is exactly the way it should be."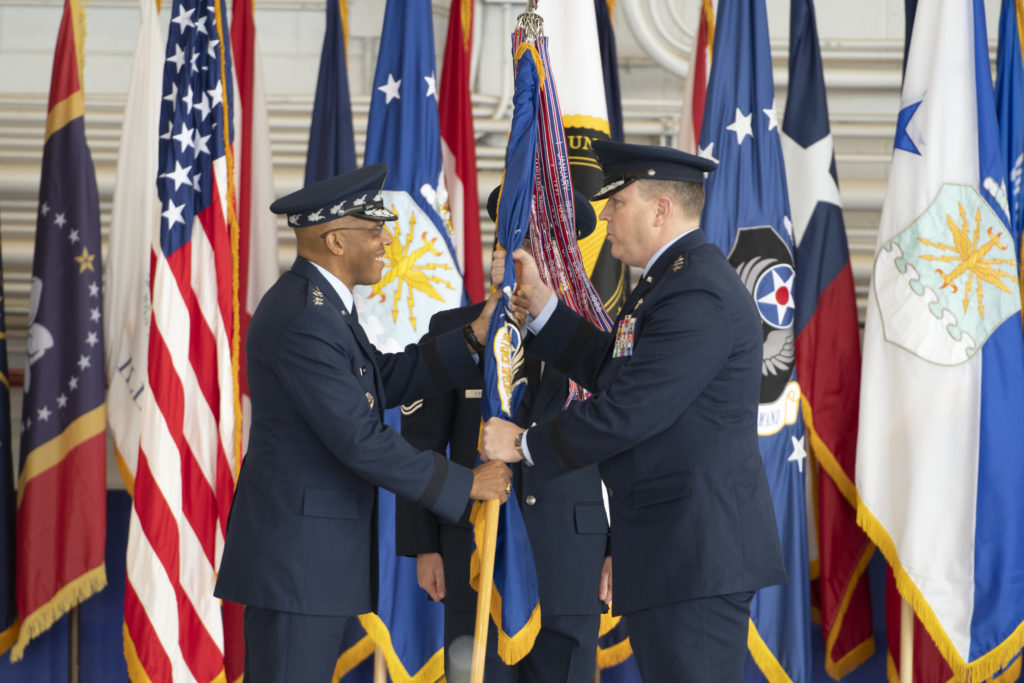 For his part, Bauernfeind laid out basic goals for his tenure.
"My job is clear. In partnership with [Command Chief Master Sergeant of AFSOC CMSgt. Cory M. Olson], I will provide you with a vision, and I will fight for the resources you need to execute that vision," Bauernfeind said. "I will champion efforts that sustain and improve your quality of service and you and and your family's quality of life. And finally, I will tackle those barriers inhibiting your successes so that each and every one of you can grow to the maximum of your personal potential. … My message to you is this: We have important work ahead of us, and we will stay the course on transforming this great command."
The AFSOC change of command was the second in three days among Air Force major commands, following the elevation of Gen. Thomas A. Bussiere to lead Air Force Global Strike Command (AFGSC) on Dec. 7. In all, six Air Force major commands saw new leaders in 2022, the most in a single year in at least a decade.
New Air Force MAJCOM Commanders in 2022
Lt. Gen. Brian S. Robinson: Air Education and Training Command
Gen. James B. Hecker: U.S. Air Forces in Europe/Air Forces Africa
Gen. Duke Z. Richardson: Air Force Materiel Command
Lt. Gen. John P. Healy: Air Force Reserve Command
Gen. Thomas A. Bussiere: Air Force Global Strike Command
Lt. Gen. Tony Bauernfeind: Air Force Special Operations Command