OFFUTT AIR FORCE BASE, Neb.—Air Force Gen. Anthony J. Cotton assumed command of U.S. Strategic Command (STRATCOM) in a ceremony here on Dec. 9, putting an Air Force general in charge of America's nuclear forces at a time of rising nuclear threats around the globe.
"Today, STRATCOM faces new challenges," Secretary of Defense Lloyd L. Austin III told those gathered for the change of command. "The United States is on the verge of a new phase—one where, for the first time, we face two major nuclear powers as strategic competitors. The People's Republic of China is expanding, and modernizing, and diversifying its nuclear forces. And Russia is also modernizing and expanding its nuclear arsenal."
STRATCOM representatives echoed concerns over the state of global nuclear competition. They cited Russia's war in Ukraine and threats to use nuclear weapons, as well as China's rapid expansion of its nuclear forces.
"The stakes and the assumptions have changed," one STRATCOM representative said.
Austin flew into Offutt Air Force Base aboard the E-4B National Airborne Operations Center operated by STRATCOM. The plane is designed to serve as the nation's nerve center in the event of a catastrophic nuclear attack—underscoring the important role the Department of Defense placed on the occasion.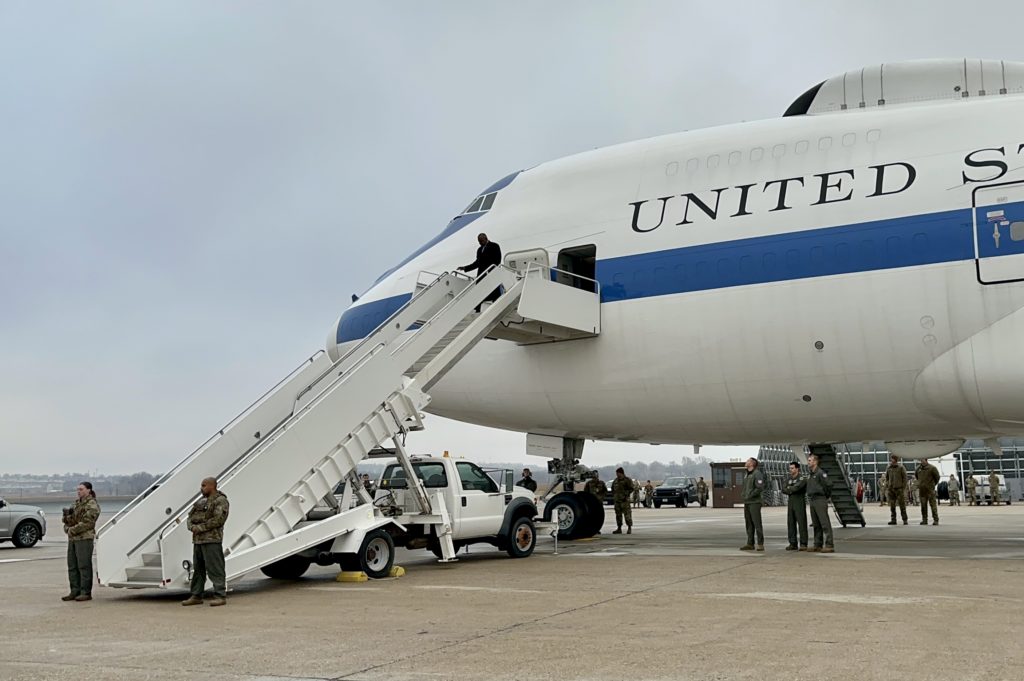 Cotton took over command from Navy Adm. Charles "Chas" A. Richard, an outspoken leader who often opines on nuclear issues. But Cotton, who previously led Air Force Global Strike Command, has a low profile. Most of Cotton's public remarks have come during Senate confirmation hearings.
After taking command, Cotton outlined his vision in a speech at STRATCOM's gleaming, glass-enclosed headquarters, which provided respite from the grey, biting Nebraska weather.
"New perils are ahead of us," Cotton said. "While the post-Cold War era is over, the competition is underway among major powers to try shape what comes ahead."
An Air Force general is taking over STRATCOM at a time when the service is charged with extensive modernization of its nuclear enterprise. In the Department of Defense's recent Nuclear Posture Review, an emphasis was placed on Air Force nuclear-capable programs such as the brand-new B-21 Raider, which the DOD says will eventually number more than 100 aircraft in the Air Force inventory, and the Sentinel intercontinental ballistic missile to replace the aging Minuteman III. Navy programs that Richard championed, such as the sea-launched cruise missile-nuclear (SCLM-N), are set to be canceled.
The Air Force's key role in supporting two legs of the nuclear triad was highlighted by Secretary of the Air Force Frank Kendall's appearance at the change of command.
"The Air Force is moving fast in the right direction thanks to your leadership," Cotton said, addressing Kendall in his speech. "Thank you for the confidence and support in me and the steadfast support of the modernization of the two legs of the nuclear triad, which I was responsible for until a couple of days ago. Now I get it all."
Gen. Thomas A. Bussiere assumed Cotton's previous position as head of Air Force Global Strike Command (AFGSC) on Dec. 7. AFGSC forms the majority of America's deployable nuclear forces and is responsible for the land-based Minuteman III, the current generation ICBM, and America's strategic bombers, including the nuclear-capable B-52 and B-2 as well as the conventionally-armed B-1. Bussiere will usher in a new era for the Air Force major command, as the U.S. will field its first new strategic bomber in three decades in B-21, which is set to replace the B-2 and B-1, while the Sentinel replaces the Minuteman III.
"To safeguard our status and our capabilities, we can't settle on the status quo," Cotton said. "We're taking actions now. Our mission cannot fail."
Austin and Cotton reiterated America's nuclear arsenal ultimately relies on people to make decisions, from intelligence, detection, launch, and targeting. And it requires service members to operate in harm's way.
"So let us always ensure that the most dangerous weapons ever produced by human science are managed with the greatest responsibility ever produced by human government," Austin said.
STRATCOM, with its massive nuclear arsenal, embraces the motto "Peace is our profession." Cotton, a missileer by training who met his wife while serving at Minot Air Force Base, N.D., has spent much of his career around the nuclear enterprise.
"Everything we do is foundational to national and international security," Cotton said. "It's not just our nation that's counting on us."