OKLAHOMA CITY—Boeing is proposing the Air Force shift the testing of hypersonic missiles from the B-52 to the B-1, using a new pylon for the bomber that could, as an added benefit, increase the B-1's munition-carrying capacity by 50 percent for many existing weapons, the company says.
Boeing developed what it is calling the Load Adaptable Modular (LAM) pylon with its own money, but the Air Force is using some congressional add-on funds to test it. Those tests are now underway.
The Air Force has earmarked eight B-52s to test engine, radar, weapons, and other upgrades. With 10 to 12 more bombers expected to be in depot, repair, or upgrade at any given time for the foreseeable future, that leaves only 56-58 of the 76 B-52s available for operations, creating a potential issue because the B-52 has a nuclear deterrence mission, while the B-1 does not.
"The whole point of this … is for the B-1 to become the hypersonic testbed for the Air Force," Jennifer Wong, Boeing's director of bomber programs, told reporters at Tinker Air Force Base, Okla. Boeing and Rolls Royce provided travel, lodging, and meals for reporters covering B-52 upgrade efforts.
"Because of all the modernization efforts on the B-52, we can actually not take away from what we're doing on the B-52 today to have it test hypersonics," Wong said. "So we will be doing hypersonics testing on the B-1."
The B-52 has been used to test the hypersonic AGM-183 Air-launched Rapid Response Weapon (ARRW), but the Air Force has said it is winding that project down—although some members of Congress have said they may add funds in fiscal year 2024 to keep it going. The service is also pursuing the Hypersonic Attack Cruise Missile, an air-breathing cruise missile.
Boeing saw a need for the Air Force to test newer, heavier weapons, but "at the time didn't have the funding for it or the requirement for it, and so we stepped in," Wong said. Boeing built four of the pylons with its own funds but expects a contract soon to build more, she said. The Air Force is using some congressional add-on funding for hypersonics to conduct tests and potentially buy more LAMs. An official announcement about the program is expected soon.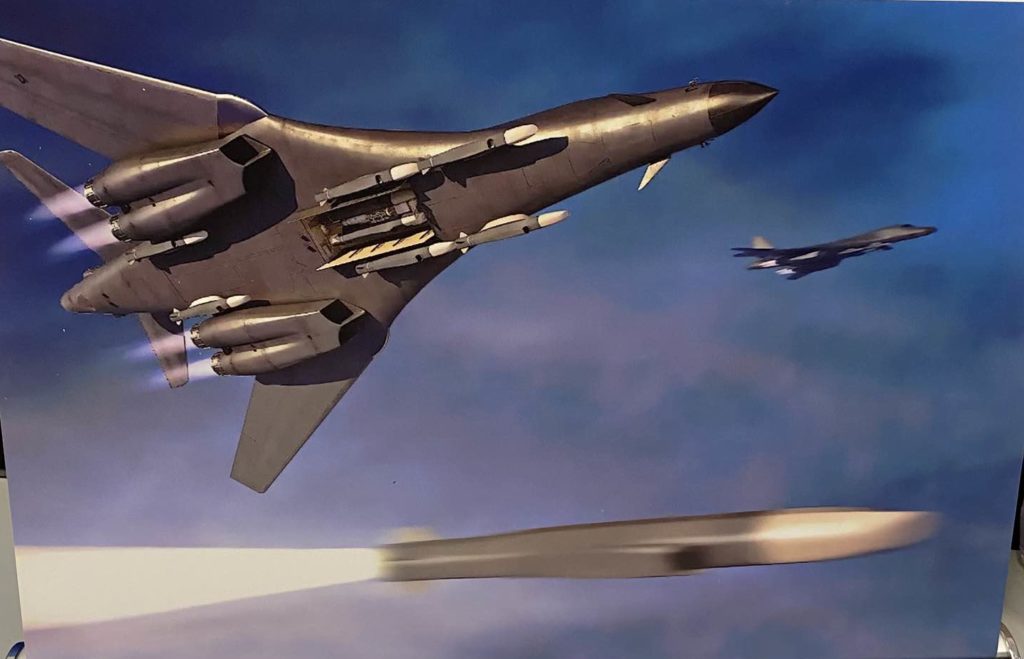 The new unit was designed to be rapidly reconfigurable to carry a variety of different new and existing weapons. It works by having adjustable mounts and attach points that can be changed on the flightline to shift from one kind of weapon to another.
Attachment lugs "click into a new position … like Lego" on the pylon, Wong said. The LAM can carry heavy missiles in the same class as ARRW; up to 7,500 pounds per station.
For test crews and forward-deployed bombers, the unit means "one pylon versus seven," Wong said, which would simplify the amount of hardware that weapon loaders would have to train on or take with them to theater.
The LAM can also "carry some future concepts" involving hypersonics, she added without elaborating.
The first pylon was delivered to Edwards Air Force Base, Calif., and installed on a B-1, and "they are going through ground tests as we speak," Wong said. That will be followed by captive-carry tests with a dummy weapon this summer.
The LAM can be installed on the B-1's external hardpoints, which were inactivated as part of the nuclear arms START treaty. But Wong said "we've woken them up" for use with the LAM. The hardpoints were originally intended to carry strategic AGM-86 Air-Launched Cruise Missiles, so the structures can carry heavy weapons in those locations. The hardpoints can be used now because Russia has withdrawn from the New START treaty.
Because the LAM can carry such a heavy load—and the B-1 could mount six of them on external hardpoints as well as in its two bomb bays—it could significantly increase the B-1's combat loadout as well, Wong said. She showed a chart indicating those increases, broken down by weapon type:
B-1 Loadout by Weapon With New LAM Pylon
| Weapon | LAM | Current/Internal | TOTAL |
| --- | --- | --- | --- |
| Joint Direct Attack Munition (5K) | 6 | N/A | 6 |
| Joint Direct Attack Munition – Extended Range (2K) | 12 | 12 | 24 |
| Joint Direct Attack Munition (2K) | 12 | 24 | 36 |
| CBU WCMD | 12 | 24 | 36 |
| Powered Joint Direct Attack Munition | 12 | 24 | 36 |
| Joint Air-to-Surface Standoff – Extended Range | 12 | 24 | 36 |
| Hypersonic Attack Cruise Missile (estimate) | 12 | 24 | 36 |
| Small Diameter Bomb | 48 | 96 | 144 |
Boeing data
The airplane has the gross takeoff capacity to lift the heavier loads, Wong said.
"What this does for the B-1 is, it does keep it in the fight longer, it keeps it relevant, and again, takes some of the workload off the B-52," she said.
The testing so far has generated interest, Wong said, and "we've actually had other, I'll say 'weapons providers' come talk to us about possibly working with them to integrate their weapon onto it and get it tested onto a B-1" with the LAM. "We are weapons-provider agnostic. It could be a Boeing weapon, it could be somebody else's weapon."
However, the LAM will not fit on the B-52, Wong said. While there may be interest in a heavy stores pylon for the B-52 in the future, it would have to be a different unit, she said. There have been preliminary discussions with the Air Force about such a project, but "they're not going there, just yet," she said.
The Air Force is focused on the major upgrades now in the works for the B-52—radar, new engines, communications, integration of the new strategic LRSO missile, and others—and doesn't want to further complicate that already-complex overall effort with another project, she said.
Although the Air Force is considering launching hypersonic weapons off the F-15EX's centerline fuselage weapons station, the LAM cannot fit that aircraft, either, Wong said.