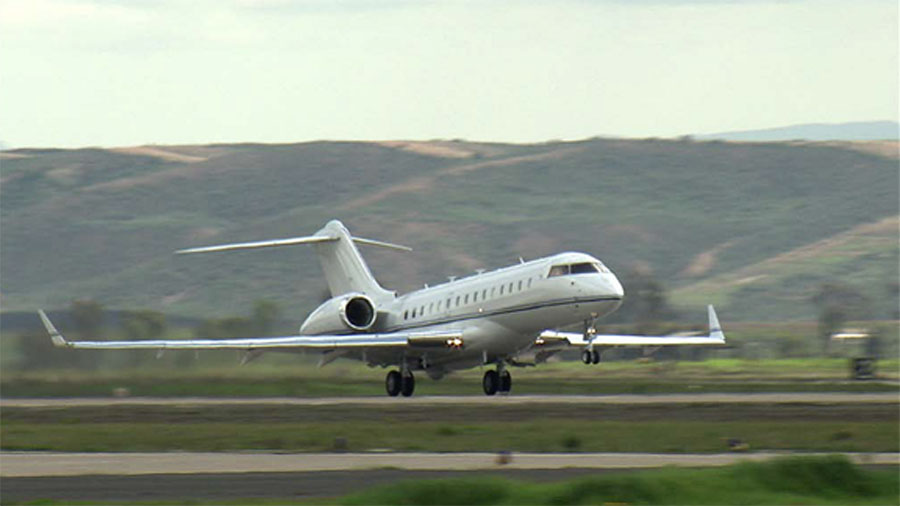 An E-11A aircraft outfitted with the Battlefield Airborne Communications Node, or BACN, takes off at an undisclosed location. Courtesy photo.
The Battlefield Airborne Communications Node, or BACN, will soar above US Central Command for its 10,000th mission this month.
BACN is "kind of like AT&T in the sky," explained Lt. Col. James Peterson, commander of the 430th Expeditionary Electronic Combat Squadron.
The payload, which is carried on the E-11A and the EQ-4, has three principal functions: it can extend the range of a radio signal or bridge it to another radio, it can combine data links, and it can take one type of communication device and connect it to another type of communication device, like a telephone to a radio, Peterson said.
The manned platform that carries the BACN is the E-11A, a repurposed corporate jet that has flown about 8,250 of the 10,000 missions. The E-11A program has been running as a joint urgent operational need since 2009, Peterson said, though the payload itself started to emerge in 2008.
The 430th EECS is based at Kandahar Air Field, Afghanistan, and provides service across the CENTCOM area of operations. The squadron is the only E-11A unit in the Air Force, so the pilots who deploy there all fly different airframes—and the first time they fly the actual E-11A aircraft is into combat, Peterson said.
"It's a unit that is manned by highly experienced pilots that go through some academic and simulator training in the United States, and then they arrive to the deployed location and the first time they actually fly the aircraft is on a combat sortie," he noted.
The region's terrain can make communication difficult, but Peterson said BACN helps connect them.
"If you had ground troops out on a patrol that were separated from their headquarters by terrain, that prevented them from being able to be in radio contact with their headquarters, when you have a BACN aircraft overhead, we can then tie their radios back to their headquarters, or to other units, or to airplanes, to try to provide them the ability to stay in communication," he said.
An E-11A pilot, who asked not to be named for security reasons, told Air Force Magazine the unit is the "Air Force's version of 'Can you hear me now?'"
"Nothing is more alarming [than] when your cell phone doesn't work. Now imagine you're in a valley, and there's guys around you and your cell phone doesn't work," he said. "Everybody likes the guy who's giving you good cell service."
Peterson called BACN "the connective tissue" that allows for multi-domain command and control.
Each of the services has different communication needs, he pointed out, and some US troops may not have radios that can interface with radios of another service. Or, he said, command and control for an operation may be happening on a satellite communications channel, but some of the troops in the field may just have regular radios.
"BACN solves that," Peterson said. "It can take in the signal from one type of radio and translate it to the signal that the other type of radio can understand and use. So realistically, that multi-domain C2, the BACN provides that connective tissue where now, across the services and across the domains, you can start to really talk to each other in an effective manner."
The Air Force awarded Northrop Grumman an $89.7 million contract to continue operating and supporting the Battlefield Airborne Communications Node system, according to an Aug. 6 release. BACN connects aircraft in the air and mission controllers on the ground, "[translating] and [distributing] voice communications, video, imagery, and other battlespace information from numerous, often disparate, sources to improve situational awareness and enable better coordination among warfighters and commanders," states the release. It's "making such a tremendous difference … that it is regarded as indispensable for mission success," said Jeannie Hilger, Northrop Grumman's Vice President and general manager for communications in information systems. BACN has been in use in support of Operation Enduring Freedom on four E-11A systems and three EQ-4B Global Hawks, states the release. The system "has delivered near 24/7 coverage in theater with system availability rates above 98 percent" since its deployment in 2008, it states.