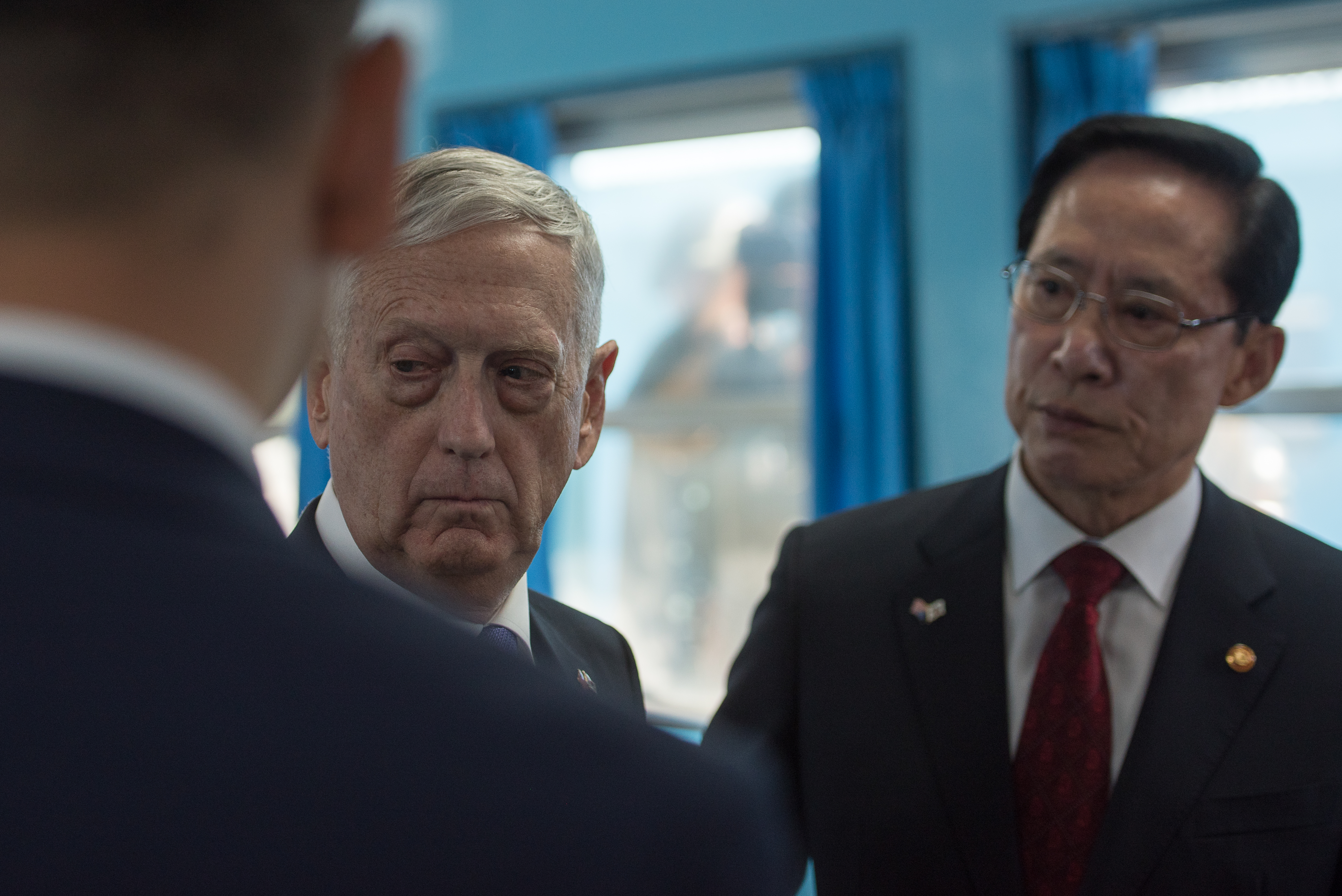 Defense Secretary Jim Mattis and South Korean Minister of Defence Song Young-moo visit the demilitarized zone between North and South Korea during a visit to the Joint Security Area in South Korea, Oct. 27, 2017. A North Korean soldier in the background uses binaculars to look inside. DOD photo by US Army Sgt. Amber I. Smith.
Defense Secretary Jim Mattis on Friday visited the demilitarized zone between North and South Korea to deliver a warning, but also to emphasize that the overall goal is not war with the Kim Jong Un regime.
The US, along with its allies in South Korea and Japan, are pushing for "the complete, verifiable, and irreversible denuclearization of the Korean peninsula," Mattis said.
Mattis appeared alongside Korean Minister of Defense Song Young-moo to portray the difference between the North, and its soldiers just feet behind him.
"Behind me to the north, an oppressive regime that shackles its people, denying their freedom, their welfare, and their human dignity in pursuit of nuclear weapons in the means of delivery, in order to threaten other[s] with catastrophe," Mattis said.
The visit happened the day before a Security Consultative Meeting with South Korean officials, where the two nations planned steps to strengthen their alliance. The US and South Korea work together "to ensure peace and stability on the Korean Peninsula, and the strongest military defense of our shared democratic values," Mattis said.
The US has increased its military posture in the region, with three US Navy aircraft carriers operating in the Western Pacific and regular public flights by B-1B bombers flying from Andersen AFB, Guam.