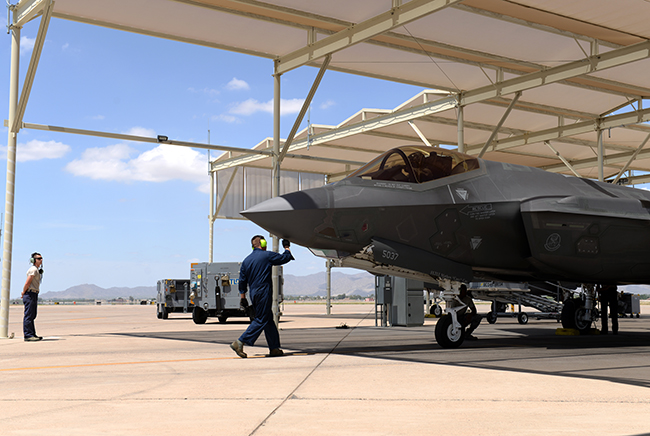 61st Aircraft Maintenance Unit maintainers inspects an F-35A Lightning II prior to its taxi-out and takeoff July 18, 2018, at Luke AFB, Ariz. Pilots and maintainers perform thorough pre-flight checks before each sortie. Air Force photo by SrA. Ridge Shan.
Mad Hatter, the Air Force-led software coding effort tackling the F-35's troubled Autonomic Logistics Information System, delivered its initial applications to the flightline at Nellis AFB, Nev., last week, a service official said May 9.
"The first two applications that we fielded don't interact with ALIS," Steve Wert, the Air Force's digital program executive officer, said at a National Defense Industrial Association conference. "They are separate applications that help the maintainers do things that they were doing outside of ALIS anyway. They were using Excel spreadsheets and handwritten notes and then having to re-enter those things. … They were pain points."
Future applications will work directly with ALIS itself, Wert said. The Air Force's Kessel Run coding team is collaborating on Mad Hatter with fighter jet manufacturer Lockheed Martin, the F-35 Joint Program Office, and Silicon Valley-based Pivotal, which helps the Air Force learn agile software development.
Wert noted more blue suit agile software development groups are popping up around the country, including Bespin at Maxwell AFB, Ala., for business and enterprise systems, LevelUP for Unified Platform development, Rogue Blue at Offutt AFB, Neb., for US Strategic Command software systems, two at the Air Force Space and Missile Systems Center, and revamped Software Engineering Groups at major depots in Utah, Georgia, and Oklahoma.
PEO Digital is also planning its own iterations of the Air Force's recent Pitch Day. One in July will focus on finding new product teams, tools, and processes for the Boston-based Kessel Run, while another on July 17 will seek out payloads and signature identification systems for unmanned aircraft.