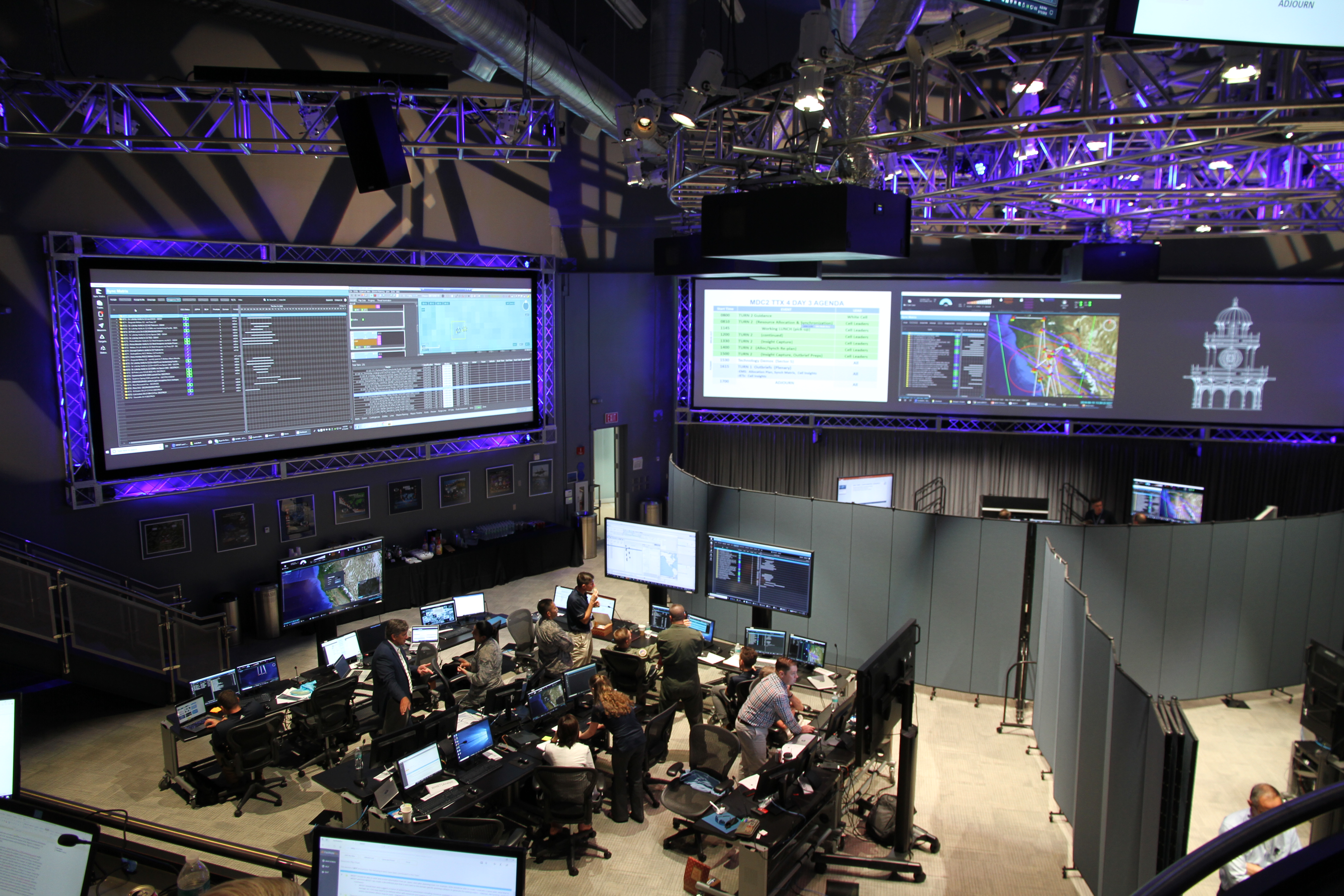 Lockheed Martin has created its own air operations center at its Center for Innovation in Suffolk, Va., where it runs exercises like this week's Multi-Domain Command and Control TTX. Lockheed Martin photo.
SUFFOLK, Va.—The 14 airmen on the operations floor were tasked with destroying, disrupting, degrading, denying, or defeating a peer-threat adversary known as the Califan, which was aggressively trying to take over some mineral fields on the island of Pacifica. The island was shared by three nations, all of whom relied on the mineral fields.
The fictional scenario was the baseline for the three-day multi-domain command and control (MDC2) exercise hosted by Lockheed Martin here. The exercise—the fourth of its kind—took eight months to plan and cost Lockheed Martin about $1.5 million.
The goal was not necessarily to win, but to test out a whole new concept of operations for planning and force presentation, as well as new tools being developed by the company and the Air Force Research Laboratory. These tools will allow the customer to more quickly and efficiently conduct operations across multiple domains—in this case air, space, and cyber, said Bryan Gates, one of the co-leaders of the exercise.
JB Brown, a Lockheed employee and former F-16 and A-10 pilot who worked in three different air operations centers during his Air Force career, led one of the integrated effects teams. Its task was to take out Califan's national command authority. The team discovered that Califan had "a single complex of buildings" that functioned much like US air operations centers. The adversary was using satellite communications to share its air tasking orders over a network with its air unit. Brown and his team wanted to find a way to disrupt Califan's command and control over its air forces for 72 hours.
Planners from all three domains worked together to produce a single, integrated plan. The process was a departure from what airmen are used to doing in the real world, where various domain plans often are created in parallel, and then deconflicted but not necessarily integrated, said Brown.
"I can do this all separately and that's great, but that vignette I just gave you, [the operational force] would have done all three and said, 'I think we're good,' but they didn't need to. Only two of three really needed to be done," added Brown.
Rather than simply consulting with liaisons from other domains, such as cyber, space, or special forces, what Lockheed Martin wanted to demonstrate was the feasibility of integrating those planners into the process, so "every planner had an understanding of what the whole gamut of effects were and you could start from that baseline," said Kim Ponders, senior manager for Lockheed C4ISR business development. "What if you had a planning organization that was domain agnostic? … What if we were together saying, 'What can I do?' Maybe you don't need an air plan at all. Maybe air is secondary."
The company also introduced tools in various stages of development to help the planners, including its Common Mission Software Baseline, or CMSB, a "mature" plug-and-play open-mission system that helps automate decisions and links "operational planning to tactical execution in a multi-domain context," according to Lockheed. CMSB serves as the baseline for the Common Mission Control Center at Beale AFB, Calif., but the Lockheed Martin exercise marked the first time CMSB was actually used operationally.
"We don't know how they are going to work out. They are literally being used for the first time today doing some of this ISR package planning and some of the retooling we'll see," said Scott Grunwald of Skunk Works, the other co-lead for the exercise.
CMSB can automate some of the mission planning to "better optimize" available assets, said Grunwald. During the planning process, for example, CMSB will look first at the F-35's strike capabilities, but it also will determine if the strike fighter has enough fuel left to conduct an ISR mission, either before or after it hits the intended targets, allowing planners to include things that may have otherwise fallen off the table, said Grunwald.
Lockheed Martin also incorporated its Multi-Domain Synchronized Effects Tool, or MDSET, into the exercise. MDSET is not yet as mature as CMSB, but it allows planners to rapidly generate multi-domain mission packages "to prosecute targets using both kinetic and non-kinetic resources," according to the company. Gates said MDSET is more like a "fusion engine now" but said, "It will be more robust in the future," noting the company plans to eventually incorporate artificial intelligence into the process.
Fourteen airmen with various air, space, and cyber backgrounds participated in Lockheed's fourth Multi-Domain Command and Control exercise in August. Lockheed Martin photo.
Rather than developing a tool set, delivering it the customer, and having them figure out how to use it, Gates said Lockheed wants to develop the tools and the process all together.
Planners also had access to a new tool being developed by the Air Force Research Laboratory called the Cyber Quantification Framework, or CQF, which is a weaponeering solution used for optimizing targeting, said Gates. The three chief scientists from AFRL's Rome, N.Y., lab observed the exercise and have sought Lockheed's help incorporating some of its efforts in future exercises, though Gates said he wasn't ready to say just yet what it was they wanted to test.
Multi-domain command and control has been one of Chief of Staff Gen. David Goldfein's top three focus areas. The Air Force no longer has the luxury of being able to take its time developing new capabilities. Peer adversaries have studied US military operations, are quickly improving their capabilities, and USAF must move fast to ensure it stays ahead of these adversaries.
"Our nation knows how to do that, but that muscle has atrophied a bit. That's why you hear a lot of us talking about this attribute of speed," he told Air Force Magazine this week. "It's not only speed in executing warfare. It's speed in how we're preparing for warfare. It's speed in how we acquire. It's speed in changing our concept of operations. It's speed in terms of how we develop the leaders of the future."
Goldfein said the Air Force's thinking on Multi-Domain Operations has matured since he first announced his focus areas at AFA's Air, Space & Cyber Conference in September 2016. He said he plans to use his speech at the 2018 ASC to "talk about the work that Secretary Wilson and I have been doing on defining the force that the nation needs, and then laying out how we intend to fight."