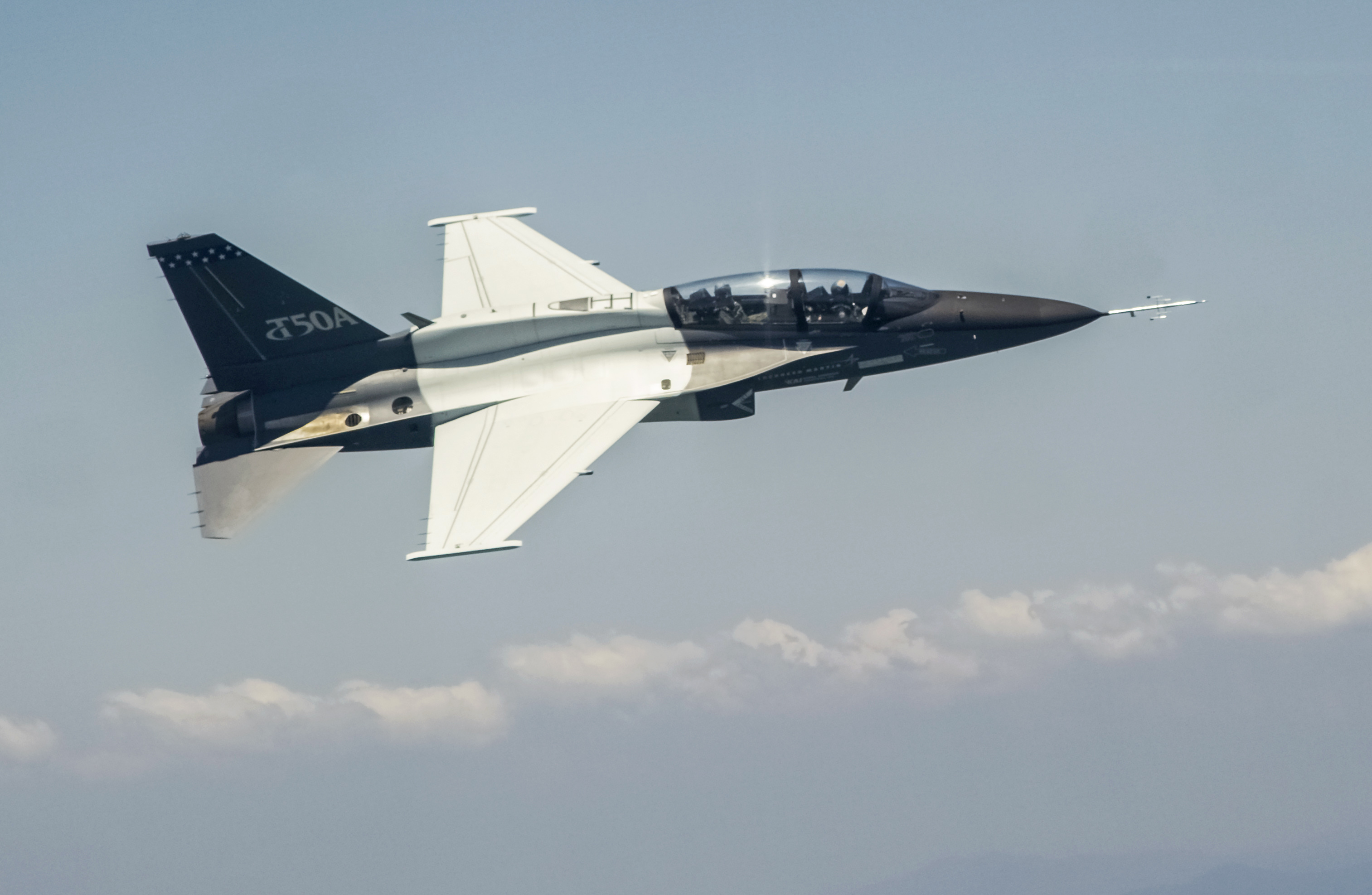 Lockheed Martin's entry into the Air Force's T-X fighter competition, the T-50A, takes its first flight on June 2, 2016. Lockheed Martin photo.
The Lockheed Martin's T-50A entry in the T-X advanced trainer competition is so low-risk that the company believes it could achieve initial operational capability with the jet two years ahead of the Air Force's requirement, should the service wish to do that, company Skunkworks chief Rob Weiss claimed Tuesday.
Weiss said the principal reason Lockheed discarded its own "clean sheet" aircraft design in the contest was because development of "any" new design would likely have run years past USAF's stated goal of achieving IOC in 2024. "I'm convinced … a clean sheet design … would likely come at least four years after" 2024, he said. And, based on "vigorous analysis" and experience with other programs, engineering and manufacturing development could stretch "as long as eight years" with a new airplane.
That's important, he said, because the Air Force could avoid as much as a billion dollars of needed updates and structural life extension of the T-38 if the T-X was accelerated, he said. All this is important because the T-X "has evolved into a low-price shootout" competition, he asserted.
Though Weiss said he does not know "what was in the minds" of Northrop Grumman's executives when they opted not to bid on T-X, they likely came up with similar numbers regarding their own clean-sheet offering, he speculated.
Lockheed has built two T-50A aircraft—based on the Korean Aerospace Industries T-50 that Lockheed helped design and build—and has flown them to all the test points required by the Air Force, Weiss said. Bidders must submit their proposals by March 30 and their flight test data by April 28, and although Lockheed has completed the test points, "we'll keep flying" into April, he said, mostly to verify the live, virtual, constructive aspects of the training system.
The T-50A meets all USAF's requirements and exceeds them in some areas, Weiss asserted. There have been "no surprises" in the flights because discovery was essentially accomplished during the T-50 test program. The two T-50As were built, "and taken apart, and re-built" at the company's Greenville, S.C., facility to thoroughly prove the final assembly process, Weiss said. The Air Force's requirements for high angle of attack and 6.5Gs of sustained turn are "no challenge" for the airplane, Weiss said. "We're extremely happy with where we are" on the T-X. "We're convinced we made the right choice" in opting to adapt the T-50 rather than design a new airplane, he added.
Lockheed has put its ability to beat the timetable "in front of the Air Force," he said, and if the service wants to accelerate T-X, "we're ready."
Beyond T-X
Lockheed sees a world trainer/light fighter market of about 2,000 airplanes, which it could address with its T-50A entry in the Air Force's T-X advanced trainer competition, Weiss said. Of those 2,000 the USAF T-X requirement of 350 airplanes is included.
The company is also "evaluating" whether the T-50A could match USAF's needs in the just-released invitation to participate in experiments regarding a possible light fighter. He declined to discuss whether the T-50A can meet USAF's desire for ability to operate off a 6,000-foot runway and fuel burn under 1,500 pounds per hour.
There also may be "some opportunity" to adapt the T-50A to be a trainer for the US Navy—"possibly carrier-capable"—when that service's T-45 nears the end of its service life, Weiss said.