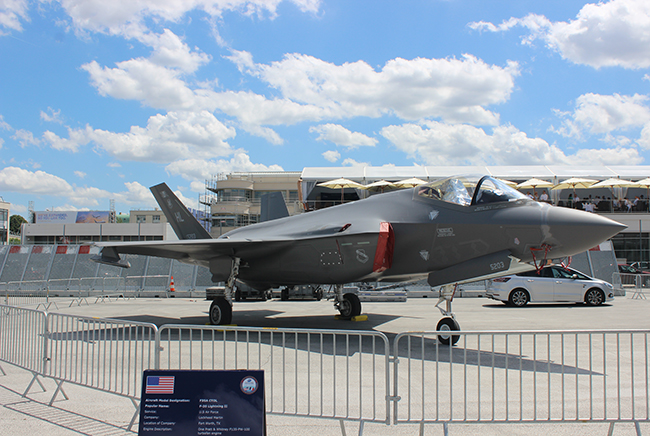 An F-35 deployed from Hill AFB, Utah, sits as a static display at the Paris Air Show on June 17, 2010. Staff photo by Brian Everstine.
LE BOURGET, France—Lockheed Martin is looking at dramatically increasing the range of the F-35 by adding external fuel tanks while also planning to expand the suite of weapons the aircraft can carry.
Adding 600-gallon fuel tanks to the strike fighter would provide about a 40 percent increase of range, said Greg Ulmer, Lockheed vice president and general manager of the F-35 program, June 17 at the Paris Air Show.
"There's several customers that are interested in extending the range of the airplane," Ulmer said, without specifying which countries.
Early in the program, the plan was for the F-35 to carry 480-gallon drop tanks on the inboard wing stations, but that requirement was dropped due to the aircraft's significant internal fuel volume.
The aircraft is largely ready for external tanks. There are 12 stations on the strike fighter for weapons pylons; wing stations three and nine—the two closest to the fuselage—are "already piped to accept fuel on the wings," Ulmer said. Lockheed is now analyzing how to best integrate tanks and the impact that would have on the stealth signature of the jet.
Additionally, for the Block 4 upgrade Lockheed is looking at increasing the internal payload from four weapons to six. The upgrade will also expand the suite of weapons it can carry, adding Small Diameter Bomb II, the Advanced Short Range Air-to-Air Missile, the Joint Strike Missile, and the Advanced Anti-Radiation Guided Missile, among others. This could eventually include future externally carried hypersonic missiles, Ulmer said.
There is no set timeline for the integration of the weapons or the external tanks.
The Pentagon and Lockheed last week announced a "handshake deal" on Lot 12 with options for Lots 13 and 14 at a total of $34 billion for 478 aircraft, including foreign partners and customers.
The deal would put the cost per F-35A at about $80 million. Under Secretary of Defense for Acquisition Ellen Lord told reporters the Defense Department "worked very hard" to get to that level. Over the past 18 months, the government and Lockheed have undertaken a data-driven review of the supply chain and manufacturing process to find these savings. Going forward, the DOD wants to "continue to realize efficiencies" in manufacturing and sustainment to get the mission capable rate of the aircraft to rise and lower the cost per flight hour.
Lockheed is trying to reach a goal of $25,000 per flight hour by 2025, and has a new life cycle sustainment plan with the Defense Department to try to reach it, though there is not a contractual requirement for the goal, Ulmer said.